BendPak Four-Post Hoists for Storage and Maintenance
A BendPak four-post hoist uses the best construction, material and technology. It also has the best safety features in the industry. Favoured by professionals and DIY'ers alike, our four-post hoists are some of the most versatile in existence. They're totally optimised for greater capacity and better performance, improving safety and control during use. They also feature advanced hydraulic systems for better productivity and a longer lifespan. This is even true when used for the most demanding, heavy-duty applications.
---
---
---
---
---
---
---
---
---
---
---
---
---
---
---
---
---
---
---
Which four-post hoist is best for my ​shop?
Ever since our high-capacity four-post hoists hit the market in 1984, the BendPak logo has inspired confidence in service professionals worldwide. These are people who spend much of their lives beneath vehicles hoisted with our equipment. Of course, much has changed in the way of technology since the early days of BendPak. What hasn't changed is our commitment to the end-user and the care we put into each four-post hoist.
BendPak hoists are engineered to meet the demands of any hoisting job. ​Hoist capacity ranges from light-duty 3,175 kg to heavy-duty 18,143 kg. If it drives, one of our four-post hoists can probably handle it. These ​automotive hoists also pull double-duty as convenient parking and storage solutions. Securely leave your weekend car raised on the hoist and easily park your day-to-day ride beneath it. Many of our four-post hoist models let you choose between several options: super-tall, wide, narrow, space-saving or regular. You're sure to find the perfect four-post hoist for your needs.
All BendPak hoists are backed by 50 years of excellence and a reputation that carries as much weight as the hoist itself. We're proud to have these four-post car hoists in our lineup, and you will be too. A suite of accessories and options are available, including jacking beams for full wheel service.
BendPak hoists are supplied with installation instructions and concrete fasteners meeting the criteria as prescribed by the American National Standard "Automotive Hoists - Safety Requirements for Construction, Testing, and Validation" ANSI/ALI ALCTV-2017. Hoist buyers are responsible for any special regional structural and/or seismic anchoring requirements specified by any other agencies and/or codes such as the Uniform Building Code (UBC) and/or International Building Code (IBC).
A single, hidden hydraulic cylinder on every BendPak four-post hoist
Part of what makes our four-post car hoists as sleek as they are efficient is the way we hide components that would otherwise disrupt the look of the hoist. To keep the hydraulic cylinder hidden, we tucked it beneath one of the drive-on ramps. This leak-proof cylinder technology is only available for BendPak four-post hoists.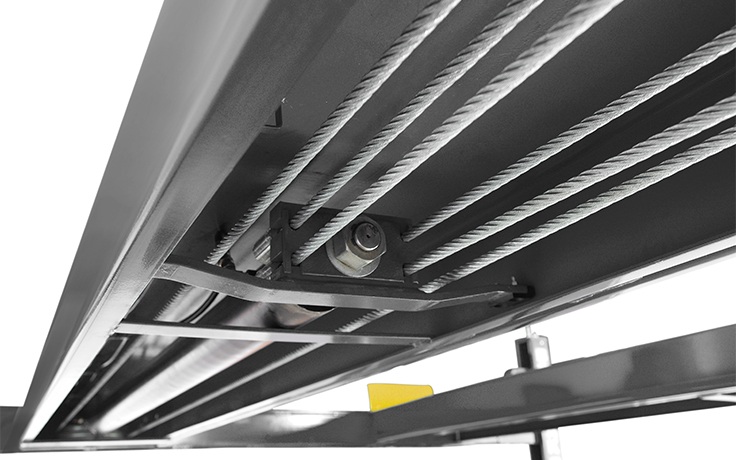 Each car hoist is equipped with a single hydraulic cylinder hidden away under the runway for minimum exposure and maximum reliable performance. Our industrial-grade hydraulic cylinders feature a single-piece, pilot-fitted, machined steel piston wrapped with specially-designed, pressure-loaded U-cup piston seals, backups and wear bands to virtually eliminate fluid bypass. The micro-smooth chrome rod is machined from high-yield, ground and polished C-1045/50 micro-alloy steel and plated to a minimum of .25 mm diametrically, which ensures superior cylinder operation and life. The superior, high-durometer, mechanically-loaded rod seals make rod leakage a thing of the past, while a specially formulated abrasion-resistant urethane rod wiper provides exclusion protection. The welded cylinder body is made from robust steel tubing produced to exceed ASTM specifications. This combination of superb base material and superior processing ensures that the cylinders remain straight, smooth and last an exceptionally long time. An integrated flow restrictor provides a controlled descent in the case of unexpected hose rupture.
Note: Not all BendPak hoist models meet the standards as prescribed by ANSI/ALI ALCTV-2017 or ANSI/UL 201. Consult www.autolift.org for a complete list or contact BendPak via contact@bendpak.com.