Company
​Car Lift Certification
BendPak is a proud member of the Automotive Lift Institute. We share ALI's ongoing mission to promote better, safer car hoists and applaud other manufacturers who join us in the ALI Certification program.
Since 1945, ALI has been providing reliable, third-party laboratory testing and review services for auto hoist design, engineering, construction and installation. Both manufacturers and end-users benefit immensely from their in-depth scrutiny to ensure that top safety standards, above all else, are built into every car hoist. ALI Certification is a proven, invaluable source of information and provides peace-of-mind for the men and women who work beneath auto hoists every day.
The gold ALI Certification badge is the only nationally recognized standard for car hoists of all designs, including two-post hoists, four-post hoists, scissor lifts, in-ground lifts, alignment lifts and parking lifts. BendPak is pleased to see that more and more consumers are willing to dig deeper, cut through the hype and only trust hoists with an ALI seal of approval. With all you have to lose, there is simply no reason why your hoist should not meet the very highest industry safety and performance standards available.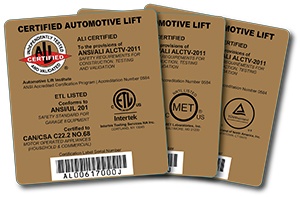 Some might argue that it's just a little gold sticker—but when it comes to you, your employees, your family and your property, that little gold sticker is the only thing that carries as much weight as a BendPak car hoist itself.
ALI Certification
An automotive hoist bearing the ALI Certification Mark (shown above) and an ETL or MET Listing Mark, as applicable, indicates that the hoist complies with the following requirements. When considering the purchase of a car hoist, always request the manufacturer's list of available model numbers representing "Certified Hoists," or view the ALI-Directory of Certified Lifts.
Automotive hoist models must be tested in accordance with the Program Procedural Guide and in accordance with the performance requirements of the American National Standard "Automotive Hoists - Safety Requirements for Construction, Testing, and Validation" ANSI/ALI ALCTV (current edition).
All motor operated automotive hoist models must be listed by a Nationally Recognized Testing Laboratory (NRTL), in accordance with ANSI/UL 201 entitled "American National Standard for Safety for Garage Equipment"; and for installation in Canada, in accordance with CAN/CSA C22.2 No. 68.
The Certification Program participant's Authorized Production Facility (APF) must meet quality control requirements set forth in the Program Procedural Guide, as verified by frequent surveillance and plant inspections.
Manufacturer-provided instructions and manuals, as well as hoist operator safety documents, must be comprehensive and conform to the requirements of the Program Procedural Guide.
Get with the program (the ALI Certification Program). Find out more at www.autolift.org.