Chill​ Out with a Cool Boss™ Swamp Cooler
A swamp cooler is an incredibly cost-effective way to cool industrial shop environments without breaking a sweat. For just $1 per full 8-hour work day, a swamp cooler will chill a massive industrial space better than you ever thought possible.
BendPak is proud to offer the Cool Boss, a speciality evaporative air cooler (commonly referred to as a swamp cooler). The back of the cooler features an evaporative media that works like a water trap. Water is pumped to the top of the swamp cooler and drips back down the media. A powerful 762 mm diameter fan sucks in hot air from the back of the cooler, and that air passes through the water-dampened media. This causes water to evaporate off the pad, instantly reducing the surrounding air temperature by as much as -3°C. Evaporation is an amazingly effective and natural method of cooling. When the cooled air is blasted around your shop, you save money while providing a safer, cooler environment for your staff.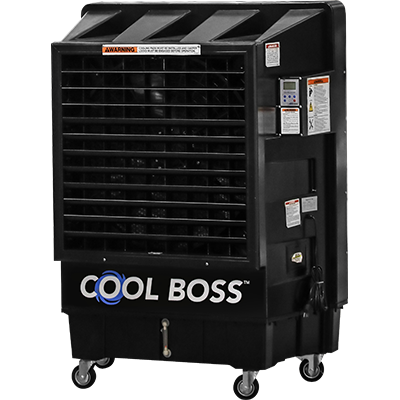 CB-30
(5150551)
Portable Evaporative Air Cooler
The CB‐30 Cool Boss™ portable evaporative cooler, sometimes called a swamp cooler, provides a low‐cost, environmentally‐friendly way to keep shops cool and workplace areas comfortable, even during the hottest summer months. IN STOCK NOW! READY TO SHIP!
Comfortably Ditch A/C Once and for All
Another benefit of Cool Boss comes from its oscillating swing-louvres. These moving panels throw air side-to-side, as well as to the front. This increases the effectiveness of the swamp cooler for big shops or wider floor spaces. Remote control functionality makes monitoring fan speed convenient from a distance, so there's no need to cross the room and fuss with the settings. Our swamp cooler also features a negative air ionizer to help clean up the air quality of your shop. This is a safety feature as much as it is a convenience feature. There's simply no easier or cost-efficient way to cool your shop than with a swamp cooler. Put multiple units in place for additional cooling that still saves thousands of dollars overall. No more massive A/C bills that threaten your bottom line. Get a swamp cooler, and make sure that cooler is a Cool Boss.