Community
The BendPak Community is Here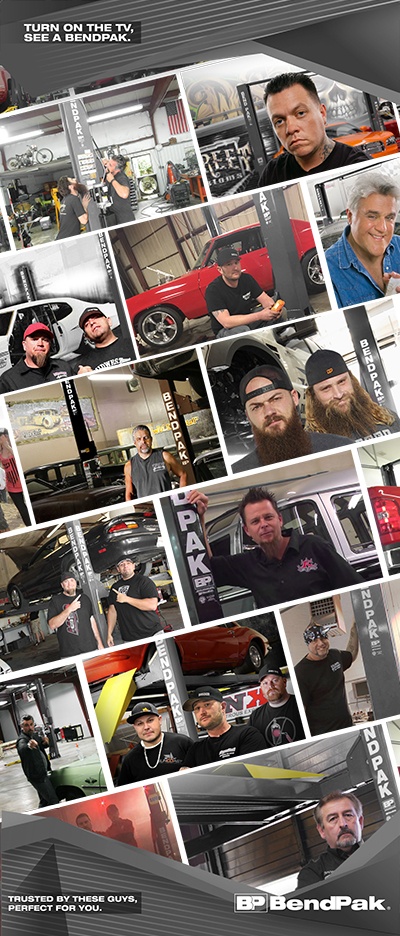 The BendPak community consists of a large but tight-knit group of dedicated automotive professionals. These shops and individuals are our business partners, for sure, but they're also family. Customers stay with us for decades, in some cases, because we always go above and beyond for those who trust their reputations and businesses with our brand. If you've ever owned a BendPak, you know how great it is to work with a company that has your back, no matter what you need. The names on this page might be the most recognizable members of the BendPak community, but they represent a small piece of the bigger picture. We're proud to say that if we're good enough for the biggest and best in the business, there's no question that we're good enough for smaller shops that simply can't afford downtime.
BendPak on TV
Since the year 2000 or so, when reality TV and car shows really started taking off on Discovery Channel and other networks, BendPak has been the preferred car hoist and automotive equipment supplier for the nation's most public-facing garages. This list of shows is never finished. We'll continue to get interviews and update the shows as time goes on. Keep checking back for more BendPak community news and updates!
​This is my BendPak
These are the big names in the industry—wrenchers you see on TV or know about through their businesses. If you're into car shows and racing events, there's a good chance know these names. We've done "This is my BendPak" ad campaigns with all of them. BendPak is proud to stand by the quality and reputation of these brands, just as much as we stand by our own.
Garage Spotlights
When we do a major job in a garage or auto shop, we sometimes bring a crew in to film it, gather interviews or simply s​potlight their stories here. We consider the names on this list to be major endorsements. They might not have their own TV shows (although some have massive YouTube followings), but they're smart businesspeople and extremely good at what they do in the garage. If you haven't seen them or their published content before, you're in for a treat.