HD-9SW
SKU# 5175023
4,082-kg. Capacity / Four-Post Hoist / Dual Platform / Super Wide
---
To accommodate super-wide vehicles on a 4,082-kg. capacity four-post hoist, choose the HD-9SW. The "SW" stands for super-wide, and it's the ideal four-post hoist to double your parking and/or service wider vehicles.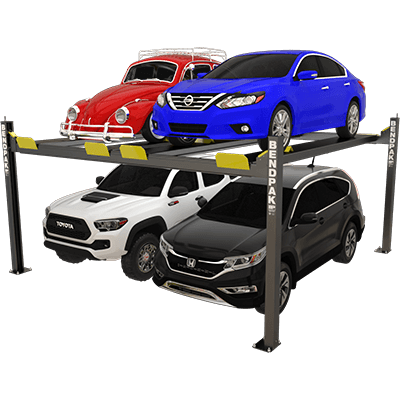 Take Home a Super-Wide ​Four-Post ​Hoist
There are thousands of vehicle types out there, and some come a bit wider than others. That's no sweat for the HD-9SW, a four-post hoist that sits fat and happy when it holds vehicles with wider frames. Plus, if you need a hoist that offers truly gigantic proportions, the HD-9SWX is one heck of a choice. If your vehicles are tall, heavy and wide, and they need to be stacked or serviced, we can probably hoist them. Both models are perfect for a "wide" range of vehicles.
With all the same great parts and components as the HD-9, our super-wide hoist is equally safe and efficient. Check out the working parts and components below to see what makes a BendPak better than the rest, no matter what height/width modifications we make for your pleasure and convenience.
Dual-hub cable sheaves
Single-hub cable sheaves represent the cost-cutting way to make a car hoist. Not our way. BendPak double-hub sheaves reduce friction against the cables while also extending the life of the ​hoist axles.
Multi-level locking positions
Multiple lock positions permit operators to safely stop the hoist at the right height for them, or simply adjust to the right height for the job. This is also useful for parking vehicles under the raised hoist. Depending on the height of your vehicle(s), and depending on your ceiling height, you can adjust the lock position.
Heavy-duty aircraft cable
Four lifting cables help ensure a level rise. Each is constructed from high-grade stainless steel and rated to handle 6,350-kg​. Combined, the four cables can hold 640% more than this four post hoist's rated capacity. Of course, the cables are tucked away into the hoist structure. This streamlines the hoist design and maintains the sleek look of your shop. It also protects the cables from environmental damage, spills, etc.
Electric-hydraulic power system
The electric-hydraulic power system is totally maintenance-free. Controls are ergonomically placed and easy to use, so you're totally at ease while operating the hoist.
Large base plates
254 mm x 305 mm base plates can be bolted down or left unbolted for use with the caster kit. We encourage you to work in a way that's best for you.
Caster kit
A 4-piece caster kit fits this super-wide four-post hoist like a charm. With your hoist on wheels, there's no limit to where you can work and park. Remodeling projects are also easier to plan and execute.
Integrated design
All moving components are located within the structure. This isn't just about looks (although it certainly helps with that too). The integrated design addresses a major safety concern: externally routed components are exposed to additional dangers and damages. BendPak avoids these altogether.
Low-deck runways
The runways on this BendPak four-post hoist rise just 114 mm off the ground. Add the gently inclining ramps, and you can hoist virtually anything.
Longer approach ramps
Not only are our runways low-profile, we extend them farther than others in the industry. This makes for a car hoist that can load sports cars and other low-standing vehicles without damaging them.
Automatic safety locks
Engaging the locks is as simple as raising the ramps just past the lock (you'll hear it click as it passes) and lowering them back on the lock. Check to make sure all locks are on the same position—safety first, after all. And that's all there is to it! Your four-post hoist can be held in that position indefinitely.
*Not all BendPak hoist models meet the standards as prescribed by ANSI/ALI ALCTV-2011 or ANSI/UL 201. Consult www.autolift.org for a complete list or contact BendPak via contact@bendpak.com.
Features
Standard rise
Shorter runway for smaller spaces
Runways accommodate wide or narrow vehicles
Runways include rail kit for optional accessories
Electric / hydraulic power system
Single hydraulic cylinder mounted underneath runway
Fully enclosed lifting cables, safety locks and sheaves
Internal anti-sway slider blocks in each column
Oversized self-lubricating cable rollers
Oversized sheave diameter reduces cable fatigue
High-speed lifting
Features heavy-duty 9.5 mm aircraft cable
Rugged 32 mm roller axles
Multi-position safety locks in each column
Adjustable lock ladders
Push-button pneumatic safety release
Independent backup slack-cable safety latches
Inside runways adjust for different tread widths
Customizable power unit location
Removable approach ramps for additional drive-under clearance
Optional drive-thru ramps available
Optional drip trays available
Optional solid deck available to increase storage capacity
Optional 2,041-kg air / hydraulic rolling jacks available
HD-9SW Specifications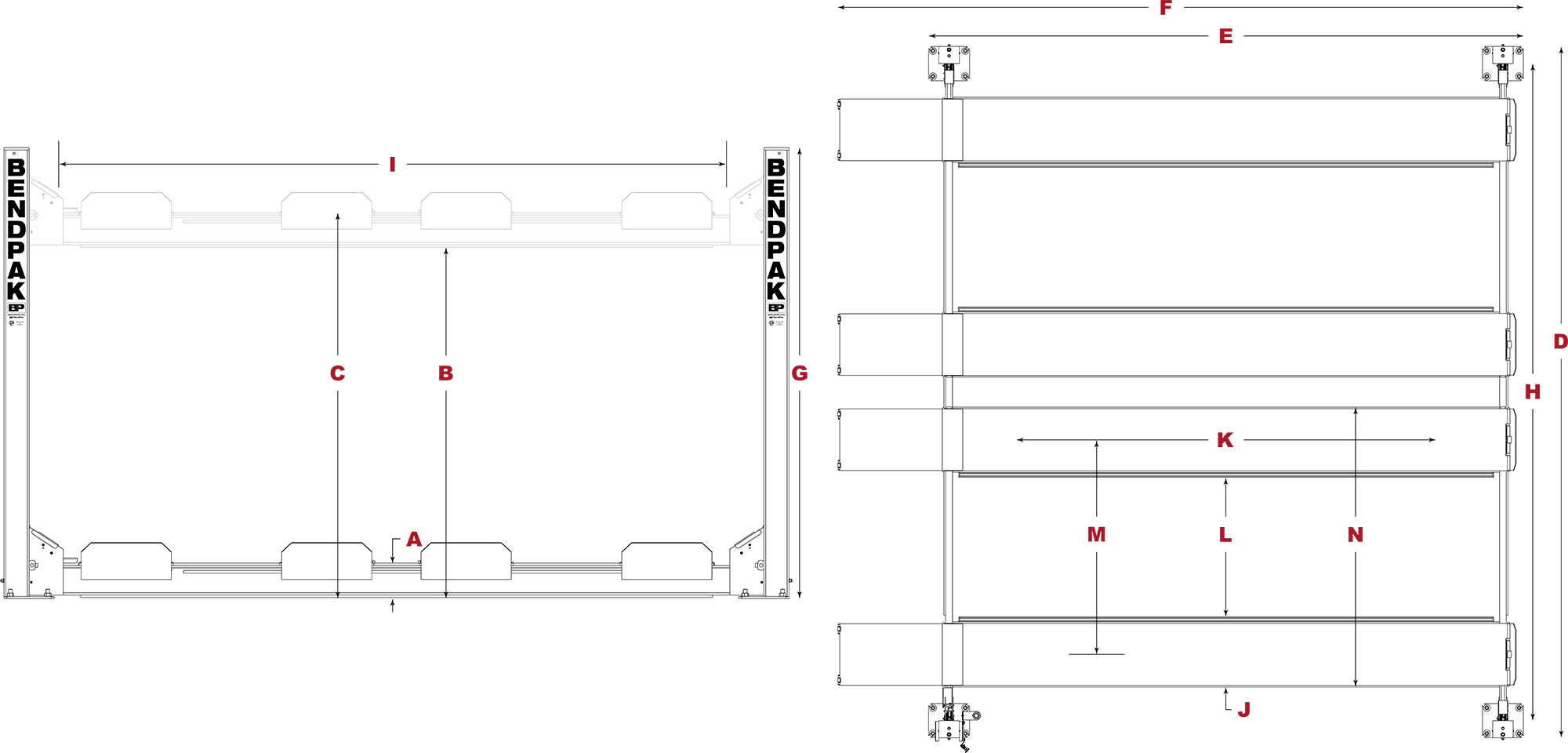 Capacity
*Max Capacity / Front Axle
4500
*Max Capacity / Rear Axle
4500
Rise
Time to Full Rise:
55 seconds
Inside Dimensions
H
- Width Between Columns:
192
I
- Drive-Thru Clearance:
178
Runways
L
- Width Between Runways:
N
- Outside Edge of Runways:
Locking
Lock Spacing:
Every 4" (102 mm)
Power Unit
Motor:
220 VAC / 60 Hz /1 Ph
Shipping
Weight:
2,892 lbs. (1,315 kg)
Dimensions:
204" x 24" x 42" (5,182 mm x 610 mm x 1,067 mm)
Note: An air supply (minimum: 30 psi / 3 CFM) is required for the safety-lock mechanisms to disengage. It is solely the responsibility of the end-user to provide, install and maintain the air supply.
Note: Not all BendPak hoist models meet the standards as prescribed by ANSI/ALI ALCTV-2017 or ANSI/UL 201. Consult www.autolift.org for a complete list or contact BendPak via contact@bendpak.com.