HD-40X
SKU# 5175178
18,144-kg. Capacity / Four-Post Hoist / Extended
---
The HDS-40X is BendPak's heaviest-duty, extended-length truck hoist. That makes it the most powerful offering in our arsenal. A rugged design with safety features unmatched in the industry, anyone working on massive commercial vehicles should consider this mighty machine.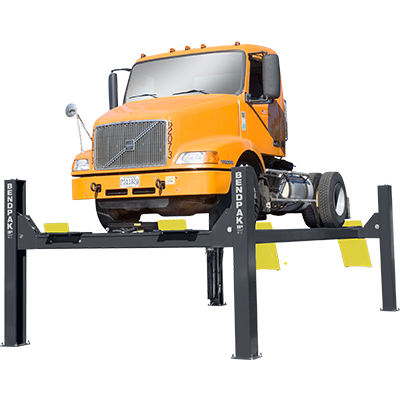 BendPak's Strongest and Longest Beast of Burden
18,144-kg. take a lot of muscle to hoist, and many vehicles of this caliber are longer than our standard-length series of four-post hoists can accommodate. If you want to be prepared for the longest and heaviest vehicles on the road, you need BendPak's most impressive offering—and this is undoubtedly it. With runways that measure in at a whopping 8204 mm, the HDS40X is the heaviest-duty extended-length car hoist we make. Slap a bus on it and get to work, no sweat.
The power of this hoist is no light matter. Military contractors, government entities on all levels and large commercial truck repair companies have all sought this hoist out, knowing there's nothing they can throw at it that it can't handle. Far from being a hobby hoist, this industrial-grade powerhouse is only going to fit in serious-minded commercial maintenance spaces. You'll need a big bay with high ceilings, and if you have that, the HDS-40X doubles as a parking hoist and ultra-safe storage space.
Super-long runways
Super-duty vehicles need a clean approach and a wide runway to safely board a hoist. At 711 mm wide, these runways accommodate tires of virtually any diameter and width.
Dual-hub cable sheaves
BendPak cable sheaves are made to dominate every lifting application, however big or small. 305 mm diameter sheave bodies and 102 mm axles make them far more likely to last the lifespan of your hoist because of their sheer size and quality of construction.
Large base plates
Truck hoist base plates are made super-wide, which makes sense considering the size of the vehicles you're putting on the runways. 305 mm x 305 mm plate dimensions are extremely secure for maximum stability and lifting longevity.
Spring-loaded safety locks
13 lock positions offer up to 1,524 mm of rise for comfortable undercarriage access. All locks automatically engage during rise and disengage at the touch of a button. Just one look at the lock sizes will inspire confidence that this hoist is safer than any you've ever seen.
Secondary lock system
The primary locks are more than enough security, but we don't leave a single, tiny thing to chance. So, we include a backup cable-slack detection system that captures loose cables immediately if slack develops. This system makes it entirely safe to remedy any issues without risking uneven platforms.
Rolling bridge jacks
Need to perform wheel service on your fleet? Of course you do. Pick up a pair of RBJ25000 bridge jacks and start working. Together, two jacks will hoist a vehicle up to 22,679-kg., but keep in mind the HDS14X has a 18,144-kg. limit. The extra is not just peace-of-mind, but a practical consideration since the front half of most trucks (where the engine and transmission rest) is likely to be heavier than the back.
Features
18,144-kg.​ lifting capacity
Supersized 305 mm diameter cable sheaves
​Galvanized lifting cables
Extended length runways
Grease nipples
Single hydraulic under-runway cylinder
Integrated flow restrictor
Durable powder coat
Spring-loaded safety locks
Second lock system on constant guard
Fully enclosed lifting cables
Multiple adjustable height locking positions
Maintenance-free electric hydraulic power system
Conveniently positioned operator controls
305 mm x 305 mm base plates
Optional rolling jacks
HD-40X Specifications

Capacity
*Max Capacity / Front Axle
20000
*Max Capacity / Rear Axle
20000
Rise
Time to Full Rise:
75 seconds
Inside Dimensions
H
- Width Between Columns:
134
I
- Drive-Thru Clearance:
109
Runways
L
- Width Between Runways:
N
- Outside Edge of Runways:
Locking
Lock Spacing:
Every 6" (152 mm)
Power Unit
Motor:
220 VAC / 60 Hz / 1 Ph
Note: An air supply (minimum: 30 psi / 3 CFM) is required for the safety-lock mechanisms to disengage. It is solely the responsibility of the end-user to provide, install and maintain the air supply.
Note: Not all BendPak hoist models meet the standards as prescribed by ANSI/ALI ALCTV-2017 or ANSI/UL 201. Consult www.autolift.org for a complete list or contact BendPak via contact@bendpak.com.