HDS-40
SKU# 5175176
18,144-kg. Capacity / Four-Post Hoist / Standard
---
The HDS-40 four-post hoist is the safest, beefiest, biggest, baddest, meanest and every other "-est" word for a truck hoist we can use to mean, "It doesn't get better than this." This extreme heavy-duty four-post hoist can support the weight of a Greyhound™ bus, as well as a mobile home or RV.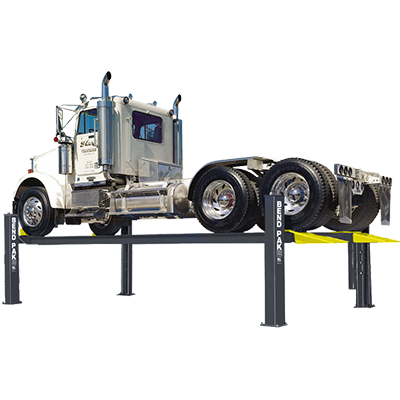 The Only Heavy-Duty Car Hoist You'll Ever Need
An HDS40 four-post hoist lets you wrench on absolutely massive vehicles. Nothing in BendPak's lineup has this much brute force to accompany the same features found on our other heavy-duty hoists. That means the ergonomic controls, massive sheaves, over-engineered hoist components and aircraft-quality cables are all here to guarantee the ultimate hoisting experience.
Extended runways
Car hoists with longer runways are less prone to causing accidental vehicle damage. For our largest four-post hoist, we make sure the most massive 40K trucks and commercial vehicles can safely make their way onto the ramps for service.
Dual-hub cable sheaves
Truck hoist sheaves are made 305 mm in diameter with 102 mm diameter sheave axles and are necessarily over-engineered for safer hoisting. They're low-maintenance and low-cost for the entire lifespan of your hoist. All four sheaves rotate in perfect synchronization to achieve a smooth, even hoist, 100% of the time.
Heavy-duty aircraft cable
BendPak's heavy-duty, 19 mm diameter, 153 mm x 635 mm ​galvanized lifting cables are expertly engineered to withstand the weights of fully loaded full-size flatbeds and city buses. The cables are completely resistant to rust and chemical reactions, as well as environmental factors such as heat, humidity, air particulate, etc. And since this is a BendPak cable we're talking about, it requires very little maintenance over time.
Built-in lubrication
To keep your cables sliding gently through the sheaves, self-lubricating grease nipples are fitted through the sheave and sheave axle for many years of optimum performance. We keep the grease where it belongs: along the sheave, not on your floor.
Flow restrictor
A flow restrictor is built in to the hydraulic cylinder, providing a safe descent in the rare (and very unlikely) event of a catastrophic hose rupture. Even in the worst-case scenario, your truck hoist will gently descend and safely touch down on the ground. Chances are you'll never have to see this feature at work, but we engineered it just in case.
Large base plates
Truck hoist base plates are made a little wider than the bases of our lighter-duty models: 305 mm x 305 mm plate dimensions are sturdy and can be easily bolted into suitable concrete flooring for years of extreme security. No wobbles, no worries.
Spring-loaded safety locks
As the hoist ascends, adjustable safety locks audibly click into place at multiple levels. This lets you choose your preferred service lifting point and accommodate for uneven floors. 13 lock positions make for an incredibly safe and versatile four-post hoist.
Push-button pneumatic lock release
A one-push pneumatic release simultaneously disengages all four locks for a rapid descent that never loses its balance. Stainless steel and aluminum pneumatic cylinders are aircraft-quality, tested and overloaded right here in our own California facilities to ensure optimum functionality and soundness of design. Our quality control experts always listen for a smooth hiss that accompanies the release and descent of every healthy hoist we manufacture.
Secondary lock system
A cable-slack detection device acts as a secondary lock in case of a mechanical failure on the hoist. Mechanical failures on any BendPak four-post hoist are uncommon but more likely to occur than hydraulic failures, given the nature and operation of moving parts. Other hoist companies do not incorporate slack-cable detection and thereby put your hoist at risk; if one of your posts experiences cable slack, imagine the catastrophe that would follow if it continued to descend unevenly. We don't like to think about it, so we eliminated the concern: in case of any cable slack, a BendPak hoist shuts down completely, keeping you, your hoist and your vehicle safe until the problem can be resolved.
Integrated design
All components on this four-post hoist are internally routed within the structure: cables, sheaves, axles, etc. Even the hydraulic cylinder is hidden underneath the hoist. This ensures a cleaner product that's well-suited for side-by-side stacking—no cumbersome components to knock into each other when multiple units are installed. It also makes for a better-looking hoist. Not to mention, cables and sheaves perform better when they aren't exposed to dirt, grime and other shop conditions that might affect performance.
Adjustable height locking positions
13 locking positions mean you have more versatility with where you position the ramps. Most other companies only provide 10 positions on their four-post hoist models. It might sound minor, but we knows inches make a big difference when it comes to operator comfort.
Electric-hydraulic power system
A hoist is only as good as the hydraulic power unit that keeps it running. With ergonomic one-push button control, a stabilizing pressure relief valve and a host of other critical design features (i.e. protective weatherproof casing), every hydraulic power pack we manufacture ensures a clean run, even during busy hours of heavy use.
Flexible protective conduit
To keep all cables safe from wear, and to prevent accidental shocks, protective tubing wraps around all BendPak four-post hoist cables and airlines. The layered conduit is non-conducive to electricity and durable enough to withstand heavy use in busy commercial shops.
Rolling bridge jacks
Wheel service on full-size trucks and commercial vehicles can be tricky without the right equipment. BendPak offers a variety of rolling bridge jacks to support virtually every vehicle type. Hydraulic pumps come standard with each bridge jack, along with SUV/truck adapters you're going to need in order to reach deeper undercarriages. Never skimp on quality when it comes to heavy-duty lifting (or any lifting, for that matter). Talk to a BendPak service representative to make sure your investment is well-equipped to handle everything your customers might throw your way.
Choose extended length
18,144-kg. take a lot of muscle to hoist, and many vehicles of this caliber are longer than our standard-length series of four-post hoists can accommodate. If you want to be prepared for the longest and heaviest, you need the biggest and baddest. At a whopping 8204 mm, the HDS40X is the heaviest-duty extended-length car hoist we make. Slap a bus on it and get to work, no sweat.
Features
18,144-kg. lifting capacity
Supersized 305 mm diameter cable sheaves
​Galvanized lifting cables
Grease nipples
Single hydraulic under-runway cylinder
Integrated flow restrictor
Durable powder coat
Spring-loaded safety locks
Second lock system on constant guard
Fully enclosed lifting cables
Multiple adjustable height locking positions
Maintenance-free electric hydraulic power system
Conveniently positioned operator controls
305 mm x 305 mm base plates
Optional rolling jacks
HDS-40 Specifications

Capacity
*Max Capacity / Front Axle
20000
*Max Capacity / Rear Axle
20000
Rise
Time to Full Rise:
75 seconds
Inside Dimensions
H
- Width Between Columns:
134
I
- Drive-Thru Clearance:
109
Runways
L
- Width Between Runways:
N
- Outside Edge of Runways:
Locking
Lock Spacing:
Every 6" / 152 mm
Power Unit
Motor:
220 VAC / 60 Hz. 1Ph.
Note: An air supply (minimum: 30 psi / 3 CFM) is required for the safety-lock mechanisms to disengage. It is solely the responsibility of the end-user to provide, install and maintain the air supply.
Note: Not all BendPak hoist models meet the standards as prescribed by ANSI/ALI ALCTV-2017 or ANSI/UL 201. Consult www.autolift.org for a complete list or contact BendPak via contact@bendpak.com.