​Exclusive Full-Rise Scissor Lifts by BendPak
Full-rise scissor lifts are popular in body shops, professional service bays and even home garages. Unlike low-rise lifts and mid-rise lifts, these designs let you stand upright while you work. Plus, compared to two-post and four-post ​hoist designs, they offer a smaller footprint and no side-posts to clutter your work area. We offer full-rise lifts in both frame-engaging and drive-on designs, so choose the model that best suits your workflow.
BendPak's full-rise SP-7X boasts a mighty 3,175-kg. lift capacity. It takes up a minimal amount of floor space, so it fits nicely into narrower bays. As a frame-engaging ​hoist, it easily accommodates most passenger vehicles and light-duty trucks. It also comes complete with pneumatic safety locks, rubber lifting blocks and an open centre for full undercarriage accessibility. BendPak's reputation for making increased durability, safety and productivity is on the line with every hoist we sell, so we back up our promise of unsurpassed car ​hoist quality with our industry-renowned 5-2-1 warranty.
Others might be interested in the XR-12000. This 5,443-kg. capacity, quad-opposing full-rise scissor lift is engineered in such a unique way, the entire hoist is patented. Everyone sells two-posts and four-posts, but no one has anything like the Quatra. True vertical lift is almost unheard of at such a high weight class, as is open access from all four sides. That's why the XR-12000 is truly one-of-a-kind, ideal for heavy-duty applications when space is at a premium.
Discover more about these unique designs to see how BendPak can put a safe, versatile and extremely space-conscious full-rise scissor lift in your ​shop or ​home today.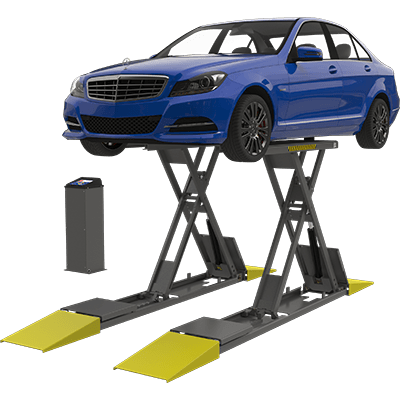 SP-7XL
(5175994)
3,175-kg. Capacity / Scissors / Frame Engaging
This space‐saving, frame engaging hoist features no cross members whatsoever, making installation simpler than ever. It easily accommodates most passenger vehicles and light trucks, and it comes complete with pneumatic safety locks, rubber hoisting blocks and an open‐center for full under‐car accessibility.
---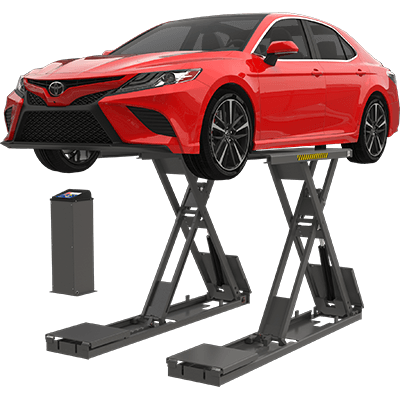 SP-7XLF
(5175993)
3,175-kg. Capacity / Scissors / Frame Engaging / Flush Mount
This flush-mount version of our full-rise scissor hoist is ideal for shops that are limited in space but have a huge demand for performance. The SP-7XLF has all the hoisting height of a two-post hoist without the columns that take up precious shop space. Features a 55.8 cm x 160 cm hoist platform, equalization torsion bar, hardened pivot pins, dual hydraulic cylinders and ergonomic controls.
Note: Not all BendPak hoist models meet the standards as prescribed by ANSI/ALI ALCTV-2017 or ANSI/UL 201. Consult www.autolift.org for a complete list or contact BendPak via contact@bendpak.com.