HD-9STX
SKU# 5175862
4,082-kg. Capacity / Narrow Width / High Hoist
---
The HD-9STX is our tall and narrow four-post hoist that combines a small horizontal footprint with extended-height runways, so higher-clearance vehicles can be easily parked underneath.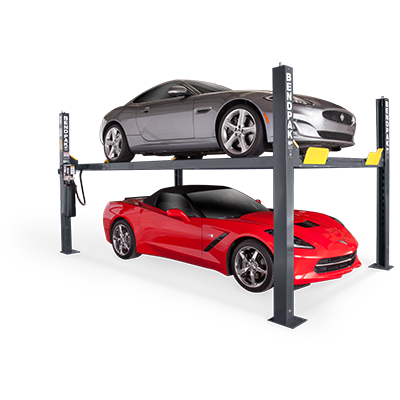 More Height in Less Floor Space
The HD-9STX is your 4,082-kg. rugged lifting solution for when you need get something heavy and high, but you don't have a lot of space on the ground. Perfect for vehicle storage and service—in the shop or garages with high ceilings. Whether you're a service professional or a DIY'er, BendPak's got the right hoist for you. This model is available with optional casters, drip-trays, jack platform and more.
With more height to work with, this hoist does something others do not: it fits trucks and SUVs in the lower level. This is essential for parking purposes, especially if your lower-level vehicle is too heavy for the runways. A high-rise hoist also increases the comfort of techs working underneath. Pulling transmissions and draining oil is safer and easier on high-rise car hoist. The HD-9STX eliminates stooping and awkward straining when accessing the vehicle underbody. When you're uncomfortable, you're more likely to make mistakes, and there's nothing better than a car hoist that hoists to the perfect height. The HD-9STX maximizes versatility in a car hoistt that adapts to your height and lifestyle. The narrow designs fits in the same floor space as the HD-9ST but requires a bit more ceiling height to fully enjoy.
Features
4,082-kg. maximum lifting capacity
CE Approved and Certified. Meets or exceeds the standards prescribed by European Standard EN-1493
Freestanding design
Narrow-width
High-rise
Perfect for parking, storage and service
Runways accommodate narrow and standard vehicles
Runways include rail-kit for optional accessories
Electric / hydraulic power system
Single hydraulic cylinder mounted underneath runway
Fully enclosed lifting cables, safety locks and sheaves
Internal anti-sway slider blocks in each column
Oversized self-lubricating cable rollers
Features heavy-duty 9.5 mm aircraft cable
Rugged 32 mm roller axles
Multi-position safety locks in each column
Adjustable lock ladders
Push-button pneumatic safety release
Independent backup slack-cable safety latches
Customizable power unit location
Removable approach ramps for additional drive-under clearance
Longer approach ramps for low-ground clearance vehicles
Optional drive-thru ramps available
Optional drip trays available
Optional solid deck available to increase storage capacity
Optional 2,041-kg. air / hydraulic rolling jacks available (Model RJ-45)
ETL Approved
HD-9STX Specifications

Capacity
*Max Capacity / Front Axle
4500
*Max Capacity / Rear Axle
4500
Rise
Time to Full Rise:
50 seconds
Inside Dimensions
H
- Width Between Columns:
89.75
I
- Drive-Thru Clearance:
76.5
Runways
L
- Width Between Runways:
N
- Outside Edge of Runways:
Locking
Lock Spacing:
Every 4" / 102 mm
Power Unit
Motor:
220 VAC / 60 Hz. 1Ph.
Shipping
Weight:
1,992 lbs. / 906 kg
Dimensions:
204" x 22" x 40" / 5,182 mm x 559 mm x 1,016 mm
Note: An air supply (minimum: 30 psi / 3 CFM) is required for the safety-lock mechanisms to disengage. It is solely the responsibility of the end-user to provide, install and maintain the air supply.
Note: Not all BendPak hoist models meet the standards as prescribed by ANSI/ALI ALCTV-2017 or ANSI/UL 201. Consult www.autolift.org for a complete list or contact BendPak via contact@bendpak.com.