HDS-14
SKU# 5175170
6,350-kg. Capacity / Four-Post Hoist / Standard Length
---
BendPak's HDS-14 four-post hoist is a whole new breed of rugged. It features superior components that work better, are built to last and increase operator safety. If your service bay needs to get under heavy-duty, oversized vehicles on a daily basis, this hoist is what you need.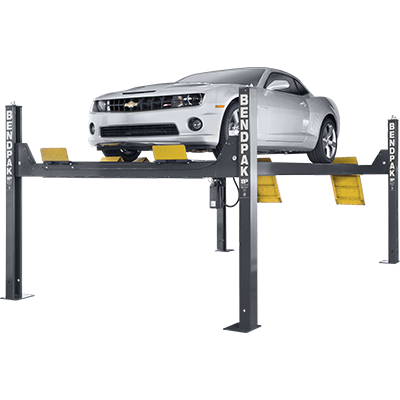 HDS-14 Four-Post Car Hoist: No Such Thing as Overboard
BendPak's HDS-14 four-post hoist is engineered to meet the strenuous demands of your toughest professional hoisting applications. Incorporated into every hoist is a laundry list of key features as long as your arm, ensuring BendPak hoists remain the absolute best.
Our competitors might say we overdo it, but we don't include components for the sake of frills and flash. We designed this four-post hoist with the attributes we feel should be considered standard, not add-ons or extras. You can always count on BendPak hoists for increased durability, safety and productivity. Spend less time worrying about what you're working under and more time doing what you love. Our commercial-grade car hoists are second to none and recognized worldwide as the industry benchmarks in dependability and quality.
Extended runways
6,350-kg. vehicles have wheelbases that need specialized equipment to keep them safe and supported. Our extended runways prevent wear and tear on your vehicle. Driving onto the runway is safe and simple for vehicles of all sizes.
Dual-hub cable sheaves
Dual-hub cable sheaves reduce stress, fatigue and wear. Huge ​267 mm diameter cable sheaves within the runway and cross tubes combine with massive 57 mm diameter sheave axles. This dramatically improves cable wear and critical component lifespan, which means less money in service-related expenses down the road.
Heavy-duty aircraft cable
This hoist features four, 13 mm diameter, 153 mm x 635 mm stainless-steel lifting cables that have a breaking strength of over 6,350-kg. each. This aircraft-quality cable was specifically designed for lifting applications and provides a great balance between abrasion resistance and fatigue.
Built-in lubrication
Grease fittings are located on every sheave and sheave axle to help keep these critical parts well-lubricated and simplify periodic maintenance.
Flow restrictor
An integrated hydraulic flow restrictor provides a controlled descent in the unlikely event of an unexpected hose rupture.
Large base plates
254 mm x 305 mm base plates provide a solid foundation for every 6,350-kg capacity four-post hoist.
Spring-loaded safety locks
Safety locks automatically engage continuously during rise, and adjustable safety ladders allow for precise runway leveling, even when installed on sloped floors. This is a crucial feature because even small slopes can impact the safe-keeping of your garage or service bay.
Push-button pneumatic lock release
A simple push-button pneumatic lock release makes lowering operations simple and fast. Aircraft-quality stainless steel and aluminum pneumatic cylinders provide years of trouble-free service.
Secondary lock system
A secondary lock system is on constant guard and acts as a slack-cable device in the unlikely event your four-post hoist experiences an unexpected cable failure.
Integrated design
Lifting cables, airlines, safety latches and sheaves are all fully enclosed within the structure. That doesn't mean they're hard to find: you're always able to look in and perform a visual inspection during operation.
Adjustable height locking positions
Each column features multiple height locking positions for variable-height parking and infinite leveling.
Electric-hydraulic power system
A maintenance-free electric hydraulic power system assures ultimate dependability. All operator controls are conveniently located within easy reach. Raising and lowering the arms should be as easy as pushing a button—and it is!
Longer approach ramps
These approach ramps were designed a little longer to help when loading low ground-clearance vehicles. It's the little bit that makes a big difference.
Flexible protective conduit
Hydraulic hoses and airlines, if not properly managed, can be a legal and functional nightmare. ALI inspectors routinely write citations and refuse to pass inspected hoists because of visible damage to cables. We route all our cables through flexible, non-metallic tubing that protects against electrical shocks from worn cables, as well as general wear that occurs from heavy use over time.
Rolling bridge jacks
Optional 3,175-kg. capacity rolling jacks (model RBJ7000) make a great addition. RBJ7000 bridge jacks are used to raise the front or rear portion of a vehicle off the runways, allowing operators to perform efficient wheel and brake service. A pair of jacks allows the entire vehicle to elevated. Each jack has telescoping arms with frame contact pads that can be extended over the runways and positioned under vehicle lifting points. Telescoping rail supports accommodate adjustable runways for different tread widths. Each jack features three safety-lock positions, as well as stackable truck and van adapters for increased lifting height and better access to frame contact points on high ground-clearance vehicles. The jacks come equipped with a commercial grade air-hydraulic pump requiring a maximum pressure of 125 PSI and 10 – 20 CFM.
Choose extended length
A longer hoist is useful for vehicles like limos, SUVs and trucks, and that's where the HDS-14X extended 4-post hoist comes in handy. We call it our "limo style" hoist because of how much front-to-back clearance it offers, so you can make it over or under the hoist with ease. This hoist adds additional versatility and craftsmanship to your garage.
Choose open-front design
We engineered the HDSO14P open-front ​4-post hoist without a front cross bar, so operators can easily enter and exit from beneath the vehicle. Now the process of front-end adjustment becomes quick and trouble-free. This specialty car hoist is a must for busy service bays.
Features
6,350-kg. lifting capacity
CE Approved and Certified. Meets or exceeds the standards prescribed by European Standard EN-1493
Mid to long-style approach ramps for low ground clearance vehicles
Runways include rail-kit for optional accessories
Single hydraulic cylinder mounted underneath runway
Fully enclosed lifting cables, safety locks and sheaves
Internal anti-sway slider blocks in each column
Pneumatic push-button safety release
Features heavy-duty 13 mm aircraft cable
Safety locks enclosed in columns minimize pinch points
Oversized sheave diameter reduces cable fatigue
Oversized self-lubricating cable rollers
Rugged 45 mm roller axles
Multi-position safety locks in each column
Customizable power unit location
Approach ramps incorporate built-in rear-wheel chocks
Independent backup slack-cable safety latches
Optional drive-thru ramps available
Optional drip trays available
Optional 3,175-kg. capacity rolling jacks available (Model RJ-7)
ETL approved
HDS-14 Specifications

Capacity
*Max Capacity / Front Axle
7000
*Max Capacity / Rear Axle
7000
Rise
Time to Full Rise:
60 seconds
Inside Dimensions
H
- Width Between Columns:
120
I
- Drive-Thru Clearance:
98
Runways
L
- Width Between Runways:
N
- Outside Edge of Runways:
Locking
Lock Spacing:
Every 4" (102 mm)
Power Unit
Motor:
220 VAC / 60 Hz / 1 Ph
Shipping
Dimensions:
212" x 24" x 40" (5,385mm x 610 mm x 1,016 mm)
Note: An air supply (minimum: 30 psi / 3 CFM) is required for the safety-lock mechanisms to disengage. It is solely the responsibility of the end-user to provide, install and maintain the air supply.
Note: Not all BendPak hoist models meet the standards as prescribed by ANSI/ALI ALCTV-2017 or ANSI/UL 201. Consult www.autolift.org for a complete list or contact BendPak via contact@bendpak.com.