HD-14T
SKU# 5175004
6,350-kg. Capacity / Four-Post Hoist / Tall Hoist / 2,083 mm Rise
---
The industrial-quality HD-14T is a full-sized hoisting force designed specifically for parking higher-profile vehicles beneath the raised platform. With this four-post hoist, you can push 6,350-kg. worth of automobile into the air without breaking a sweat.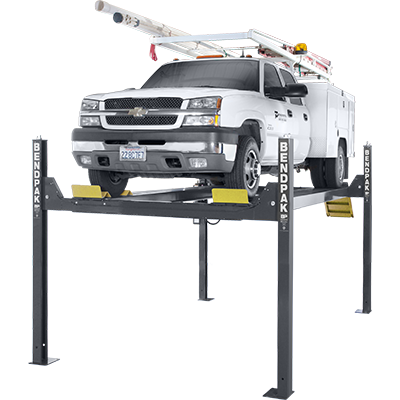 More Height​ in a ​6,350-kg. Hoist
The HD-14T offers superior hoisting power with an extended 2,083 mm rise, which means if we were a clothing warehouse, this car hoist would be found in our "big and tall" section. Commercial fleets of trucks and vans will be right at home in your service bay with this model. Impress your customers by accommodating a wider variety than the competition, no matter what vehicles they bring in.
Extended runways
Longer runways are necessary for heavy-duty ​hoists. This four-post hoits boasts runways long enough to handle large trucks and SUVs. Plus, longer runways prevent damage to the vehicle; we also extend the approach ramps in order to protect the bottom-front of the chassis.
Dual-hub cable sheaves
BendPak cable sheaves are huge: 267 mm diameter sheaves and ​57 mm diameter sheave axles, all kept within the runway and cross tubes. This cuts down on how much time and cash you have to spend on maintenance and general upkeep.
Heavy-duty aircraft cable
Each BendPak ​hoist in this series features four, ​12 mm diameter, ​152 mm x ​635 mm stainless-steel lifting cables that have an incredible breaking strength of over 6,350-kg. each.
Built-in lubrication
Grease fittings on the sheaves and sheave axles ensure proper lubrication for these critical parts.
Flow restrictor
Keeping the runways level during rise is arguably the most important part of lifting a car. That's why BendPak insists on upholding the best safety standards in the industry. The integrated flow restrictor ensures a slow, controlled descent in the very rare case of hydraulic hose failure.
Large base plates
254 mm x 305 mm base plates keep this four-post hoist safe, stable and always ready for service.
Spring-loaded safety locks
Automatic locks activate as the runways rise. Adjustable safety ladders make sure the ramps are level, even if there is a slight slope in the garage flooring. This incredibly useful safety precaution adds to the versatility of the hoist.
Push-button pneumatic lock release
With the push of a button, a pneumatic (air-powered) lock release lets operators lower the hoist with ease. Aircraft-quality stainless steel and aluminum pneumatic cylinders are the most durable and trouble-free you're bound to find on a car hoist.
Secondary lock system
The all-important backup slack-cable detection system comes standard on this four-post hoist (as well as every other hoist we make). Others don't have it. We refuse to leave you without it. Peace-of-mind is everything in the hoisting business, so we give it in spades.
Integrated design
Hidden internal components keep them protected from environmental damage, as well as human interference.
Adjustable height locking positions
Fully adjustable, multiple lock positions let you work at the height most convenient for you.
Electric-hydraulic power system
Let the power system do the hoisting while you worry about the work. A dependable, zero-maintenance system keeps all controls right at your fingertips.
Longer approach ramps
The longer the approach ramp, the easier it is to load low-stance cars. High-clearance trucks and SUVs don't usually have this concern, but we're sure to keep your hoist as versatile as possible.
Flexible protective conduit
ALI-certified cabQle tubing protects against electric shocks. It also prevents wear and tear that occurs over time. Unprotected cables are a serious concern, and BendPak takes away the worry with our flexible, non-metallic tubing.
Rolling bridge jacks
We recommend the optional ​3,175-kg. capacity rolling jack (model RJ-7), so you can perform wheel service on your hoist. These frame-engaging jacks hoist the vehicle off the four-post hoist's runway. Two jacks used together will let you raise all four wheels off the car hoist at once!
Features
6,350-kg. ​lifting capacity
Extra hoist height
Long-style approach ramps for low ground clearance vehicles
Runways include rail-kit for optional accessories
Single hydraulic cylinder mounted underneath runway
Fully enclosed lifting cables, safety locks, and sheaves
Internal anti-sway slider blocks in each column
Pneumatic push-button safety release
Features heavy-duty 1​3 mm aircraft cable
Safety locks enclosed in columns minimize pinch points
Hardened-steel sheaves with self-lubricating bearings
Multi-position safety locks in each column
Customizable power unit location
Approach ramps incorporate built-in rear-wheel chocks
Independent backup slack-cable safety latches
Optional RJ-7 air-hydraulic bridge jacks increase service capability
HD-14T Specifications

Capacity
*Max Capacity / Front Axle
7000
*Max Capacity / Rear Axle
7000
Rise
Time to Full Rise:
65 seconds
Inside Dimensions
H
- Width Between Columns:
115.5
I
- Drive-Thru Clearance:
98
Runways
L
- Width Between Runways:
N
- Outside Edge of Runways:
Locking
Lock Spacing:
Every 4" (102 mm)
Power Unit
Motor:
220 VAC / 60 Hz / 1 Ph
Note: An air supply (minimum: 30 psi / 3 CFM) is required for the safety-lock mechanisms to disengage. It is solely the responsibility of the end-user to provide, install and maintain the air supply.
Note: Not all BendPak hoist models meet the standards as prescribed by ANSI/ALI ALCTV-2017 or ANSI/UL 201. Consult www.autolift.org for a complete list or contact BendPak via contact@bendpak.com.