HD-9XL
SKU# 5175859
4,082-kg. Capacity / Four-Post Hoist / Standard Width / Extended Length
---
The HD-9XL is the ideal 4,082-kg. capacity four-post hoist for vehicles with longer wheelbases. In fact, the runways are about two feet longer than the runways on the standard HD-9. This 4-post hoist variety is available with optional casters, dip-trays, jack platform and more.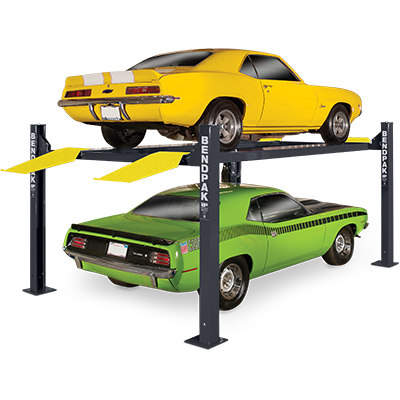 The Most Dependable Extended-Length Hoist in its Class
The HD-9XL four-post hoist offers ample drive-thru clearance and hoist height, but it features extended runways to accommodate longer wheelbases. It may be the width of a typical parking space, but this hoist truly gets the most out of your valuable floor space. Use it for storing cars, trucks, ATVs, snowmobiles, jet skis, golf carts and just about anything with four wheels. All you need is an 2.44 m ceiling, and this car hoist makes use of all that empty space you're currently wasting. An optional caster kit allows you to roll the hoist anywhere you need it. Put simply, this four-post hoist provides a vehicle maintenance and parking solution that no other hoist in its class can offer. The only way to hoist those longer vehicles is to invest in the BendPak HD-9XL.
Dual-hub cable sheaves
Rugged, dependable dual-hub cable sheaves are found on every BendPak, but not every hoist out there has them. Why? They cost more to manufacture. That small extra cost is technically avoidable, but there's a reason BendPak hoists last longer and perform better than other brands: we don't cut corners with dinky single-hub sheaves. Double-hub all the way!
Multi-level locking positions
Whether you keep your four-post hoist at home or operate from a professional shop, there's no "one" perfect height for parking or service. Every few inches, the HD-9XL offers another mechanical lock position. This means you get to park low or high-clearance vehicles at just the right height. Plus, different technicians get to choose the working height that works for them.
Heavy-duty aircraft cable
Boasting a 6,350-kg. weight capacity per cable, this four-post hoist's four cables can support 640% of the hoist's rated capacity. All cables run within the columns, out of sight but never inaccessible for regularly scheduled safety inspections.
Electric-hydraulic power system
A BendPak power unit never requires maintenance. The controls are easy to access for your convenience. Plus, lifting, lowering or stopping the vehicle is as easy as pressing a button.
Large base plates
This four-post hoist features large, 254 mm x 305 mm base plates that can be bolted for extra stability or left unbolted for the caster kit. Either way, the larger surface area of the plates ensures everything you hoist and lower will remain safe and stable at all times.
Caster kit
Our 4-piece caster kit is the perfect addition to every model in the HD-9 series. It essentially turns a planted object into a mobile work station, which is extremely convenient for dozens of applications. Need to move your hoist into the middle of your garage for a job? Just roll it out and roll it back when you're done.
Integrated design
BendPak protects the integrity of your four-post hoist by ensuring all moving parts stay on the inside of the columns. That includes the cables, safety latches and dual-hub cable sheaves. Other companies keep them on the outside, claiming it's for safety reasons. The truth is that's just an easier way to design the hoist, not a smarter way. Internal components are easy to service and have the benefit for staying protected by the surrounding steel.
Low-deck runways
The HD-9XL car hoist features low-profile runways that rise just ​114 mm off the ground when lowered. Our simple, elegant design makes it easier to hoist low-stance cars.
Longer approach ramps
The low runways of this four-post hoist are complemented by extended approach ramps. Now you can load vehicles that practically scrape the ground. Just drive on, relax and hoist!
Automatic safety locks
Mechanical locks are essential safety components on a BendPak four-post hoist. The runways, connected to the hoist carriages, automatically engage the locks as the hoist ascends. Plus, a backup cable slack detection system will immediately stop the vehicle in the rare event of a cable failure or the development of excess slack.
Features
4,082-kg. maximum lifting capacity
CE Approved and Certified. Meets or exceeds the standards prescribed by European Standard EN-1493
Wide drive-thru with standard hoist height and long runways
Electric / hydraulic power system
Internal "Anti-Sway" slider blocks in each column
Features heavy-duty ​9.5 mm aircraft cable
Multi-position safety locks in each column
Ramps feature non-skid surface
Runways include rail-kit for optional accessories
Single hydraulic cylinder underneath runway
Oversized self-lubricating cable rollers
Rugged ​32 mm roller axles
Adjustable lock ladders
Push-button pneumatic safety release
Optional 2,041-kg. capacity jack available (Model RJ-45)
HD-9XL Specifications

Capacity
*Max Capacity / Front Axle
4500
*Max Capacity / Rear Axle
4500
Rise
Time to Full Rise:
50 seconds
Inside Dimensions
H
- Width Between Columns:
100.25
I
- Drive-Thru Clearance:
86.5
Runways
L
- Width Between Runways:
N
- Outside Edge of Runways:
Locking
Lock Spacing:
Every 4" (102 mm)
Power Unit
Motor:
220 VAC / 60 Hz / 1 Ph
Shipping
Weight:
2,040 lbs. (927 kg)
Dimensions:
204" x 22" x 40" (5,182 mm x 559 mm x 1,016 mm)
Note: An air supply (minimum: 30 psi / 3 CFM) is required for the safety-lock mechanisms to disengage. It is solely the responsibility of the end-user to provide, install and maintain the air supply.
Note: Not all BendPak hoist models meet the standards as prescribed by ANSI/ALI ALCTV-2017 or ANSI/UL 201. Consult www.autolift.org for a complete list or contact BendPak via contact@bendpak.com.