HD-7W
SKU# 5175120
3,175-kg. Capacity / Wide Car Hoist / High Rise
---
BendPak's HD-7W is the standard-width car hoist model in the HD-7 series. With a 2,800 mm overall width and a spacious 2,546 mm spread between the columns, there's plenty of room to park most cars and trucks in the lower position. This leaves ample space for you to maneuver.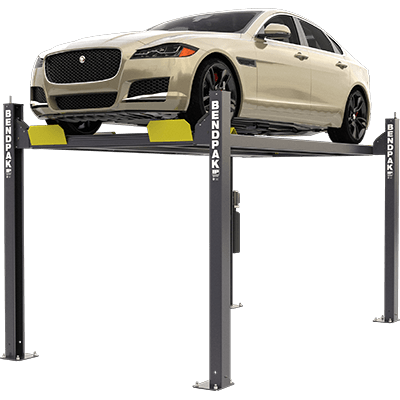 Dependable, Light-Duty 3,175 kg. Capacity Four-Post Hoist
The 3,175 kg. capacity HD-7W is ideal for shops that want the versatility to park sports cars, sedans, light-duty trucks and SUVs in the same structure. There's even enough side clearance to accommodate larger truck mirrors. Even so, this hoist is only slightly larger than a typical parking space. Due to its reduced footprint, as well as its ability to house a variety of vehicle types in a low-ceiling garage, the HD-7W is an extremely attractive parking and maintenance solution for both homeowners and professional technicians.
Dependable design
The HD-7W features four stainless steel wire ropes, as well as a lone hydraulic cylinder that remains tucked underneath the runway. This powerful cylinder ensures you get a super-durable design that requires minimal maintenance over time.
Dual-hub wire rope sheaves
Larger wire rope sheaves prevent undue wear-and-tear on the four-post hoist's axles, wire rope and even the sheaves themselves. Dual-hub and oversized sheaves provide a safer product that lasts longer and costs less to maintain. The larger the sheave, the less friction against the components, so we make every single sheave larger than necessary. Typically speaking, the bigger the hoist, the bigger the sheave!
Multi-level locking positions
Parking and service height is totally up to you. Every few inches, the columns will automatically lock into place; simply lower the runways onto the lock as they move over it. Push-button controls will release all four locks together.
Secondary safety locks
A secondary lock system acts as a slack-cable device that catches the runways and keeps your vehicle level in case any dangerous cable slack develops. The hoist will not be operational until you have a chance to resolve the issue.
Heavy-duty aircraft wire rope
Extremely powerful stainless steel wire ropes are rated at 6,531 kg. each. They're called "aircraft quality" for a reason! The combined rating of these cables is more than 822% of the entire hoist's maximum lifting capacity, and all wire rope is fully enclosed within the hoist structure.
Electric-hydraulic power system
A zero-service power unit is incorporated into the four-post hoist structure. Dependable, long-lasting and extremely safe, it's always close at hand for your convenience.
Large base plates
254 mm x 305 mm base plates provide a stable yet minimal footprint for the HD-7W. Your four-post hoist is as structurally sound as any car hoist ever made.
Caster kit
A rugged, 4-piece caster kit makes your hoist mobile, so you can get it out of the way for other service jobs or to simply park your vehicles in a different park of the garage. Foot-lock casters work with or without a vehicle raised on the runways.
Integrated design
For your safety and convenience, and to improve the aesthetics of your BendPak hoist, the critical lifting components (e.g., airlines, safety latches and wire rope sheaves) are all fully enclosed within the columns of the hoist.
Low-deck runways
Low-profile, ​114 mm high runways make it easy to load vehicles onto the hoist. Lower runways mean less time driving up the approach ramps; the result is a safer, easier approach.
Longer approach ramps
The effectiveness of the lowered runways is bolstered by gentle approach ramps that won't damage low-riding vehicles. Extended-length approach ramps permit drivers of all experience levels to load vehicles onto the runways without scratching the front ends of low-riding cars.
Features
3,175-kg. maximum lifting capacity
Wide drive-thru with tall lifting height and short runways
Runways include rail-kit for optional accessories
Electric / hydraulic power system
Single hydraulic cylinder mounted underneath runway
Internal anti-sway slider blocks in each column
Oversized self-lubricating cable rollers
Features heavy-duty 9.5 mm aircraft cable
Rugged ​32 mm roller axles
Multi-position safety locks in each column
Adjustable lock ladders
Ramps feature non-skid surface
Push-button pneumatic safety release
Optional 2,041-kg. capacity rolling jack available (Model RJ-45)
HD-7W Specifications

Capacity
*Max Capacity / Front Axle
3500
*Max Capacity / Rear Axle
3500
Rise
Time to Full Rise:
35 seconds
Inside Dimensions
H
- Width Between Columns:
100.25
I
- Drive-Thru Clearance:
86.5
Runways
L
- Width Between Runways:
N
- Outside Edge of Runways:
Locking
Lock Spacing:
Every 4" (102 mm)
Power Unit
Motor:
220 VAC / 60 Hz / 1 Ph
Note: An air supply (minimum: 30 psi / 3 CFM) is required for the safety-lock mechanisms to disengage. It is solely the responsibility of the end-user to provide, install and maintain the air supply.
Note: Not all BendPak hoist models meet the standards as prescribed by ANSI/ALI ALCTV-2017 or ANSI/UL 201. Consult www.autolift.org for a complete list or contact BendPak via contact@bendpak.com.