A Study in Hoist Design
Mid-Rise Lift vs. BendPak
BendPak® MD-6XP* vs. value brands*
*Design features and specifications are subject to change. Please consult factories for updates. BENDPAK® and RANGER PRODUCTS® are registered trademarks of BendPak Inc.
The BendPak MD​-6XP mid-rise lift has long topped the most-wanted list for auto professionals and DIY'ers alike. They're excellent for home use because they fit in low-ceiling garages, but auto detailers, custom shops and repair bays alike find use for them.
After exhaustively reviewing the merits of both BendPak and off-brand lift mid-rise car lifts, the BendPak team released the following report. In it, critical design features are compared. We hope this is an eye-opening experience for you.
The truth behind cheap hoists
Established hoist manufacturing companies will proudly place their brand name on their product. Unfortunately, many hoist "brands" are just labels fabricated by dealers supplying these products as their own. If you find an auto hoist that interests you, be sure to search for an informative and detailed manufacturing company website, or at least a brochure. Also check to see if there are multiple dealers offering the same brand for sale. Some dealers may bill themselves as exclusive suppliers, but only for a brand that they created. If you can't find solid, verifiable information relating to the actual manufacturer of any given automotive hoist, or if only a very limited number of dealers even sell the hoist, you are probably best off searching for alternative options.
Cheap is
not

value

Value is a word that gets thrown around a lot these days. Everyone is looking for the best value whenever they purchase something. Equipment retailers have latched on to this idea; they try to position themselves as "value leaders" by offering cheap products at low prices.

But when you think about the true meaning of value, two primary things should be considered. (1) How much you're paying and (2) what you're getting for that amount. Discount hoist retailers want you to forget about the second part of the equation. They claim to provide the best value, but they are only providing you the best price. Business owners know that they need to consider the overall cost of the automotive hoist throughout its entire life of service. The checklist is slightly different for home users who don't plan on earning revenue off of the purchase. For them, saving a couple hundred bucks can still mean the difference between enjoying time in the garage and having a total service nightmare.

While an expensive car hoist will not always mean high-quality materials, an exceptionally low-priced automotive hoist will almost certainly be cheaply made. That means no engineering to speak of, compromised safety systems and thinner steel. These are the kinds of things that can cost a business owner untold thousands of dollars in damage or downtime.
Make sure you get what you pay for
Car enthusiasts are willing to spend thousands of dollars on their beautiful automobiles, but they senselessly cut corners on the very thing that holds the cars up. There's nothing wrong with shopping around for a good price, but make sure you are willing to at least pay for the value you hope to get out of your new car hoist.
The purpose of this study
At BendPak, we believe the customer should always get what he or she wants. The best way to do that is for the customer to have all the information available. However, it's difficult for the average consumer to do their own hoist comparison, particularly when the true manufacturer of many hoists is kept secret by the reseller.
This is where we come in
We purchased one of the most popular no-name hoists on the market today, the Tuxedo. Tuxedo supplies imported car hoists to many different companies, who in turn market them under many different names and model numbers throughout North America. Check out this side-by-side comparison and determine for yourself which company offers the better value.
Top Views
Top-side comparison of BendPak mid-rise lift vs. competition.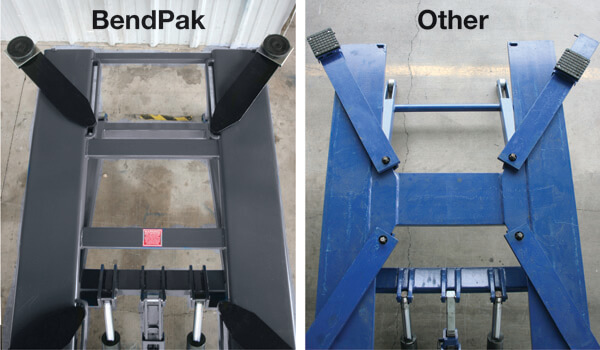 Power Units
Compare design integrity of power units.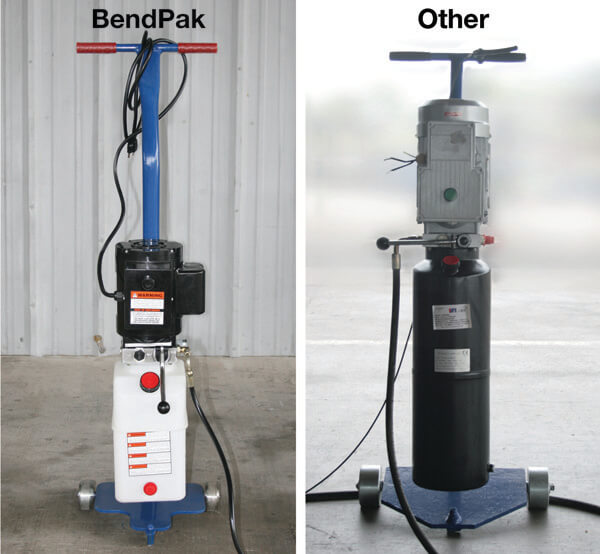 Mid-Rise Lift Power Sources
BendPak features cleaner, thicker wiring.

BendPak Mid-Rise Lift Pad Stoppers
Full grip on pad stoppers vs. only partial wrap on value brand.
Value Brand Pad Stoppers

Underside Arm Pads
Cleaner, superior welds on BendPak arm pad undersides.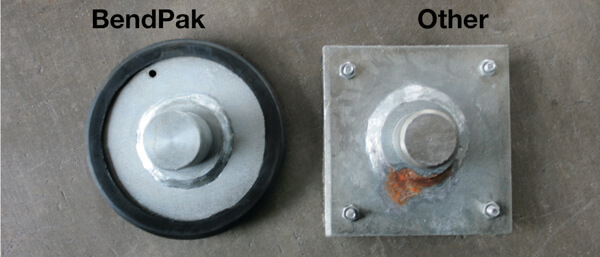 Pad Width Comparison
Circular pads offer same width as square pads, as well as a better hold.

Extended Pad Height Comparison
BendPak extended pads don't warp over time, and last longer than thin square pads.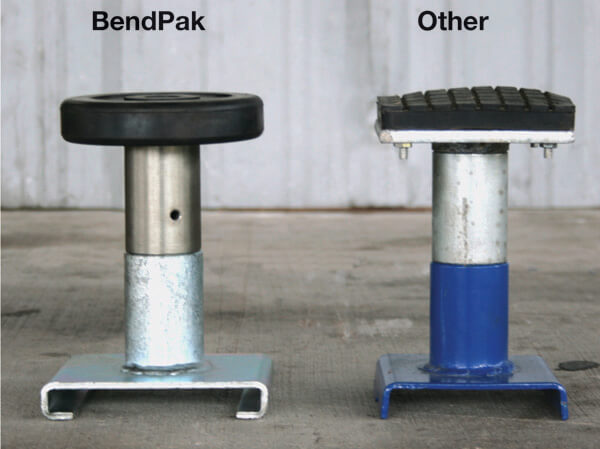 Value Brand Pad vs. Screw Height
Value brand's pad does not rise above screw. Will pose problems during some lifting applications.

Pivot Points, Top of Arms
Comparison of pivoting arms.

Arm Lengths
BendPak arm is wider, more durable.

Arm Widths
Clear view of BendPak's arm width for increased support.

Center Lock Bar Widths
Wider center lock bars improve lock integrity and structural support.
Center Lock Bar Attachment
Dual welded pivots and thicker lock bar only seen on the BendPak mid-rise lift.

Safety Lock Assemblies
"Other" brand's lock assembly appears rickety in comparison to BendPak.

Side-View Safety Lock Assemblies
BendPak features automatic, hands-free safety lock.

Value Brand Safety Lock Release
Value brand requires manual hand release for safety lock.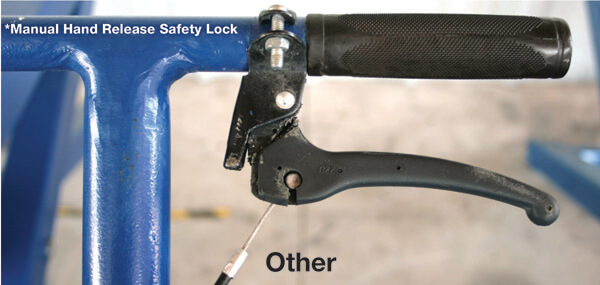 Cylinder Widths
BendPak's cylinder is significantly more robust than other brand's.

Hose Attachments
Protective & convenient hose attachments not available on value brand.

Back Bottom Cross Bar Widths
Wider cross bars increase lifespan of the hoist and improve safety, reliability during use.

BendPak Cylinder Attachments
Highly developed and overengineered for user safety and product longevity.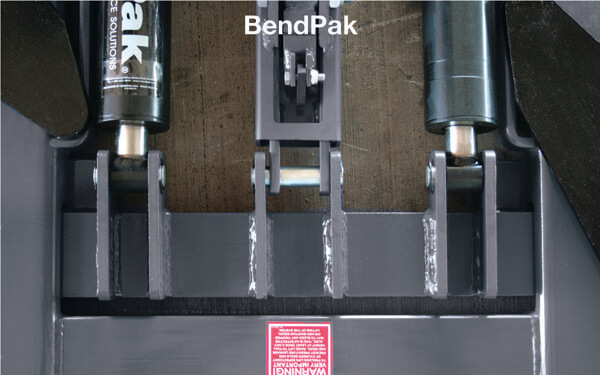 Value Brand Cylinder Attachments
Cylinder attachments are smaller, higher maintenance over time.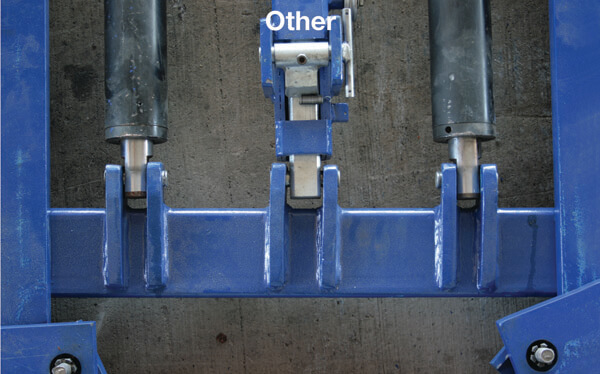 BendPak Solid Steel Torsion Bar
Torsion bar design on BendPak.

Value Brand Torsion Bar
Compare size and quality of torsion bar design to BendPak.

Bottom Cylinder Attachments
Rugged cylinder attachments nowhere to be found on value brand.
Bottom Cylinder Attachments
Notice weaker, less skillful welds and cylinder attachments.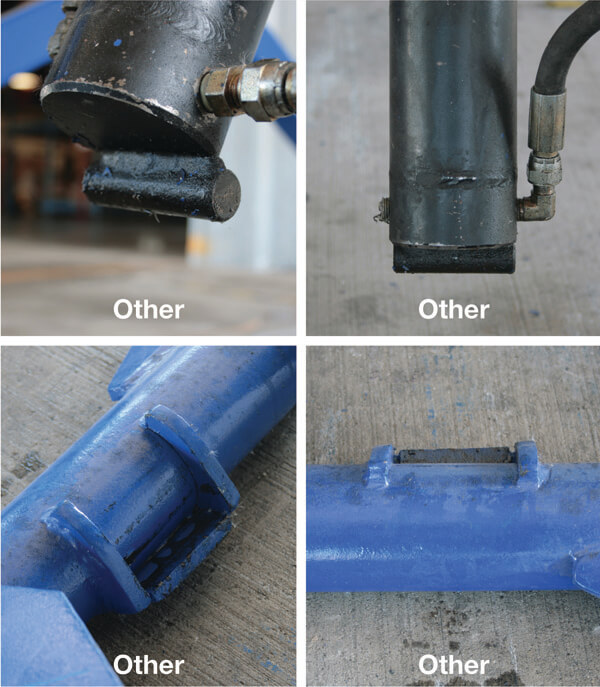 Base Tubing
Base tubing on BendPak prevents contamination, rust.

Leg Pivot Points
Compare BendPak's superior welding on leg pivot points.

Minimum Platform Height
Compare height of full collapsed platforms.

BendPak Cross Support Beams
Better engineering can reduce footprint while supplying higher quality materials.

Value Brand Cross Support Beams
Wider footprint on value brand.

Wheel Support
Thicker, more durable caster featured on BendPak mid-rise lift.
Arm Range of Motion
BendPak movable arm safely provides increased range of motion, increased access to wheelbases. Value brand pivots at a fixed position for more limited functionality.