A Study in Hoist Design
Cheap Two-Post ​Hoist vs. BendPak
Non-certified bargain brand ​hoist vs. BendPak® XPR-10* series two-post car hoists
*Design features and specifications are subject to change. Please consult factories for updates.
After exhaustively reviewing the merits of both BendPak® and a typical non-certified bargain asymmetric two-post hoists, the BendPak® team released the following report. In it, critical design features are compared, evaluated and illustrated in broad detail.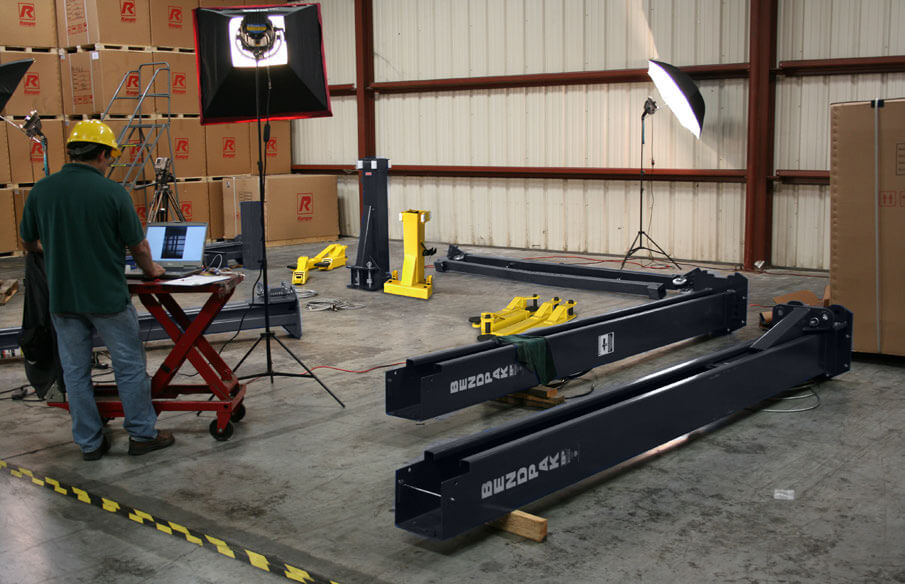 The truth behind cheap hoists
Established hoist manufacturing companies will proudly place their brand name on their product. Unfortunately, many hoist "brands" are just labels fabricated by dealers supplying these products as their own. If you find an auto hoist that interests you, be sure to search for an informative and detailed manufacturing company website, or at least a brochure. Also check to see if there are multiple dealers offering the same brand for sale. Some dealers may bill themselves as exclusive suppliers, but only for a brand that they created. If you can't find solid, verifiable information relating to the actual manufacturer of any given automotive hoist , or if only a very limited number of dealers even sell the hoist, you are probably best off searching for alternative options.
Cheap is
not

value

Value is a word that gets thrown around a lot these days. Everyone is looking for the best value whenever they purchase something. Equipment retailers have latched on to this idea; they try to position themselves as "value leaders" by offering cheap products at low prices.

But when you think about the true meaning of value, two primary things should be considered. (1) How much you're paying and (2) what you're getting for that amount. Discount hoist retailers want you to forget about the second part of the equation. They claim to provide the best value, but they are only providing you the best price. Business owners know that they need to consider the overall cost of the automotive hoist throughout its entire life of service. The checklist is slightly different for home users who don't plan on earning revenue off of the purchase. For them, saving a couple hundred bucks can still mean the difference between enjoying time in the garage and having a total service nightmare.

While an expensive car ​hoist will not always mean high-quality materials, an exceptionally low-priced automotive hoist will almost certainly be cheaply made. That means no engineering to speak of, compromised safety systems and thinner steel. These are the kinds of things that can cost a business owner untold thousands of dollars in damage or downtime.
Make sure you get what you pay for
Car enthusiasts are willing to spend thousands of dollars on their beautiful automobiles, but they senselessly cut corners on the very thing that holds the cars up. There's nothing wrong with shopping around for a good price, but make sure you are willing to at least pay for the value you hope to get out of your new car hoist.
The purpose of this study
At BendPak, we believe the customer should always get what he or she wants. The best way to do that is for the customer to have all the information available. However, it's difficult for the average consumer to do their own ​hoist comparison, particularly when the true manufacturer of many hoists is kept secret by the reseller.
This is where we come in
We purchased one of the more popular no-name hoists on the market that are sold on many websites under a variety brand names. There is a very good reason why these hoists are sold for hundreds of dollars less than a BendPak. Check out this side-by-side comparison and determine for yourself which hoist is safer and which is really the better value.
Column Front
BendPak single-piece columns are stronger, safer.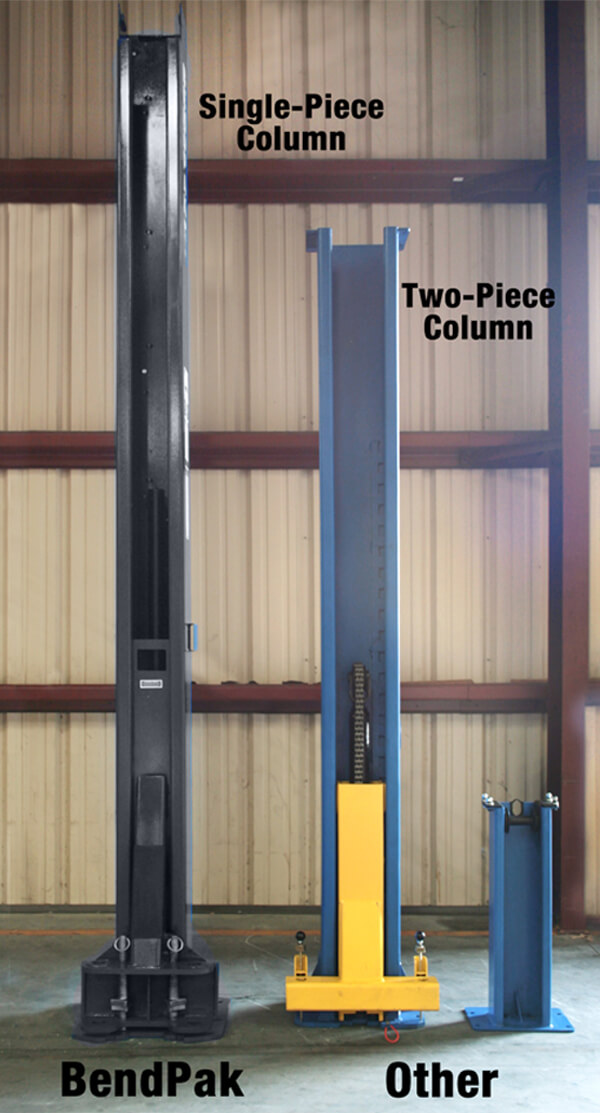 Column Side
Side view of column comparison.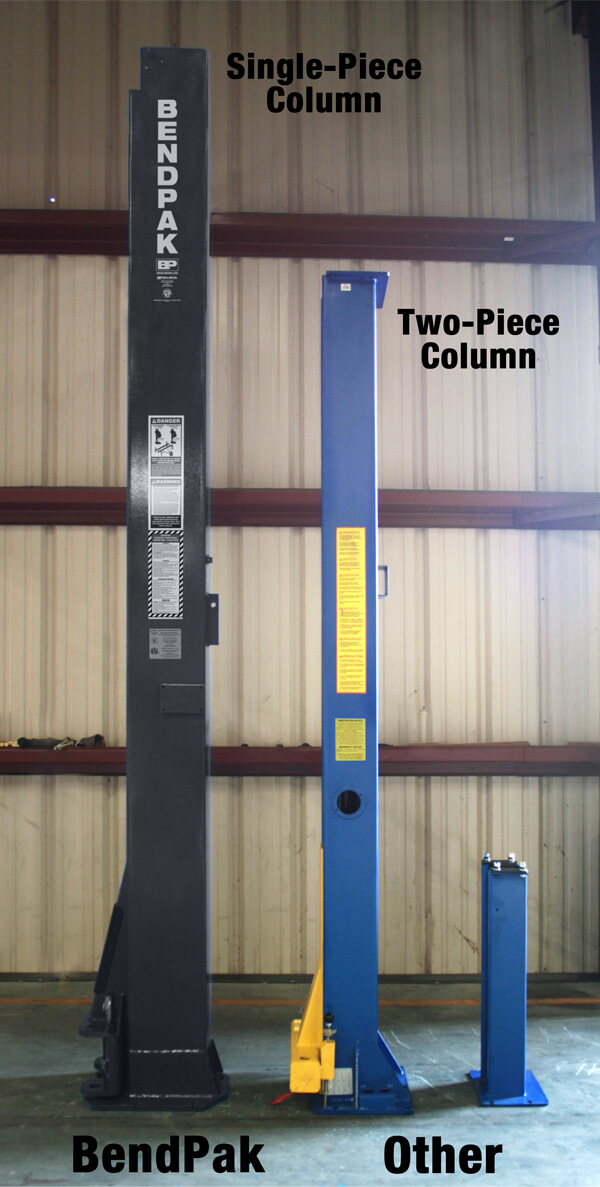 Column / Side Bottom
Wider, sturdier baseplates from BendPak.
Column / Rear Bottom
BendPak baseplate comparison.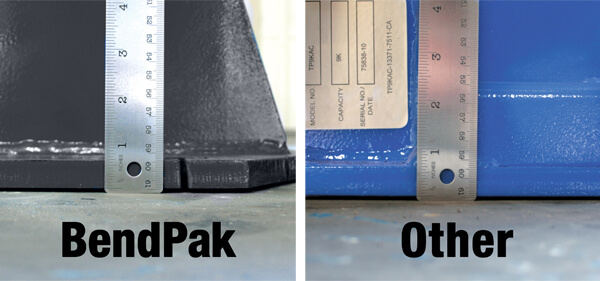 Certification Label
BendPak ALI Certified label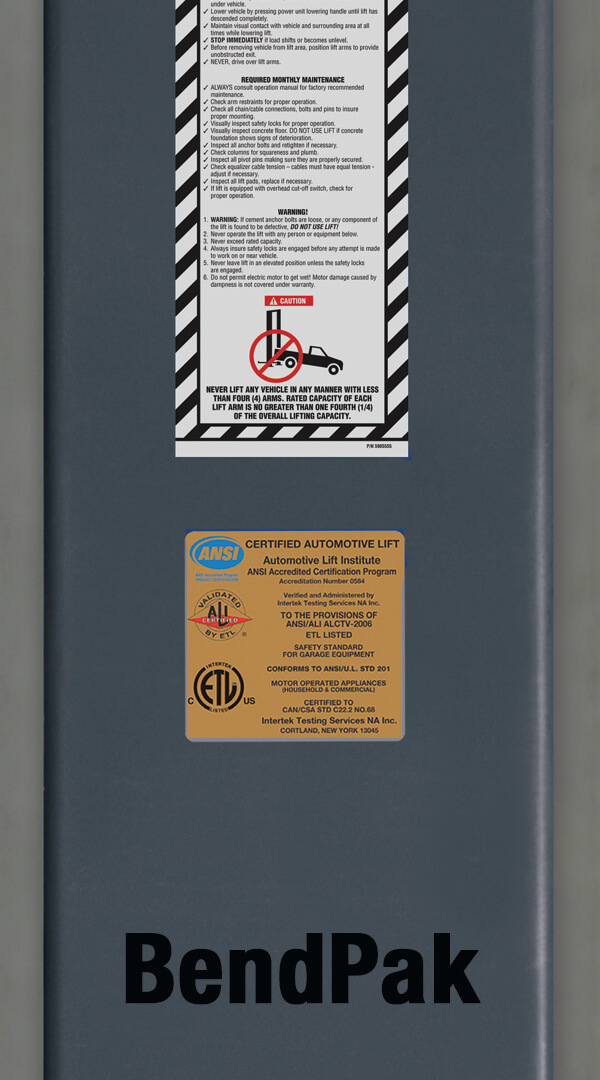 Warning Label
Warning label on a cheap, uncertified hoist.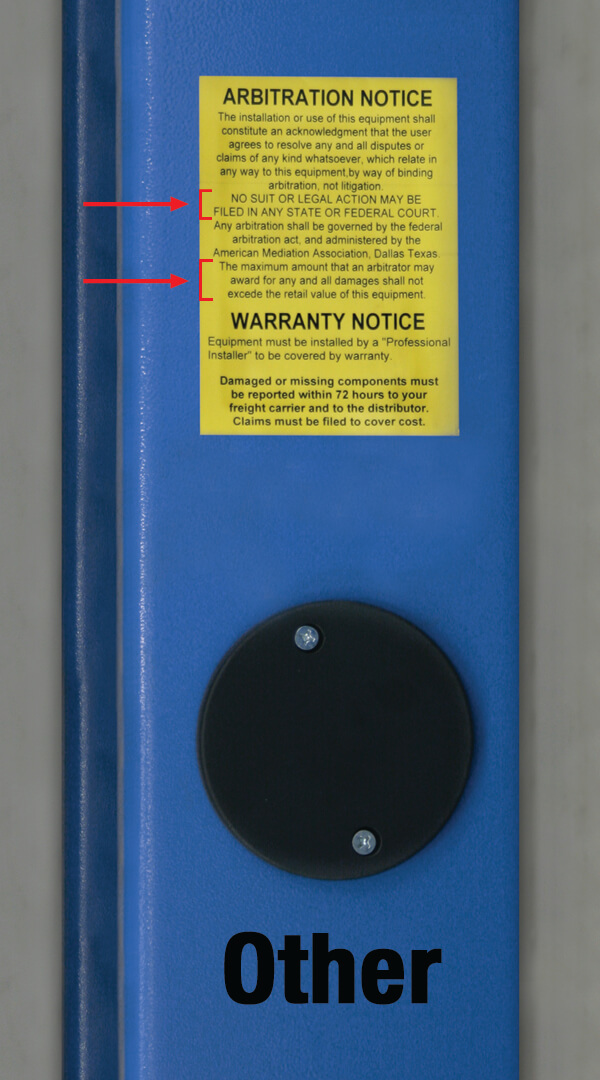 Column Assembly / BendPak® on Scale
BendPak column weighs in at 246 kg.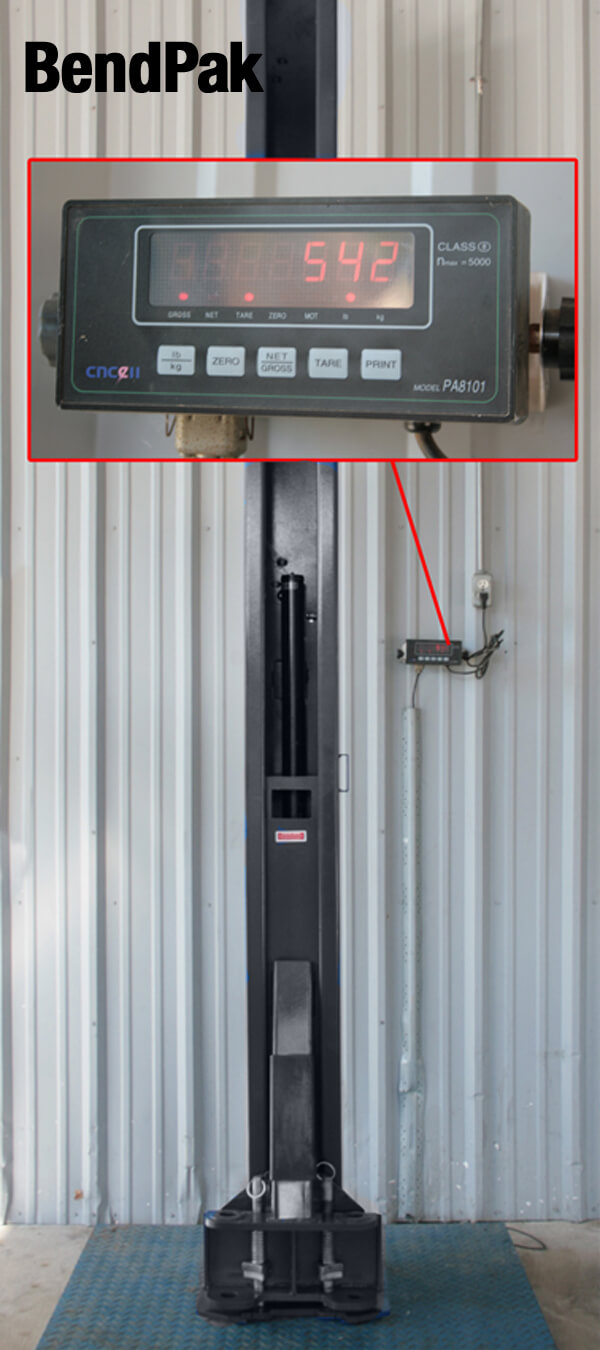 Column Assembly / Other on Scale
Uncertified hoist column weighs in at ​207 kg. Where's all the engineering gone?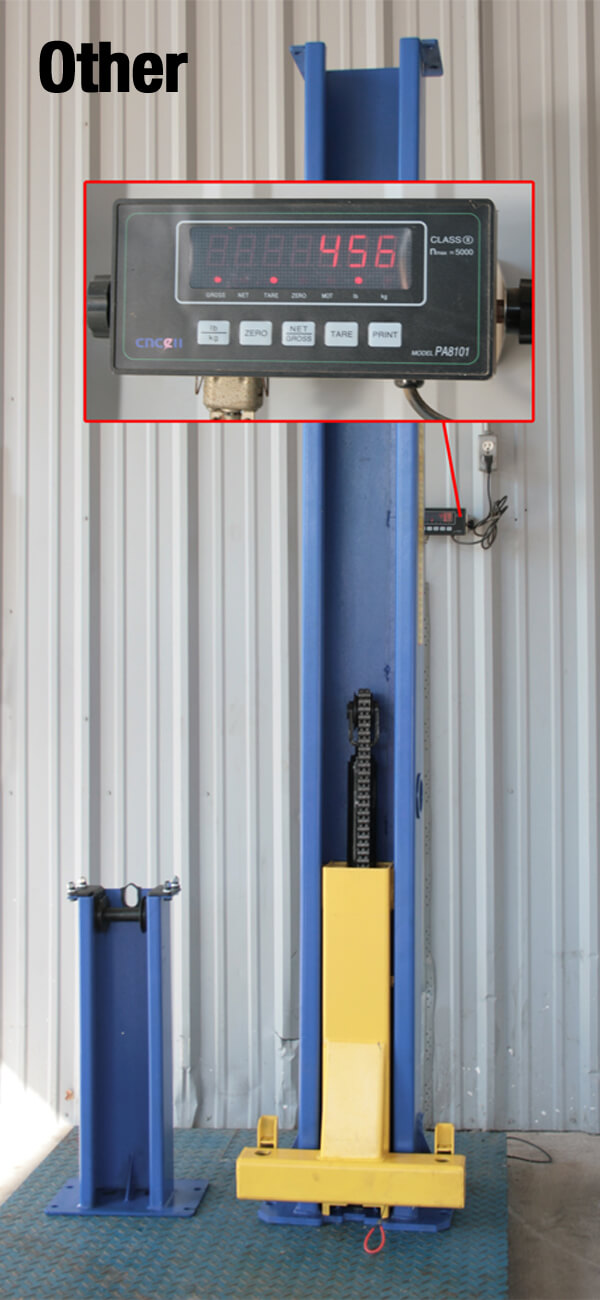 Carriage / Front
The taller lift carriage is critical for user safety and hoist preservation.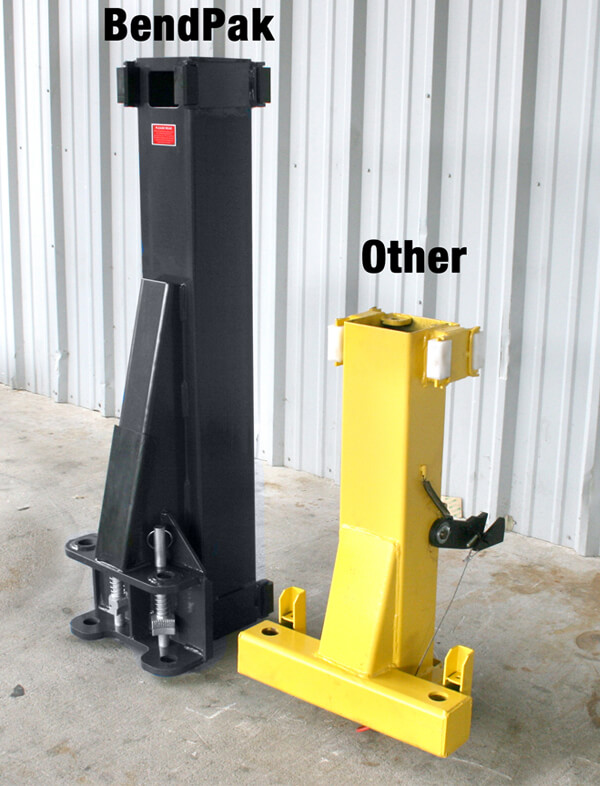 Carriage / Back
More locking positions on a taller, single-piece carriage. Lock nubs are welded for permanent hold and true peace-of-mind.
Carriage / Top View
Top view of taller carriage.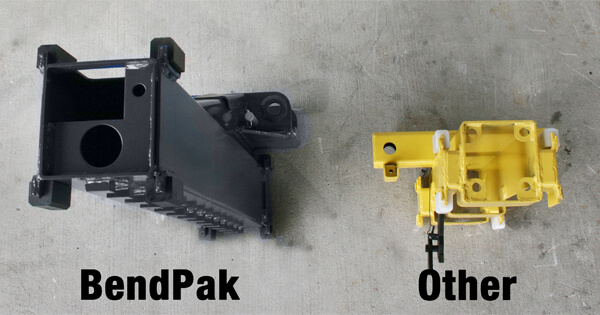 Carriage / UHMW Slide Bocks
Beefier slide blocks are zero-maintenance for lifespan of hoist.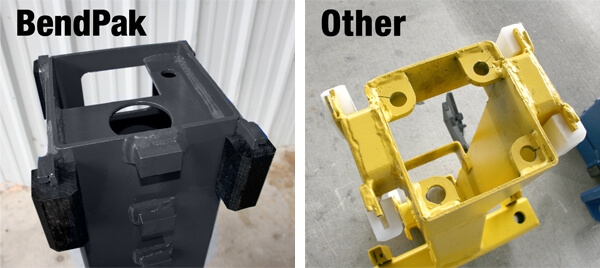 Carriage / Top Dimensions
Compare carriage top dimensions.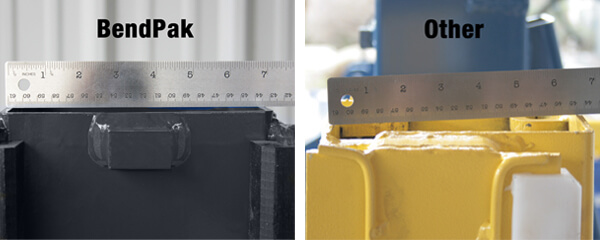 Carriage / Arm Attachment Location
Raised arm attachment location and a better-engineered product.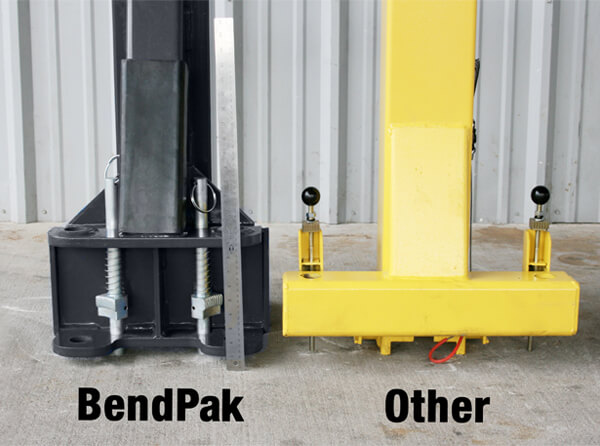 Carriage / Arm Attachment Holes
Reinforced arm attachment holes.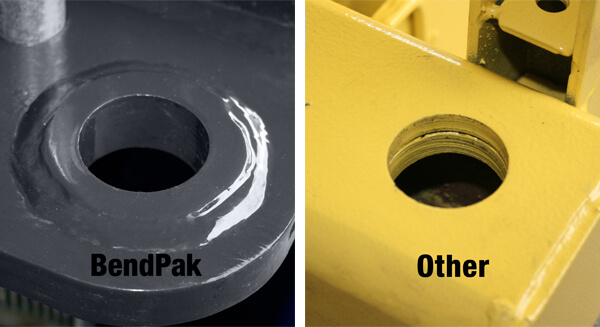 Carriage / Arm Restraint
BendPak's robust arm restraint leaves no room for doubt which is the superior design.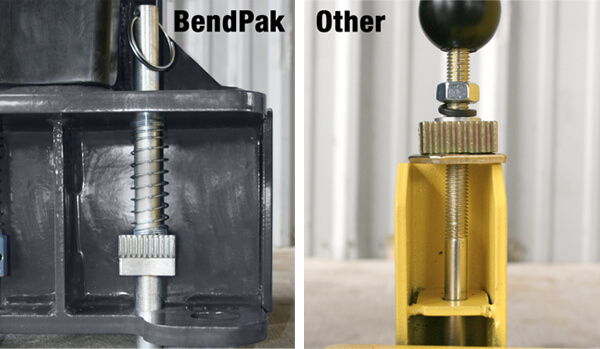 Carriage / BendPak® on Scale
Lift carriage is twice as heavy as uncertified hoist.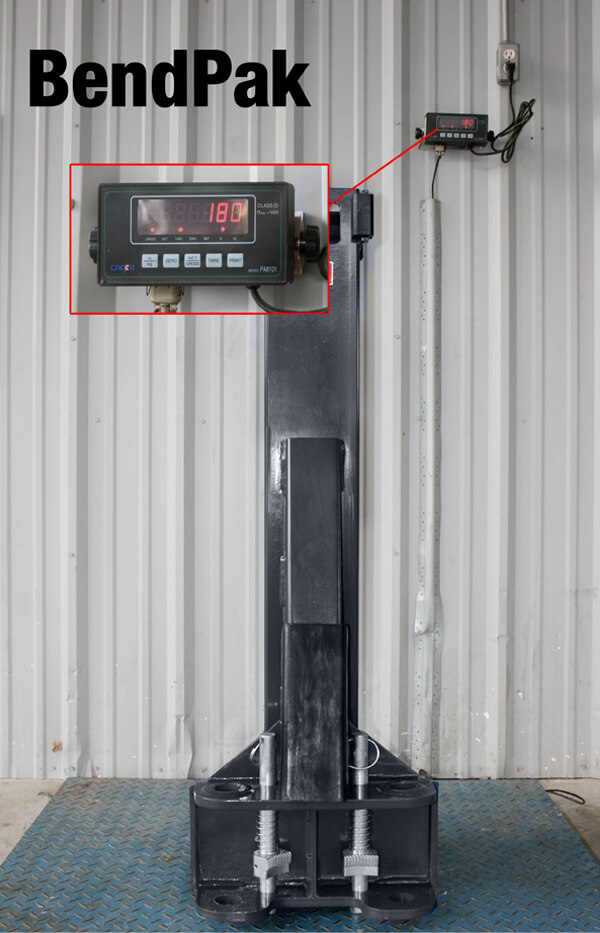 Carriage / Other on Scale
Revealed to be much lighter-duty when put on the scale and compared to BendPak.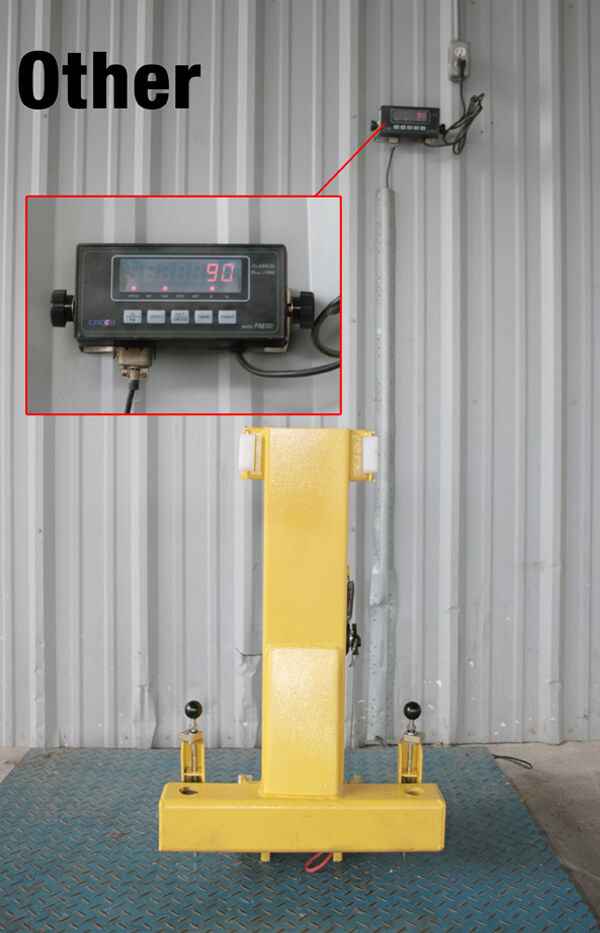 Arms / Detail
Large BendPak arm restraint vs. competition
Arms / Side Detail
Side view of arm restraints shows BendPak's superiority.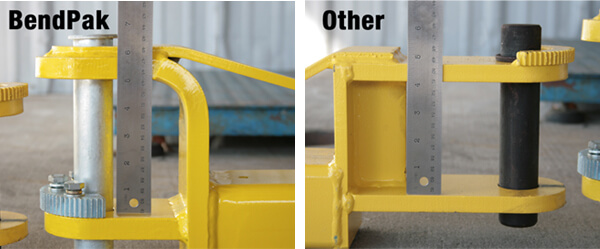 Arms / Reach / Retracted
With lifting arms retracted, hoists look similar.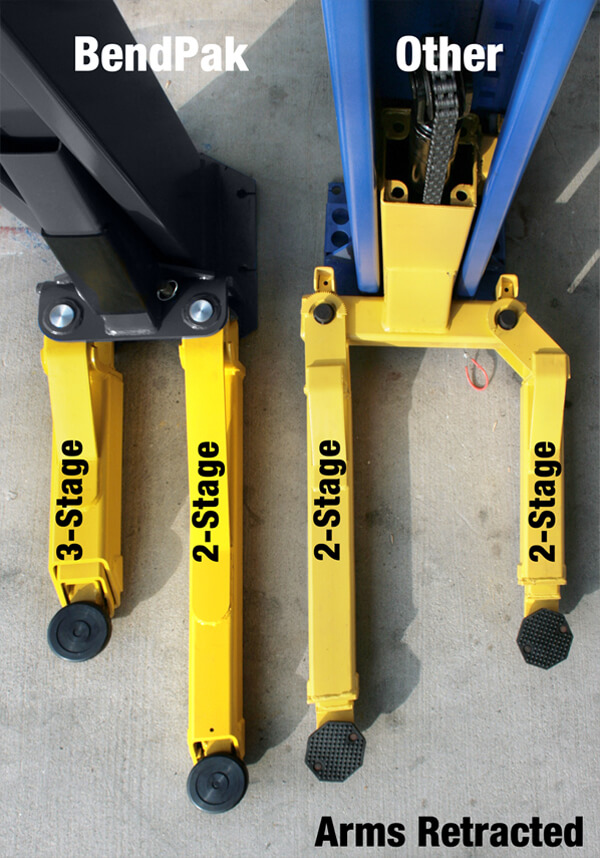 Arms / Reach / Extended
With arms extended, BendPak is the clear winner.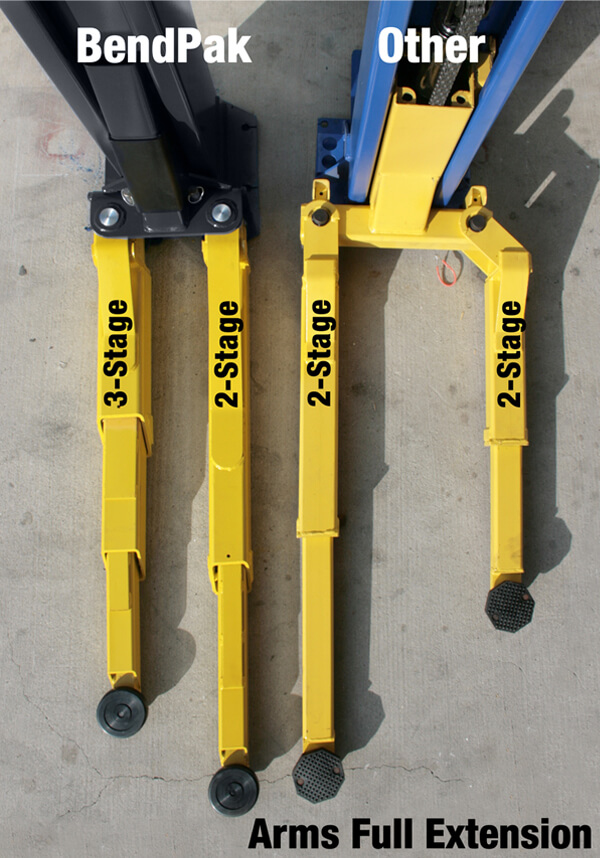 Arms / Construction / Method
Arm comparison, new angle.

Arms / Construction / Underside
Underside hoist arm comparison.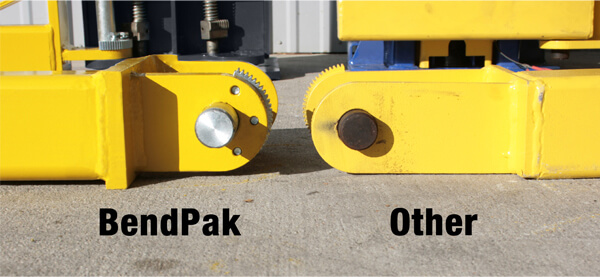 Arm Set / BendPak® on Scale
BendPak arms weigh in at 181 kg.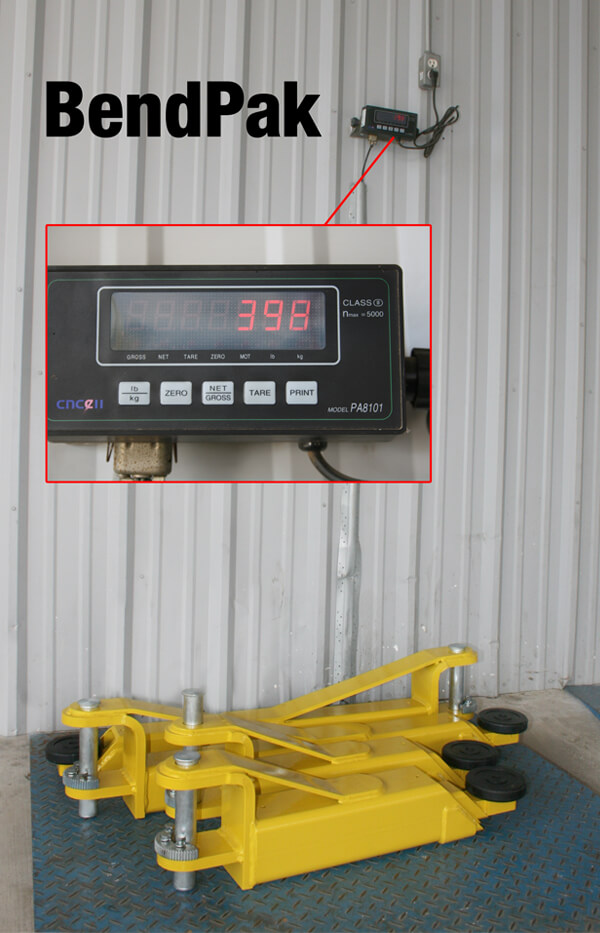 Arm Set / Other on Scale
Light-duty, uncertified arms weight only 161 kg.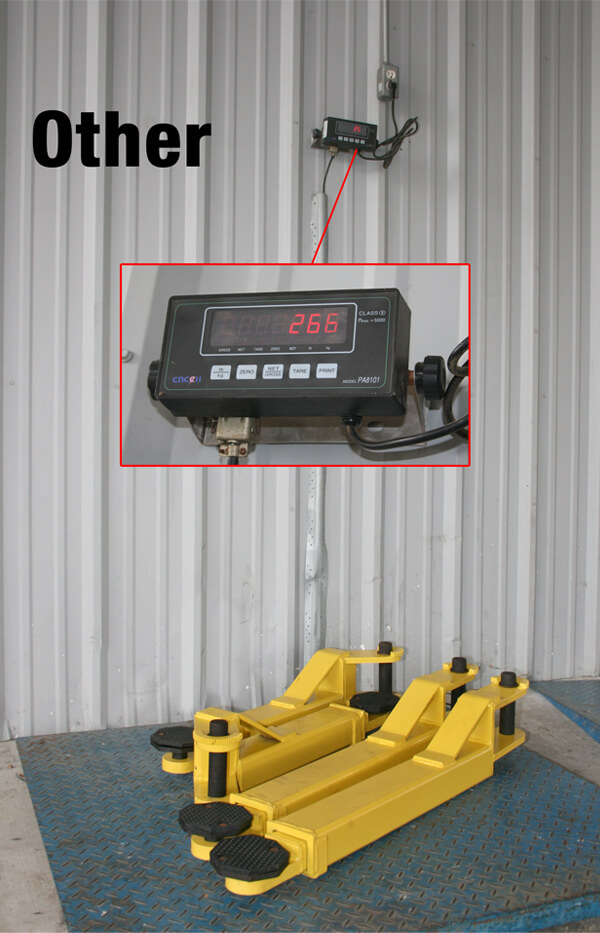 Top Beam / Sheave Detail
Massive ​127 mm BendPak wire rope sheaves vs. smaller 76 mm competitor sheaves.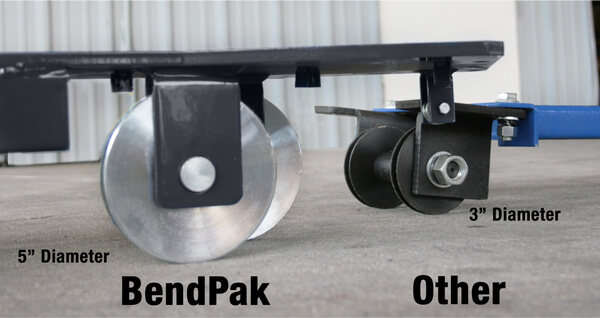 Top Beam / Top View
Top beam offers more security, superior welds and betters overall construction.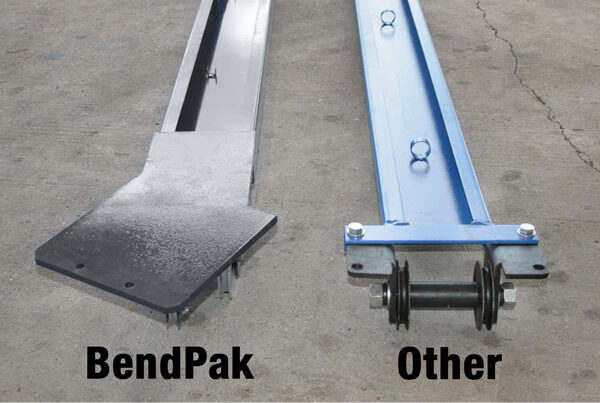 Hydraulic Cylinder / Rod End
Far more seals on the BendPak cylinder rod end.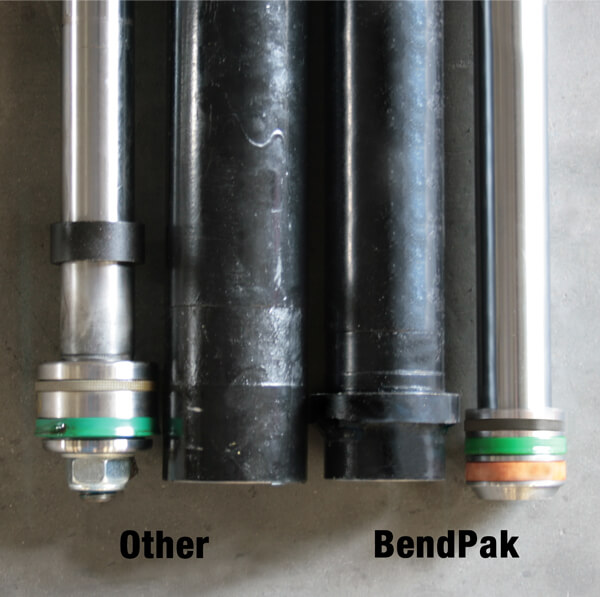 *Throttle valve opens to 100% max pump flow during rise, then closes and reduces flow during descent.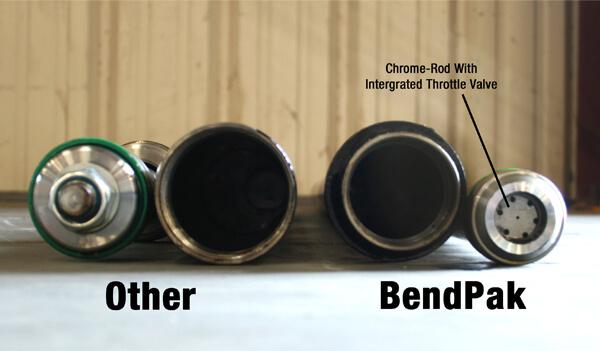 Hydraulic Cylinder / Full View
BendPak full cylinder is significantly longer than the competition.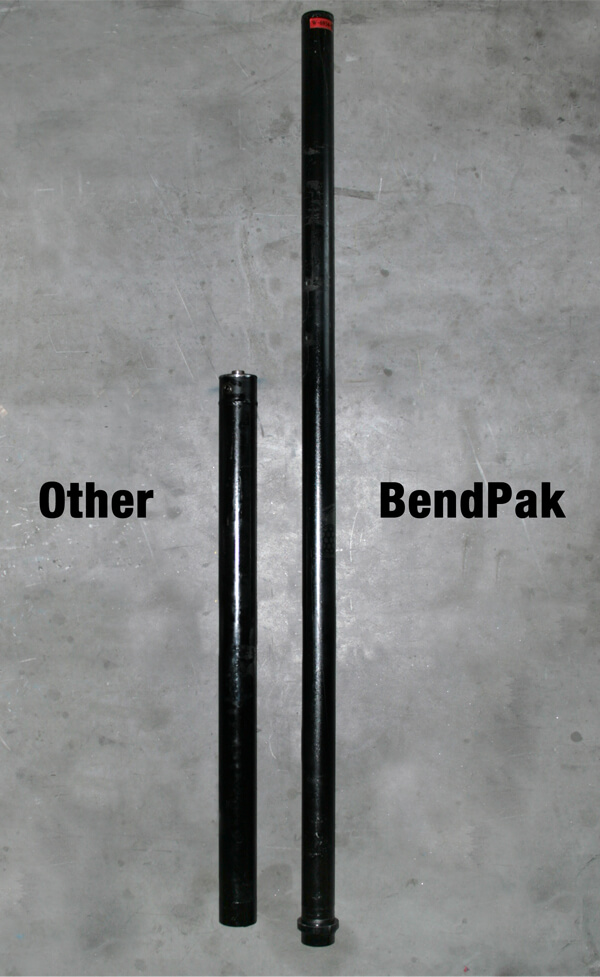 Equalizer Cables
Larger, stronger aircraft-quality cables come from BendPak.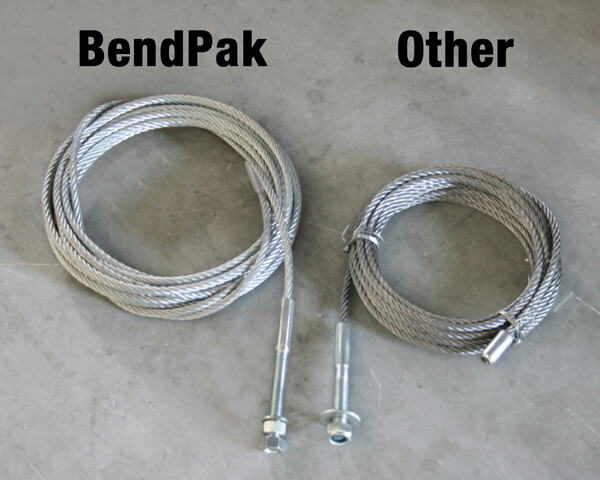 Column Sheaves
Massive column sheaves from BendPak will drastically increase the lifecycle of your hoist.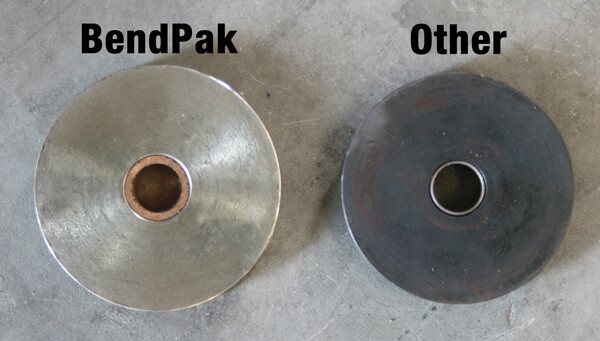 Upper Sheaves
Upper sheaves are equally sized the BendPak hoist, but much smaller on the competitor's ​hoist.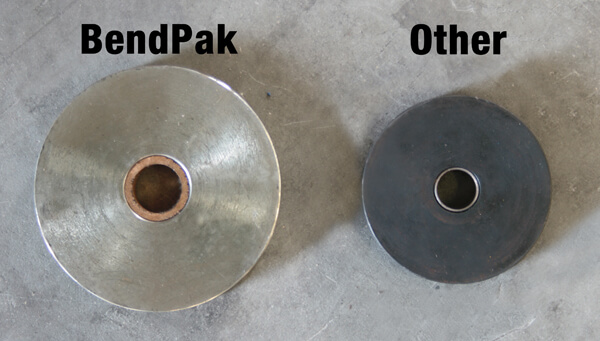 Power Unit
Power unit size and quality comparison.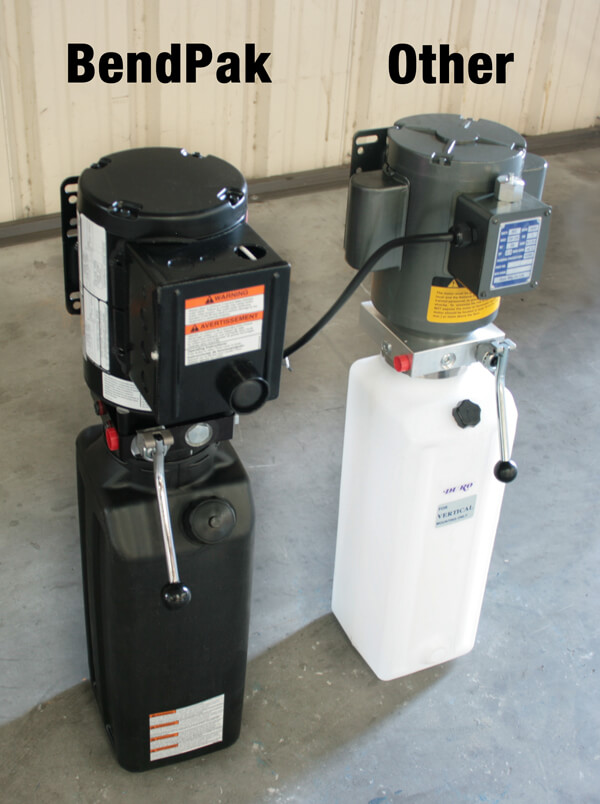 Tuxedo and BendPak Comparison
See an overview of our BendPak vs. Tuxedo two-post hoist comparison.