P-6B
SKU# 5175025
2,722-kg. Capacity / Low-Rise Lift / Open-Center / Pit-Style
---
Expand your service capabilities with a 2,722-kg. capacity low-rise pit lift. The P-6B is the industry's true innovator—the first open-center pit lift. BendPak pit-style hoists represent optimum convenience and versatility for any garage or quick-lube stop.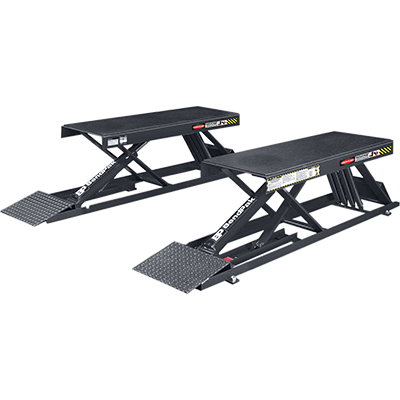 Bottom of the Pit, Top of the Line
Sometimes it's good to be in a pit. That is, as long as you're working with a BendPak low-rise pit lift. Our pit ​hoist models are favorites industry-wide because they come with the same quality construction and market-leading warranty as our other lifts (e.g., two-post ​hoists, four-post hoists, alignment lifts). Whether you need to flush-mount your hoist or lay it on the floor of your garage, we have models that do both. Maximum versatility and uncompromised customer service make up the BendPak way.
Surface and flush-mount options
Specifically designed and engineered for quick oil-change facilities, our pit lifts easily convert ordinary fast-lube pits into wheel-service bays, making wheel rotations and brake service a natural addition. Add thousands of dollars to your profit line every month with these revolutionary pit ​hosits that are loaded with crucial standard features, including an industrial 1-1/2 HP electric-hydraulic power unit, dual hydraulic cylinders, precision flow-divider, simple push-button controls and remote pneumatic safety locks. Installation materials, hydraulic hoses and mounting hardware are included with each unit. Optional LR-4A lift arms adapt fast and easy, allowing safe lifting of vehicles using manufacturer-designated lift points. These rugged hoists will easily handle virtually every automobile, light truck and SUV you can throw at it. The clear-center design installs over your existing pit without interfering with your lube bay opening.
Pneumatic lock release
Pneumatic lock release opens locks effortlessly and safely for simple lowering. One-press button controls release the locks automatically as your pit lift descends.
Low-profile design
A low 102 mm collapsed height accommodates most vehicles. This is a critical feature for the low-bodied sports cars and race cars that roll into your shop needed quick, reliable service. You never again have to worry about scratching the vehicle chassis.
Rugged steel channel frame
If you're going to do heavy lifting, you need a solid base for support. BendPak has a reputation for making our frames wider and sturdier than the competition, and we encourage you to ask anyone who's ever owned a BendPak car hoist to tell you how they feel about it.
Solid rubber lift blocks
While other companies will charge you hundreds for rubber lift blocks, we know you need them, so we include them with every hoist we make. No hidden charges whatsoever. Plus, these blocks are rugged enough to last through many years of service.
Detailed instructions
Every pit lift contains detailed installation and maintenance instructions, decals, vehicle lifting point guide and a safety/training instruction placard.
Choose flush-mount
The P-6BF pit lift mounts flush against the concrete, perfectly suited for service bays that want to virtually eliminate the profile of your collapsed hoist. This optional installation method practically eliminates the physical footprint of the car ​hoist in your shop. It also makes positioning vehicles easy, as there are no ramps to drive over.
Features
2,722-kg. lifting capacity
Easily convert fast-lube pits into wheel service work bays
Mounts outside the pit rail without interfering with center work area
Model P-6FB flush-mount model provides recessed drive-over option
Heavy duty 1.5 HP electric-hydraulic power unit
Electronic push-button controls allow smooth, single hand operation
Automatic multi-position safety locks with air release deliver safe, remote operation
Powder coat finish
Durable rubber-topped pad surface and rubber lift blocks provide quick set-up
ETL-certified
Specifications
Lifting capacity:
2,722 kg (6,000 lbs.)
Max capacity front axle:
1,361 kg (3,000 lbs.)
Max capacity rear axle:
1,361 kg (3,000 lbs.)
Max lifting height:
660 mm (26")
Max lifting height + Blocks:
737 mm (29")
Overall pad length:
1,346 mm (53")
Overall width:
457 mm (18")
Overall length:
2,057 mm (81")
Lowered height:
102 mm (4")
Motor:
115/208 or 230 VAC / 50/60 Hz / 1 Ph