P-6BF
SKU# 5175026
2,722-kg. Capacity / Low-Rise Lift / Open-Center / Pit-Style / Flush Mount
---
Enjoy the flush-mount version of the industry's first true open-center pit lift. The P-6BF is perfect for the busy garage or quick-lube bay that wants to reduce the footprint and maximize shop efficiency.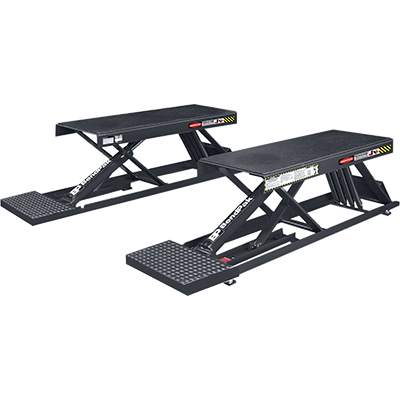 Flush-Mount for Zero Footprint
The P-6BF pit lift mounts flush against recessed concrete, making it perfectly suited for service bays that want to virtually eliminate the profile of your lift when it's not in use. This optional installation method practically eliminates the physical footprint of the car ​hoist in your shop. It also makes positioning vehicles faster, as there are no ramps to drive over. Additionally, a flush-mount ​hoist is guaranteed not to damage or scratch the undersides of low-riding cars.
Pneumatic lock release
Air-powered locks make it extremely safe and easy to lower your scissor lift back into the recessed concrete. We use air instead spring releases because they're low-maintenance and ultimately less cost to worry about over time. Keep the air charged to 50 psi in the cylinder and you're set!
Rugged steel channel frame
When the P-6BF is tucked away in the concrete, it's harder to keep an eye on all the components you can't see. That's why you can't trust any cheap brand in your service bay. BendPak hoists are built better and last longer. Rugged, high-grade steel out-performs the competition in both quality and cost-effectiveness. The P-6BF is over-engineered to guarantee ​2,722-kg. doesn't come close to straining its capabilities.
Solid rubber lift blocks
Durable lifting blocks are included with the lift for no extra charge. You can toss these blocks around without worrying about them chipping or losing their shape over time. Other companies still use cheap-looking and easy-to-tear pads on their low-rise lifts, but we know blocks are sturdier. They also offer a few inches of extra lift.
Detailed instructions
An easy-to-read instruction manual comes with any car hoist you order, as do safety labels and decals.
Features
​2,722-kg. lifting capacity
Easily convert fast-lube pits into wheel service work bays
Mounts outside the pit rail without interfering with center work area
Flush-mount provides recessed drive-over option
Heavy duty 1.5 HP electric-hydraulic power unit
Electronic push-button controls allow smooth, single hand operation
Automatic multi-position safety locks with air release deliver safe, remote operation
Powder-coat finish
Durable rubber-topped pad surface and rubber lift blocks provide quick set-up
ETL-certified
Specifications
Lifting capacity:
2,724 kg (6,000 lbs.)
Max capacity front axle:
1,361 kg (3,000 lbs.)
Max capacity rear axle:
1,361 kg (3,000 lbs.)
Max lifting height:
660 mm (26")
Max lifting height + Blocks:
737 mm (29")
Overall pad length:
1,346 mm (53")
Overall width:
457 mm (18")
Overall length:
1,981 mm (78")
Motor:
115/208 or 230 VAC / 50/60 Hz / 1 Ph