RBJ7000
SKU# 5175986
3,175-kg. Capacity / Jacking Beam
---
This 3,175-kg. capacity Jacking Beam is made for an HD-14 four-post hoist. Each jacking beam comes complete with three safety-lock positions and stackable pad adapters to provide added clearance when needed.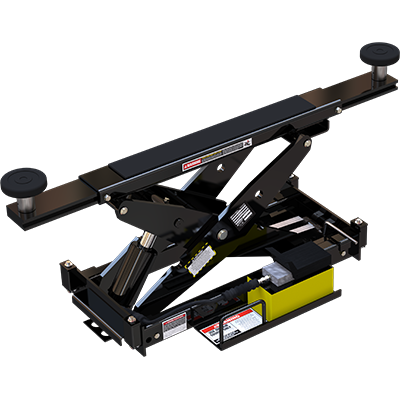 Lift 3,175-kg. for Full Wheel Service Capability
The HD-14 car ​hoist is one of our most popular units for lifting medium-duty vehicles, as well as low-stance sports cars. Its extended approach ramps make it easy to safely engage your vehicle's wheels, but what do you do when it's time for a tire swap? Unless you want a two-post ​hoist, as well, you'll want a pair of BendPak's RBJ7000 jacking beams. Each jack lifts half the vehicle frame.
Rubber contact pads
BendPak rubber contact pads are included with every rolling bridge jack we sell. The RBJ7000 pads engage the lift points of large vehicle chassis with ease. We recommend purchasing the optional frame cradle pads for larger trucks and SUVs, as well.
Stackable adapters
Because different suspension rigs and vehicle bodies sit at different heights above the ground, the RBJ7000 rubber contact pads come with stackable adapters. This lets you reach the lift points without sacrificing how much rise you get from the jack. The adapters work on every vehicle type; all you need to know is whether the RBJ7000 is the right jack for what you want to lift.
High-pressure hydraulic power unit
A single, air-hydraulic pump is fitted to the side of the RBJ7000 jacking beam. Your car ​hoist has its own electric-hydraulic system that runs independent of your jack's. After connecting the air line to the jack (needs 125 PSI and 10-20 CFM), an easy-to-use foot pedal activates the jack.
Three lock levels
For your convenience, BendPak ​jacking beams can be lifted to three different positions. They lock automatically as the jack rises and release together as the jack descends. Your car lift operations are separate from those of the ​sliding jack.
Features
3,175-kg. lifting capacity
Rubber contact pads
Stackable adapters
High-pressure hydraulic power unit
Optional air-line kit
RBJ7000 Specifications
Rise
A
- Max. Height + Pad Only:
18.8
B
- Max. Height + Pad + Adapter:
21.8
C
- Min. Height + Pad Only:
8
D
- Min. Height + Pad + Adapter:
11
Time to Full Rise:
45 seconds
Power Unit
Motor:
Air-Hydraulic Pump
Shipping
Dimensions:
914 mm x 559 mm x 533 mm (36" x 22" x 21")
Included commercial-grade air-hydraulic pump requires 125 psi and 10 – 20 CFM.
Note: Not all BendPak hoist models meet the standards as prescribed by ANSI/ALI ALCTV-2017 or ANSI/UL 201. Consult www.autolift.org for a complete list or contact BendPak via contact@bendpak.com.