R980XR
SKU# 5140146
Tyre Changer / Swing Arm / 762 mm Capacity
---
To get the space-saving benefits of the Ranger R980AT without the addition of an assist-tower, the R980XR is a perfect alternative tire changer. It's perfect for general repairs on a wide range of tires, including racing tires, pickup trucks and tire beads that won't put up much of a fight.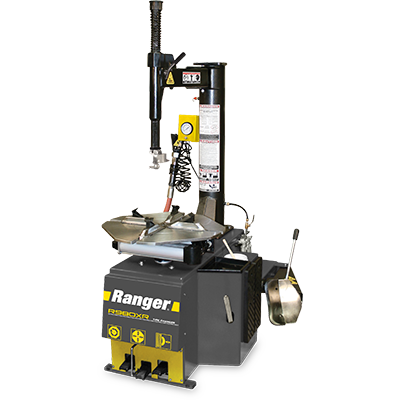 Designed to Perform and Built to Last
Each R980XR tyre changer features the latest in design and wheel service technology, providing the best value and performance in its class. The powerful motor and gearbox work systematically at a controlled speed for easy tyre removal and installation. Ergonomic controls are sensibly placed to minimise excessive reaching, walking or bending, resulting in more jobs per day and increased profits. Large storage trays provide ample space for wheel weights, tools and accessories on this tyre changer.
Electric turntable
To make tyre changes happen faster for you, we've designed each R980XR model with a high-torque electric turntable. They offer faster speeds and reversible direction to keep you moving. By controlling the speeds, your low-profile and run-flat beads have time to relax, all but eliminating the main cause of tyre damage.
Traveling drop-center top-mount helper / swing-in bottom helper disc
A powerful pneumatic drop-centre tool dramatically reduces the effort required to change tyres with tougher sidewalls. Operators on these tyre changers can concentrate on working safer and more efficiently. Holds run-flat and low-profile sidewalls in the drop-centre, then follows the bead around as the tyre mounts. A "swing-in" bottom disc can be used to re-loosen stubborn bottom beads or provide lift and support for wide/heavy tyres.
Updated electric motor
An improved electric motor features the best of proven technologies, including rugged copper rotor construction, high-quality bearings, thermal-cool epoxy insulation and durable rolled steel frames.
Upfront controls
All controls are ergonomically placed for easy access and operation that's as efficient as it is comfortable.
Stainless steel and aluminium pneumatic cylinders
Stainless steel and aluminium pneumatic cylinders are designed to reduce machine vibration and provide low-friction and long life operation. Internal end-of-stroke cushions are standard, offering extra cushioning at the end of each full stroke to reduce wear on seals, wear bands and piston rods.
Balanced flywheel
We've perfectly balanced every flywheel on our tyre changers to eliminate as much vibration and machine component stress as possible.
Bead-breaker design
Bilateral pneumatic accelerators offer incredible bead-breaker speeds, even in reverse. The stainless-steel bead-breaker cylinder does not react with moisture in the air, so there's never a risk of corrosion due to condensation. A multi-axis, adjustable blade allows operators multi-angle tyre capacity, as well as a large, dual-flange axle that completely eliminates blade flex and premature failure. The blade settings can be adjusted according to individual user preferences, a crucial design feature that permits a larger variety of tyre and wheel combos.
Enhanced bead-breaker ​blade
The bead-breaker ​blade is enhanced with a more rugged box frame that strengthens the integrity of the tyre changer structure, increasing the number of years you'll be using this one device to change tyres in your shop. A sizeable rubber bump-stop makes returns smoother than ever, reducing shock loading and cylinder wear, as well as wear on other moving parts throughout the life of your tyre changer.
Multi-function mount and demount head
The equi-dimensional shape of the hardened alloy steel mount and demount head features a micro-smooth tool head surface that glides tyre beads during mounting and demounting procedures. In addition to the standard alloy-steel mount and demount head, we also include a rugged polymer mount/demount head with adapter that protects fragile tyres and rims from metal-to-metal contact damage.
Pneumatic control valves
Industrial-grade, 45-micron, pneumatic control valves feature die cast and machined bodies constructed from zinc and aluminium. High-performance polyurethane seals and self-lubricating Teflon® piston guides extend life of the tyre changer and improve overall performance. Valve plungers feature muffled extrication ports that direct any dirt or contamination accumulated on the outside perimeter of the spool to be automatically blown away each time the valve goes into the release position.
Adjustable RimGuard™ wheel clamps
Ranger's exclusive RimGuard™ wheel clamps expand up to 762 mm. Made from high-quality hardened steel, the clamps on this tyre changer feature two sets of multi-teeth jaws, internal and external, as well as vertical mounting bolts that let you change tyres quickly.
Easier bead lubrication
Visual inspections are crucial to proper tyre changer operation. Ranger's geometric tabletop makes bead lubrication easier, and inspecting those crucial lower beads during mounts and demount is a cinch.
Simple foot-pedal control
Forged steel foot pedal levers can handle heavy-duty operations, no matter how often they're used. Snap-action springs return the pedal to the neutral position the moment you let go. Your tyre changers need to be extremely responsive, so you don't accidentally tear a tyre or slow down operations. Features multi-link rod connections for non-binding plunger movement and precise bilateral control.
Pneumatic tubing
Ranger Next Gen™ tyre changers feature high-pressure polyurethane pneumatic tubing. The tubing is equipped with a seamless bore for better flow rates, high abrasion resistance, high burst tolerance and maximum kink resistance.
TurboBlast™ bead seating
The TurboBlast™ bead seating system, found exclusively on Ranger tyre changers, forces air to help seat stubborn beads. Using a powerful blast from an attached hose, the non-marring nylon discharge barrel features a contoured tab that locks securely on the edge of the rim for better control during air discharge between the tyre and wheel. A welded-steel, eight-gallon surge tank is ready at all times for heavy-duty use and extremely fast charge times.
Maintenance-free gearbox
A newly designed, maintenance-free gearbox features a large oil and grease reservoir that helps provide efficient heat dissipation and improved lubrication for longer service life. Internal baffles and a constant seating stress flange gasket assure positive, leak-free venting. The rugged gearbox enclosure is precision-milled for precise alignment of horizontal and vertical bases and features precision helical gears that operate much more smoothly and quietly than typical spur gear transmissions.
Standard wheel service accessories
To keep your shop running as efficiently as possible, we include a range of wheel service accessories to accompany your tyre changer. Necessary items, like a soap bucket and brush, plastic wheel protector kit with turntable jaw covers, bead-breaker blade boots and specialised mount/demount head covers will make your shop life that much better. A hardened steel tyre iron and bead lever tool is included to assist with even the most stubborn tyre change operations.
Sealed electrical components
Not to overlook even the smallest details, Ranger tyre changers are completely sealed to protect all main-lead electrical terminals, auxiliary switches and motor enclosures. No dust or other contaminant can clog or damage the terminal leads. It's just one less thing for you to worry about when you choose Ranger for your shop's tyre changer.
Advanced drive belt system
The drive-belt on the R980XR has convex sidewalls that evenly distribute wear. The drive-belt also provides belt support, letting your tyre changer operate at full efficiency for years to come. Flex-bonded cords and flex-weave covers reliably fend off attacks by oil, heat, age, etc.
Spring-assisted tool shaft
A 45 mm spring-assisted hexagonal vertical tool shaft and hardened-steel horizontal outrigger support arm maintain perfect position of the mount-demount tool head during all tyre service procedures, greatly reducing the chance of tyre damage.
Foot-controlled tyre inflator
An easily accessed, pedal-activated tyre inflator immediately starts inflating tyres when the ergonomically placed foot pedal is depressed. Meanwhile, a sure-grip clip-on valve chuck is attached directly to the inflation hose, permitting operators to inflate tyres without ever using their hands, and an air pressure dump valve is integrated into the structure of the tyre changer itself, enabling you to lower tyre pressure with just the push of a button. This sophisticated design makes Ranger tyre changers easy to operate in the most intense shop environments.
Motorcycle clamps (optional)
Changing motorcycle tyres? No problem. Ranger's R980XR tyre changer fits an optional motorcycle clamp, sold separately. The more clients you service, the more you add to your bottom line and the happier you'll be.
Features
Wheel Clamping Method (Adjustable Clamps)
Table Clamping System
Bead Breaking System
Power Assist Towers
Tool Holder
Inflation Gauge With Integrated Air Dump Valve
Inflation Pressure Regulator/Limiter
Water Filter
Oiler / Lubricator
Air Regulator
Breaker Bar
Large Soap / Lubricator Bucket
Brush
Alloy-Steel Mount/Demount Head
Plastic-Polymer Mount/Demount Head
Tower Design
Bead Lifting Roller(s)
Upper Bead Assist Roller
Traveling Drop-Center Hold Down Device
Inflation Restraint Device
Bead Seating System
Tool Tray / Bin Storage
Motorcycle Turntable Clamps
R980XR Specifications
Style
Style:
Fixed Tower Design
Assist
Assist Type:
Single-Tower Assist
Motor
3 HP (220 VAC 50-60 HZ)
Drive System Type
Electric / Air
Air Requirement
140-165 PSI (10-11 BAR)
Wheel Clamping Method
4 Clamps - Internal / External
Table Clamping System
Dual Pneumatic Cylinders
Bead Breaking System
Pneumatic Blade / Dual
Tower Design
Rigid / Fixed
Bead Seating System
Turbo Blast / Bead Seating
Internal Rim Clamping Capacity
254 mm - 762 mm (10" – 30")
External Rim Clamping Capacity
229 mm - 711 mm (9" – 28")
Turntable Tyre Width Capacity (Mounting)
102 mm – 457 mm (4" – 18")
Bead Breaker Tyre Width Capacity (Demounting)
38 mm – 406 mm (1.5" – 16")
Maximum Tyre Diameter
1,270 mm (50")
Shipping Weight
363 kg (800 lbs.)