HDS-14LSX
SKU# 5175171
6,350-kg. Capacity / Alignment Hoist / Extended / Includes Turnplates and Slip Plates
---
The legendary, 6,350-kg. capacity HDS-14LSX alignment hoist pulls double duty as both car hoist and alignment system. We've integrated industrial-strength slip plates and turn plates right into the runways to maximize convenience. The wheels respond to every adjustment with virtually no resistance.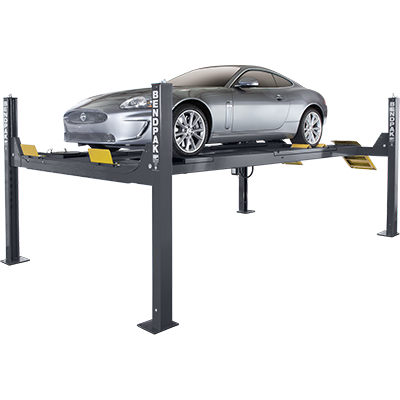 Alignment Hoist System Offers 6,350-kg. of Pure Hoisting
BendPak's HDS-14LSX alignment hoist is engineered to meet the strenuous demands of your toughest professional hoisting jobs. Designed into the HDS-14LSX alignment hoist is a long list of crucial features that improve safety, durability and productivity, ensuring your BendPak is the absolute best car ​hoist you can buy.
This is the sturdy beast you want as the backbone of your shop, especially if you service large, low ground-clearance vehicles. Our alignment system features front turn plates and rear slip plates built right into the runways. The wheels always respond to your adjustments with no resistance or hassle. We call it "free-floating." You'll find it unbelievably easy.
Slip plates
Multi-caster slip plates in the back and turn plates in the front allow for extremely precise, free-floating alignment.
Turn plates
Dual, recessed turn plate pockets allow you to position the corrosion-resistant, galvanized turn plates in the location best suited for individual vehicle positioning. These turn plates provide more clearance for equipment installations.
Dual-hub cable sheaves
This BendPak alignment hoist comes standard with robust ​267 mm diameter cable sheaves within the runway and cross tubes and ​57 mm diameter sheave axles that are equally durable. Both contribute to the longevity and low-maintenance cost of owning and operating your ​hoist.
Heavy-duty aircraft cable
A ​13 mm diameter 6 x 25 aircraft-quality stainless-steel hoisting cable runs through each of the four columns. Designed for non-stop use and totally resistant to rubbing and other abrasions (e.g., weather, chemicals, hydraulic oil).
Adjustable height locking positions
Get your alignment hoist to just the right height. No need to reach or bend for the turn plates, as every few inches, each post column features a lock position for your convenience.
Built-in lubrication
Grease fittings are included on every BendPak ​hoist, so you can focus on the alignment of your wheels without worrying about the lubrication of your cable sheaves. BendPak makes it easy to keep an eye on your grease nipples, which only require periodic maintenance. Just peek inside the structure before, during or after using your alignment hoist to see how the fittings are doing.
Flow restrictor
In the extremely unlikely event of a hose rupture, BendPak's unique hydraulic flow divider provides a safe, even descent, thus keeping your alignment hoist structure safe and ready to go after you address the situation. We highly doubt you will ever encounter this situation with your ​hoist.
Spring-loaded safety locks
As the alignment hoist rises to your preferred service level, springs engage the locks into place at each ladder position. The adjustable nature of the spring-loaded, multi-locking structure offers you the comfort of knowing that you're safe to hoist, even if there's a slight slope in your garage.
Push-button pneumatic lock release
A simple push-button pneumatic lock release makes lowering operations simple and fast. Aircraft-quality stainless steel and aluminum pneumatic cylinders provide years of trouble-free service.
Secondary lock system
A slack-cable lock is your backup safety mechanism that's ready at all times to shut off the alignment hoist in the event of dangerous cable slack.
Integrated design
All cables, sheaves and airlines, as well as the single hydraulic cylinder, run internally through the ​hoist structure. This optimizes aesthetics and safety in way that has come to define the BendPak brand.
Electric-hydraulic power system
No maintenance necessary! The electric-hydraulic power system features ergonomically located controls for easy operator access during repetitive daily use.
Longer approach ramps
Longer ramps make it easier to load low ground-clearance vehicles onto the car ​hoist structure. Alignments on these vehicle types are no hassle, and of course, larger vehicles can glide on just as easily.
Flexible protective conduit
An extra-tough yet flexible conduit protects all airlines and hydraulic hoses from daily wear. Your alignment hoist is safer and operations can be handled more confidently when you know your cables won't deliver sudden, unfortunate electric shocks, ruptures or fluid leaks.
Rolling ​jacking beams
Optional rolling jacking beams make a great addition to increase service capacity. Bridge jacks raise the front or back of vehicles, so wheel and brake service can be performed without moving to a two-post ​hoist or scissor hoist. Use two jacks to raise the entire car. Telescoping arms and frame contact pads extend over runways and target the vehicle frame's hoisting points. Runways are fully adjustable for different tread widths. Three locking positions offer additional operator control.
Choose extended frames
The HDS14LSXE alignment hoist is designed for extended-length vehicles, such as trucks and vans. The runways and overall length are extended by ​762 mm. With runways now ​5,817 mm in length, some very long vehicles can fit easily on the car ​hoist. If your service bay demands these vehicle types, an extended length alignment hoist is absolutely necessary to perform wheel alignments.
Features
6,350-kg​ hoisting capacity
CE Approved and Certified. Meets or exceeds the standards prescribed by European Standard EN 1493
Two runway lengths to choose
Heavy‐duty turn plates and integrated rear slip‐plates included
Multi‐position turn plate pockets
Automatic leveling system
Multiple auto-leveling locking positions
Runways include rail‐kit for optional accessories
Electric / hydraulic power system
Single hydraulic cylinder mounted underneath runway
Fully enclosed hoisting cables, safety locks, and sheaves
Internal "Anti-Sway" slider blocks in each column
Features oversize sheaves and heavy‐duty 13 mm aircraft cable
Rugged 25 mm roller axles and oversize self‐lubricating cable sheaves
Multi‐position safety locks in each column with push‐button safety release
Runways adjust for different tread widths
Optional 3,175-kg. capacity ​jacking beams available (Model RBJ7000)
HDS-14LSX Specifications

Capacity
*Max Capacity / Front Axle
7000
*Max Capacity / Rear Axle
7000
Rise
Time to Full Rise:
60 seconds
Inside Dimensions
H
- Width Between Columns:
120
I
- Drive-Thru Clearance:
98
Runways
L
- Width Between Runways:
Alignment
M
- Min. 4-Wheel Alignment:
N
- Max. 4-Wheel Alignment:
O
- Max. 2-Wheel Alignment:
Power Unit
Motor:
220 VAC / 60 Hz / 1 Ph
Shipping
Weight:
1,407 kg (3,102 lbs.)
Dimensions:
5,309 mm x 559 mm x 1,118 mm (209" x 22" x 44")
Note: An air supply (minimum: 30 psi / 3 CFM) is required for the safety-lock mechanisms to disengage. It is solely the responsibility of the end-user to provide, install and maintain the air supply.
Note: Not all BendPak hoist models meet the standards as prescribed by ANSI/ALI ALCTV-2017 or ANSI/UL 201. Consult www.autolift.org for a complete list or contact BendPak via contact@bendpak.com.