RL-8500XLT
SKU# 5150080
Combination Disc/Drum Brake Lathe with Bench & Standard Tooling / Super-Duty
---
The heavy-duty, extended RL-8500XLT combination brake lathe is capable of truing a full 254 mm deep brake drum. It features independent DC servo motors to command both the spindle feed drives and cross feed drives. This eliminates complex gear boxes and transmissions on mechanical lathes.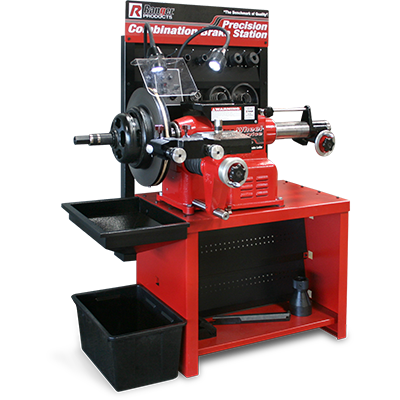 The Ranger Heavy-Duty RL-8500XLT Brake Lathe
The new heavy-duty RL-8500XLT combination brake lathe from Ranger features an extended capacity spindle and can turn a drum that's up to 254 mm deep. The longer spindle and the relocated rear bushing provide the RL-8500XLT arbor with enough support to handle your heaviest drums, rotors and flywheels.
The durably crafted RL-8500XLT brake lathe resurfaces brakes quicker and more precisely than any other lathing unit on the market today. Like the RL-8500, the RL-8500XLT features unlimited feed rate settings, allowing the user to modify resurfacing rates with an easy turn of the dial. Now you can decrease or amplify the cut duration for the perfect finish, whether you're rushing through the first rough cut or performing a single-pass micro-finish. The RL-8500XLT brake lathe is the total package and comes with a strong bench, plus ample tool storage backboards, so your adapters are always nearby.
Ranger's RL-8500XLT heavy-duty combination brake lathe represents the future of brake lathe technology while simultaneously maintaining the classic design that auto pros and technicians are most familiar with. By implementing DC servo motor controls for the cross feed and spindle feed drives, we've removed any need for cumbersome mechanical gear boxes and transmissions used in older brake lathes. Effectively, the RL-8500XLT brake lathe drastically decreases lifetime repair and maintenance costs when compared to other lathing units.
A common problem that plagues other brake lathes is the vibration and chatter transfer that directly affects the tool-tip, leaving an imperfect cut on the machined surface. The RL-8500XLT is specifically designed to address this issue by eliminating the need for gear-driven mechanical drives and variable-speed transmission devices.
The extended-edition RL-8500XLT brake lathe simply offers the best features, best performance, best utility and best productivity possible in a brake lathing unit. If you're seeking to expand and improve your service capabilities, the RL-8500XLT brake lathe is one of the strongest investments you can make.
Simple, durable, trouble-free
The beauty of our brake lathes is that they're as easy to use as they are durable in the busiest shops. The super-duty cast-iron design is paired with the most precise ground components, as well as giant "floating spindles," all of which make up one of the best pieces of shop equipment on the market.
A tradition of service
Ranger Products is proud to be considered among the elite automotive service equipment suppliers in the world. We toot our own horn pretty regularly, we admit, but we do it because we go so far out of our way to prove our claims. Whether it's a safety feature, innovative design or just the ruggedness of the tool itself, no one else comes close to our level of production or service. Our brake lathe units are just one of many incredible products we know you'll enjoy for years to come.
Time-tested construction
The RL-58500 brake lathe has been a staple of ours since it was introduced 40 years ago, so we figured it was time we added the RL-8500XLT as a heavy-duty model of the same design. The XLT model retains the simplicity, speed, precision and durability you expect from Ranger. This brake lathe just might outlive you (if that isn't scary to think about). It includes a twin-cutter tool head with micrometer dials, quick drum-to-rotor changeover, adjustable speed settings that allow for quicker rough cuts (or slower smooth cuts) and an infinitely adjustable spindle-feed gear box with a variety of speed settings. Plus, our negative rake tooling yields one-pass finish cuts every time, and the standard 25 mm arbour provides many tooling/adapter options. Finish-cuts are guaranteed to meet or exceed factory specifications.
Transmission-free, dual servo motors
We've taken the initiative to go ahead and slash your maintenance costs down the road. You're welcome! There's no gear box on our brake lathes, nor are there variable-speed transmission devices with hundreds of moving parts that can—and do—fail with time and age. Instead of gear boxes and transmissions, this brake lathe uses maintenance-free, independent DC servo motors to control the cross feed and spindle feed drives.
Heavy-duty bench included
Other manufacturers might try to make you pay extra for a sturdy bench, but Ranger throws it in as a standard accessory. Plenty of storage on the backboard keeps your tooling close at hand. A large chip "catch" funnel and chip bin keep your shop looking smart, safe and clean. We also include a toolbox to hold your adapters and other accessories.
Easily change from rotors to drums (and back)
A handy quick-change tool-head design gives operators the ability to easily change the setup from drums to rotors and vice-versa. Upfront controls are designed for minimal operator movement. A convenient tooling tray is positioned near the front of the lathe, so you can keep your preferred tools nearby.
Fully equipped tooling package comes standard
Micro-dial twin tool cutter, boring bar, inside floating adapters, self-aligning spacer, outside floating adapter, centring cones, spacers, double-taper adapters, hubless adapters, carbide cutting tools, 6-sided carbide cutting inserts, 25 mm arbour, arbour nut, back load spring, spare bulb for lamp, illustrated instruction manual, wrenches, high-impact anti-vibration bands, storage case and more all come standard with a Ranger brake lathe.
Safe and easy to use
Brake lathes are safe when used properly, but we've made sure to take as much hazard out of your work as we can from the manufacturing end. Our unit design is ergonomic, so you're never pulling or cranking from an off-balance position. Get the job done faster with tool storage boards that have enough space to hold plenty of shop items (e.g., adapters, accessories).
Adjustable work lamps
Dual LED lights keep your work area properly lighted, even in the darkest corners of your shop. A separate switch lets you turn them on or off at your convenience, and a clear Plexiglas safety shield protects users without obstructing their view.
Let the chips fly
Included chip catch funnels debris into a large chip bin, ensuring easy disposal and a tidy work area.
Optional truck adapter set
The Ranger brake lathe truck adapter set contains a 48 mm arbor, as well as other adapters. We're not messing around: the adapter set is massive and lets you handle the brake service needs of every vehicle that rolls into your shop, including commercial flat-bed trucks.
Features
Extended capacity spindle can be used on brake drums 10" deep
Rear bushing location provides extra support for the arbor
Capable of truing even the heaviest drum rotors
In contrast to mechanically-driven transmission and gear boxes, the RL-8500XLT uses precision electric DC servo motors designed to meet the demanding requirements of industrial motion control
Quick-Change Adapter-Plus system with built-in springs eliminates the need for conventional bell clamps and cones
Works on all cars or trucks, both foreign and domestic, with hubless drums, rotors (center hole sized 55 mm – 102 mm) and composite rotors (center hole sized 102 mm – 159 mm)
The RL-8500XLT is equipped with features that help increase your service capability, like precision twin cutter tools and a quick drum-to-rotor changeover
Infinitely variable spindle and cross feed speed settings allow for quick rough and precision finish cuts
Simple ergonomic controls are designed for minimal operator movement
Legendary control makes unit easy to learn and master.
The RL-8500XLT maintains accuracy year after year thanks to ruggedly constructed components, like a hardened, precision ground spindle that resists grooving and makes boots a thing of the past
Massive tapered spindle bearings offer superior weight support during rotation
Our exclusive "splash-lube" oil-feed system supplies a constant flow of oil to the bearings making sure they provide years of trouble-free service
Serpentine belts provide a faster, quieter operation, reducing chatter and vibration
An independent cross-feed motor eliminates the need for plastic or bronze shear gears which are expensive and time consuming to replace
A convenient top storage tray means your popular adapters and tools are kept within short reach
Separate motors on the drum and rotor feed help maximize the main motor's efficiency
Our deluxe standard adapter package includes a Quick-Change hubless adapter system that makes mounting rotors and drums quick and easy
A variety of adapters let you machine all standard and composite rotors for foreign and domestic cars and light trucks
A 204 kg. cast iron body and a solid work bench reduces transient vibrations, ensuring a smooth uninterrupted surface finish with each pass
Easily change arbor speeds in seconds: choose 150 or 200 rpm, depending on the job
Positive rake cutter tip angle provides for a single-pass finish virtually every time, allowing you to complete your work faster than with inferior multi-pass lathes
Optional truck adapter kit available
Specifications
Motor Drive Unit
115 – 230 VAC, 50 – 60 Hz, 1 Ph, 20 amp
Max Rotor Thickness
2.5" (64 mm)
Max Rotor Diameter
17" (432 mm)
Brake Drum Diameter
6" – 28" (152 mm – 711 mm)
Max Load with Standard 1" Arbor
150 lbs. (68 kg)
Max Load with Optional 1-7/8" Truck Arbor
250 lbs. (113 kg)
Spindle Travel
9-7/8" (248 mm)
Spindle Speed
150 rpm – 200 rpm
Cross Feed Speed
(∞) 0 - .010" per revolution / 0 - 0.25 mm per revolution
Spindle Feed Speed
(∞) 0 - .020" per revolution / 0 - 0.55 mm per revolution
Overall Mounted Height
62" (1,575 mm)
Spindle to Floor (Mounted)
39-1/2" (1,003 mm)
Required Floor Space (W x D)
53" x 36" (1,347 mm x 914 mm)
Shipping Weight w/ Bench & Tools
720 lbs. (327 kg)