RWB-2S
SKU# 5145335
Heavy-Duty Work Bench / 2-Shelf
---
The Ranger RWB-2S is the full-size workbench you've been looking for. With two high-quality shelves and almost 427 sq. cm of work area, much like our other workbenches, the RWB-2S offers the best in quality, size and time-tested Ranger durability.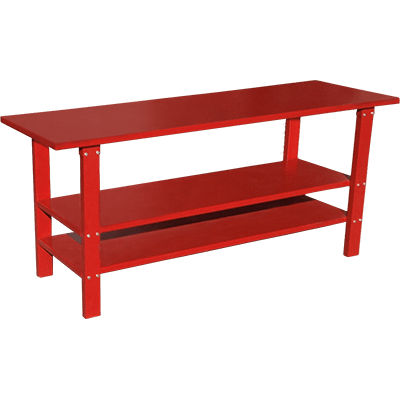 Durable, Dual-Shelf Design
This industrial-grade, high-performing, dual-shelf workbench features an electrostatic, oven-baked protective powder coating, durable rolled edge construction for superior rigidity and a pair of 2 mm HD rolled edge steel shelves. Each shelf is securely bolted in for maximum rigidity and strength, capable of handling whatever you need stored under your work area.
The true difference in our workbenches, as much as we love to show off our bold look and durable power-coat finish and rugged shelving, is how incredibly well these units stand the test of time. We invite you to find a shop or a friend who uses a Ranger workbench and feel the difference for yourself; there's nothing we can say in words or show you in images that can replace the experience of touching and handling a Ranger workbench.
Still, if you can't get your hands on one immediately, we stand by our name recognition as proof that we deliver on our promises. Ranger has been servicing mechanics, shop operators and home owners for decades, and we've always prided ourselves on providing our clientele with the best products money can buy.
Our own facilities use Ranger workbenches, naturally, and not many shops out there match the level of use, abuse and wear that they go through right here at home. Still, all that love and attention hasn't resulted in much visible wear on any of our workbenches. As the years go by, you'll see the difference between a new workbench and one that's taken its punches—that's true of just about anything that gets hammered on daily—but you'll never feel a difference in performance or durability. The bottom line couldn't be any clearer: if you need a workbench, you need a Ranger.
Features
Glossy, red finish
Electrostatic oven-baked powder coat
Rolled edges for added strength and rigidity
​4 mm HD rolled edge steel table top
​2 mm HD rolled edge steel shelves
Specifications
Shipping Weight
210 lbs. (114 kg)
Shipping Dimensions
28" x 83" x 9" (711 mm x 2,108 mm x 229 mm)