Soap / 23-kg.
SKU# 5155100
ALUMA-KLEAN Spray-Wash Detergent / 23-kg.
---
When you use Ranger's premium line of spray wash cabinets, you're going to need a lot of soap. Look no further than Ranger's Aluma-Klean 23-kg. spray washer detergent, designed specifically for all your spray wash needs. Removes oil, stains and grease with ease!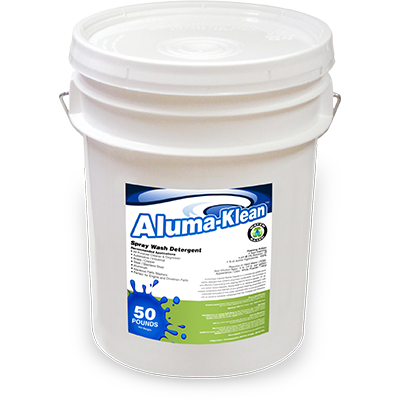 Try Our Largest Soap Bucket for Greater Value
Our industrial parts washer soap is made for the very toughest cleaning applications, whether you own a Ranger RS-500D or RS-750D. Even if you own a parts washer from someone else, we're proud to offer Aluma-Klean parts washer soap for your industrial parts washing needs.
Ranger Aluma-Klean Spray-Wash Detergent is a non-foaming, low pH, mild-alkali, water-soluble, powdered detergent especially formulated for high-pressure cabinet cleaners. Incredible cleaning action removes grease, oil, baked-on stains, carbon, protein and even some paints. Should be used by experienced operators only. Be sure to test wash all parts before using this product and remember that excessive contact, heat or cleaning times may cause pitting or blackening of some metals.
See the material data safety sheet on Ranger's Aluma-Klean recirculating detergent.
Features
Non-foaming
Low pH
Mild alkali
Water-soluble
Powdered
Specially formulated
Removes grease, oil, stains, carbon, protein, some paints
Specifications
Soap weight:
50 lbs. (23 kg)
Shipping weight:
55 lbs. (25 kg)