RML-1500XL
SKU# 5150605
Motorcycle Hoist Platform with Front Wheel Vise / Deluxe Extended
---
The RML-1500XL motorcycle hoist offers an incredible 680-kg. lift capacity. It boasts exceptionally large platform to handle virtually any motorcycle or ATV in its weight class.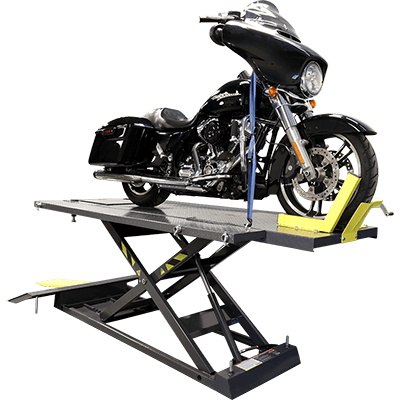 A Higher Capacity, Super-Stretch Motorcycle Hoist
With its wide, stable stance, stretched tabletop and super‐tall lifting height, the RML‐1500XL motorcycle and ATV hoist greets you like the badass it is—rugged and tough with the muscle to prove it. We use rugged 12-gauge metal with superior welds and a durable powder‐coat finish. Nope, wimpy is not on our list of features.
There are copycats everywhere, but just because it looks like a Ranger doesn't mean it works like a Ranger or lasts as long as a Ranger. Never trust a wannabe.
If you're looking for lifting capacity and capability, this motorcycle hoist delivers. A long list of features includes an extended work platform, 12‐gauge steel construction, built‐in retractable swivel casters, reversible bolt‐on side decks, a cheater ramp, automatic safety locks, support poles, removable tool and parts tray and a single hydraulic lifting cylinder and retracting rear wheel deck. A secondary drop‐in deck features rollers that makes easy work out of wheel rotations and turn your motorcycle hoist platform into a motoring test simulator.
Our reputation is one of not only legendary products, but legendary technical support. We're obsessed with making sure that you are a BendPak / Ranger fan for life, so we give you the very best after-sale support in the world. It's both our pleasure and our speciality. The moment you purchase a product from BendPak / Ranger, you became part of a family of folks who have a passion for automobiles and service equipment, just like you. We're just happy to take care of our own and committed to making it as easy as possible to solve your equipment issues. That being said, this motorcycle lift is made to last without issues down the road. With BendPak's award‐winning Certified Service™ program, it's step 1 and you're done.
Unboxing the RML-1500XL Motorcycle Lift by Ranger
Setting up the Ranger RML-1500XL Motorcycle Lift
Features
A combination of power, solid construction, and user-friendly features makes the Ranger RML-1500XL the best motorcycle hoist money can buy.
With little effort, you can easily position, secure and raise motorcycles, bobbers, stretched choppers, trikes and other wheeled and recreational vehicles with ease.
Features 12-gauge welded-steel construction, a non-skid diamond-plate platform surface and full travel automatic safety locks that allow various working heights.
Side decks can be easily removed to provide a more compact work area for closer access to bikes when performing maintenance work or cleaning detail.
A humongous 680-kg. lifting capacity handles just about anything that rolls.
Safe and reliable means it's been lifecycle tested beyond industry standards.
Retractable, built-in, full-swivel casters provide stow-and-go capability even when loaded.
Precision ball bearings improve rollability and are maintenance free.
A gentle slope, textured diamond-plate approach ramps, and a secondary cheater ramp means even ground huggers can be loaded effortlessly.
The RML-1500XL gets its power from a potent commercial-grade hydraulic power system that produces big lifting muscle right off the ground.
A dual-function power unit provides either air or hydraulic pump operation.
User-friendly controls increase productivity, reduce injuries, save money, and improve job satisfaction.
A wide base frame combined with full perimeter tie-down rings provides a stable work environment ensuring bikes and choppers remain upright; tip-over concerns remain a thing of the past.
Chrome alloy hydraulic cylinder provides smooth, controlled operation to keep things nice and civilised, and an extended-stroke ram means the RML-1500XL stands tall for improved ergonomics.
A rigid tubular-steel wheel vise provides better stability and features a hardened steel crank and ergonomic handle for fast and easy set-up. Durable non-slip rubber contact plates help protect expensive wheels.
A removable rear deck provides drop-down clearance and accessibility for wheel and suspension work.
A secondary rear deck with built-in dyno-rollers makes easy work out of wheel rotations and turns your motorcycle hoist platform into a motoring test simulator.
Rear vertical support poles provide a secure and stable support for hoist straps, as well as tie-downs for elevated bike testing or other floating required services.
A removable tool and parts tray can be positioned at multiple Quick-Lock positions located on the perimeter of the hoist platform.
Specifications
Lifting Capacity
1,500 lbs. (682 kg)
Power Supply
Air / Hydraulic
Main Platform Length
89" (2,286 mm)
Main Platform Length w/ Extension
102" (2,591 mm)
Main Platform Width
30" (762 mm)
Overall Width with Side Decks
53" (1,346 mm)
Overall Length w/ Extension & Ramp
126" (3,200 mm)
Max Lifting Height
45" (1,143 mm)
Lowered Height
7.5" (191 mm)
Platform Height - 1st Lock Position
23.5" (597 mm)
Platform Height - 2nd Lock Position
28.25" (718 mm)
Platform Height - 3rd Lock Position
32" (813 mm)
Platform Height - 4th Lock Position
35.5" (914 mm)
Platform Height - 5th Lock Position
38.25" (972 mm)
Platform Height - 6th Lock Position
40.5" (1,029 mm)
Shipping Weight
832 lbs. (377 kg)