RFJ-4000AL
SKU# 5150085
1.8-mt. Aluminium Racing Floor Jack
---
The Ranger RFJ-4000AL aluminium racing floor jack weighs in at just 17.7 kg. but delivers heavyweight performance, optimum strength, reduced weight, less pumping effort and increased lifting speed.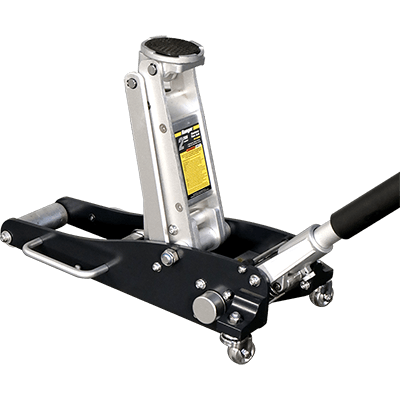 Precision-Built, High-Strength Aluminium
The Ranger model RFJ-4000AL is a lightweight aluminium racing jack that weighs in at 17.7 kg. But don't be fooled: it packs a mean punch and is as durable as any steel jack, even though it weighs much less and takes very little effort to pump. Not to mention, the speed at which you can get any vehicle to the max rise is incredible. Three pumps will raise the jack. Four pumps will raise it to its maximum height. That's about as easy as it gets for a floor jack! With a built-in safety overload valve, you're protected from overloading the hydraulics as you jack, so you never have to see your vehicle come crashing down unexpectedly.
This precision-built jack is constructed from high-strength aluminium and features an extra-low profile for lifting cars with low ground-clearances or side skirts. A fast-action, dual-piston quick-pump combined with a rigid knurled aluminium handle gets cars off the ground in seconds. A low-profile single front-roller with wide stance adds stability, and a soft foam handle guard protects against vehicle damage.
Ranger offers two aluminium floor jack models. If you love the RFJ-3000AL but need a little more lifting power, the RFJ-4000AL floor jack is exactly what you need. It's perfect for longer wheelbase racers that tend to be a little heavier. If you're driving Mustangs, Camaros, Corvettes, etc., this floor jack was made just for you. Plus, its quick-pump action will safely get those vehicles in the air in less time than other jacks. Remember to always use Ranger jack stands when your work on your car, even if you're not going underneath.
Features
1,814-kg. lifting capacity
Aircraft-grade billet aluminium design
Low-profile, single-piece front roller
Oversized knurled-aluminium handle
Lightweight for easy portability
3 quick pumps to get cars up in the air
4 pumps raise the vehicle to full height
Roller-cam plungers and u-joint release
Alloy-plated ram
Double-sealed hydraulics for longer service life
Dual-plunger pump assembly
Built-in safety overload valve
Specifications
Lifting Capacity
1,814 kg (4,000 lbs.)
Lowered Pad Height
89 mm (3.5")
Raised Height
451 mm (17.75")
Overall Width
298 mm (11.75")
Chassis Length
610 mm (24")
Shipping Weight
18 kg (39 lbs.)