XPR-12FDL
SKU# 5175403
5,443-kg. Capacity / Two-Post Hoist / Floorplate / Direct-Drive / Triple-Telescoping Arms
---
If you appreciate the superior quality of a BendPak XPR-9 or 10 series two-post hoist but need more lifting power, the XPR-12FDL is an open-top car hoist that's packed with pure, brutish muscle. Like its Clearfloor sister-hoist, it offers superior Direct-Drive performance.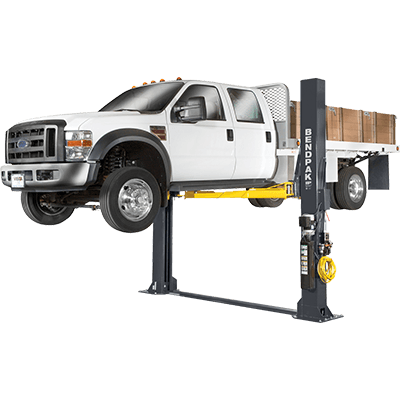 XPR-12FDL Offers Heavy-Duty Lifting Capability
The XPR-12FDL is the perfect lifting application for everything that falls in its weight class. Two robust posts are capable of raising some truly massive trucks and SUVs. This might be classified as our "medium-duty" hoist, as it covers almost every vehicle in the homeowner/residential arena. It also hoists some commercial vans and trucks, including high-rise vehicles like Sprinters.
However, even though this car ​hoist is made to handle massive vehicles, it belongs in every auto shop or serious DIY garage that lifts trucks, farm equipment, work vans, etc. It might be the most versatile ​hoist you ever own, given that its low-profile arms will easily reach the lift points of low-stance race cars and sports cars (including both foreign and domestic models). The columns are set wide to fit trucks and SUVs, but the dual triple-telescoping arms reach farther than the arms on our lighter-duty hoists. With the XPR-12FDL, you're not sacrificing the ability to service smaller vehicles as you gain the ability to service large ones.
The XPR-12FDL is an open-top design. An open-top hoist does not have a crossbar over the top of the hoist, which is desirable for taller vehicles. The hydraulic lines run on the floor, under a floorplate, between the posts.
Dual Direct-Drive two-post car hoist technology
We prefer Direct-Drive technology for our two-post hoist, as opposed to lifting chains and screw mechanisms. Direct-Drive hydraulic technology has very few moving parts, so there's less that can go wrong or require service over time. We carefully engineering the dual-synchro equalization system to ensure safe, level working conditions at all times.
Triple-telescoping arm set
Our lighter-duty two-post ​hoist models feature a mixture of two-stage and three-stage telescoping arms. Because a hoist needs to make room for wide trucks, vans and SUVs, we set the columns farther apart. We can still reach virtually all lift points on smaller vehicles by only including three-stage arms.
Low-profile, dropped-end frame contact pads
The XPR-12FDL makes safely reaching under low-profile cars safe and easy. The dropped-end design ensures vehicle doors and chassis don't get scratched or dinged during placement of the arms and pads against the lift points.
16-Piece adapter set / standard
We won't risk compromising your safety just to get a few extra bucks with a separately sold accessory that's actually necessary. So, we include a versatile and essential two-post ​hoist accessory kit for your convenience. In this kit, you get four ​152 mm stackable adapters, four ​76 mm stackable adapters, four polyurethane contact pads and four frame cradle pads. You no longer have to worry about lifting trucks with running boards or those auxiliary fuel tanks, which made car hoist operation a pain.
Lowered arm tube supports
By lowering the arms tubes, we ensure vehicle doors can open and close without catching the supports.
Automatic arm restraints
The arm restraints on a two-post hoist are one of the most essential safety features. These restraints are essentially what keep the arms locked during lift. They lock automatically while the arms ascend the lift carriage, and they disengage when the ​hoist is fully lowered.
Taller lift carriages
Sometimes the magic of BendPak construction exists in the details. Taller lift carriages reduce stress on the columns, so we make ours 1,346 mm high. That's taller—and safer—than our competition.
Maintenance-free load bearings
UHMW load bearings, unlike older-style roller bearings, don't need lubrication and quite literally never degrade over time. They last forever and aren't negatively affected by chemicals or oils.
Single-piece columns
How long do you want your columns to last? Decades? Good, that's how we feel too. And that's why we make our columns out of a single piece of steel. It makes for a stronger, longer-lasting structure overall.
Single-point safety release
The safety release on every XPR-12 car hoist is single-point and easy to use. We keep our operations simple, so you stay safe at all times.
Auto shutoff
Our high-grade overhead shutoff bar stops all action on the hoist at the moment a vehicle comes into contact with it.
High-speed hydraulics
For faster operation that doesn't compromise safety—and in fact increases it—we include, free-flow, high-pressure 10 mm hydraulic lines, a high-flow pump and integrated AC power unit.
Features
5,443-kg. lifting capacity
CE Approved and Certified. Meets or exceeds the standards prescribed by European Standard EN 1493
Open-top eliminates overhead obstruction
Single-piece columns
Single-point safety release
Drop-end arms provide a lower pad height
Dual direct-drive hydraulic cylinders
Oversized 1,346 mm tall carriage for superior strength and durability
Large, ​635 mm x 559 mm A36 steel base plate
Electric / hydraulic power system
Oversized A36 steel base plates
Self-lubricating dura-glide UHMW polyethylene bearing system
Safety locks in each column spaced every 76 mm
Plated arm restraints and arm pins for rust prevention
Heavy-duty 13 mm aircraft-quality equalizer cables
Oversized 152 mm cable sheave diameter reduces cable fatigue
16-piece specialty adapter set includes four 152 mm stackable adapters, four 76 mm stackable adapters, four polyurethane contact pads and four frame cradle pads
Front and rear triple-telescoping arms provide increased range for lifting point access
Versatile drop-in contact pads with stackable adapters
XPR-12FDL Specifications

Capacity
*Max Capacity / Front Axle
6,000
*Max Capacity / Rear Axle
6,000
Rise
C
- Rise + Pad + 63 mm Adapter:
79
Time to Full Rise:
55 seconds
Inside Dimensions
I
- Drive-Thru Clearance:
Arms & Pads
K
- Front Arm Reach: (MIN)
39
K
- Front Arm Reach: (MAX)
59
L
- Rear Arm Reach: (MIN)
39
L
- Rear Arm Reach: (MAX)
59
Power Unit
Motor:
220 VAC / 60 Hz / 1 Ph
Note: Not all BendPak hoist models meet the standards as prescribed by ANSI/ALI ALCTV-2017 or ANSI/UL 201. Consult www.autolift.org for a complete list or contact BendPak via contact@bendpak.com.