XPR-12CL
SKU# 5175405
5,443-kg. Capacity / Two-Post Hoist / Clearfloor / Triple-Telescoping Arms
---
Every XPR-12CL two-post hoist is designed to keep your floor clean. Our Clearfloor design offers enough space for cars and trucks up to 5,443-kg. Pure Direct-Drive performance is matched by cutting-edge technology and top-of-the-line materials.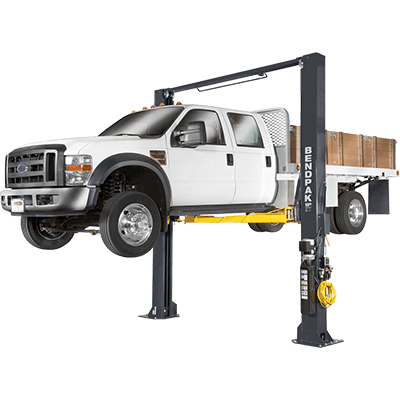 XPR-12CL Two-Post Hoist Offers Heavy-Duty Lifting Capability
Our XPR-12CL two-post ​hoist offers a wide selection of durable, safe and reliable systems for virtually every lifting application. This is an incredibly rapid hoist with robust menus of features to increase efficiency and productivity. They never overwhelm you with serviceable parts and constant maintenance, and as a result, you get lower operating expenses and higher productivity. If you're looking to make more money in less time than ever before, you'll find that this car hoist is the perfect addition to your shop—especially when you work with bulkier, heavier vehicles that require heavy-duty lifting capacities.
But just because these super-duty models were designed for the big stuff, it doesn't mean they can't handle light-duty work as well. The XPR-12CL two-post hoist can easily raise your largest full-sized pickups and commercial vehicles, yet they still provide specific capability for sport and compact cars, both foreign and domestic. The 5,443-kg capacity features full-reach arms that collapse to standard lengths and lower-seating lift pads that clutch standard passenger automobiles. The columns are also placed wider for trucks with fixed towing mirrors, and the overhead equalization beam is up and out of the way for those "high-cube" delivery vehicles. When it comes to ease-of-use, our dual-synchro equalization system and user-friendly controls are legendary.
The XPR-12CL is our closed-top model. A closed-top model offers clearfloor convenience, as it runs hydraulic lines up and out of sight, but it may not fit taller vehicles. A closed-top/clearfloor two-post hoist allows two technicians to easily move toolboxes, transmission jacks, oil drains and other equipment underneath the elevated vehicle.
Quality assurance for heavy-duty lifting
When you buy BendPak, you can expect a significant boost in performance and ​hoist operation life expectancy because your ​hoist is built to be the last one you ever purchase. No one surpasses us in quality and safety. That's why when you get one of our hoists, you get more than just a great product. You get peace of mind. That's the benefit of owning a BendPak.
Triple-telescoping arm set
Three-stage front and three-stage rear arms provide greater maximum reach, as well as superior minimum retraction. Use this super-duty hoist system for raising standard passenger vehicles and heavy-duty trucks.
Optional column extension
BendPak can increase your overhead clearance to maximize the number vehicle types you can service in this weight class.
Low-profile, dropped-end frame contact pads
Despite the higher ​hoist capacity, the XPR-12CL makes it just as easy to get under your low-profile. This is because the two-post hoist arms are designed to be versatile with virtually all vehicle types.
16-Piece adapter set / standard
Others might charge extra for these necessary adapters, but they're standard with every XPR-12CL. The multi-piece set includes four, ​152 mm stackable adapters; four, 76 mm stackable adapters; four polyurethane contact pads; and four frame cradle pads. It's ideal for trucks and vans with running boards or auxiliary fuel tanks.
Lowered arm tube supports
A heavy-duty two-post ​hoist has different dimensions than our smaller ​hoists, which means our design needs to ensure that all vehicle frames, especially the frames of low-hanging doors, have sufficient clearance to open their doors while the hoist is in operation.
Automatic arm restraints
When the lifting arms rise, arm restraints automatically engage even the largest vehicle. When the hoist descends, the restraints release. No matter the size of your load, it will be safe, sturdy and virtually immovable.
Taller lift carriages
We build our hoist columns tall in order to reduce the load stress placed on each column. With a ​1,346 mm column height, which is taller than many of our competitors, BendPak remains the more durable option for your garage.
Maintenance-free load bearings
BendPak makes its load bearings out of UHMW (ultra-high molecular weight polyethylene) to ensure they last the entire life of the hoist. They never require lubrication (unlike roller bearings) and are resistant to harsh chemicals and other environmental hazards.
Single-piece columns
Combined 5,443-kg. capacity columns are each made out of a single piece of steel, so each piece stays stronger and lasts longer.
Dual Direct-Drive technology
By utilizing two, low-pressure HVLP direct-drive cylinders, we've eliminated the need for lifting chains or screw mechanisms commonly found on other lift designs. HVLP direct-drive technology offers better reliability, smoother operation and less maintenance. High volume at a low pressure equates to less workload placed on the entire hydraulic system.
Single-point safety release
The car hoist's safety release is single-point and easy to use. We keep our operations simple, so you stay safe at all times.
On the level
In order to maintain a safe garage environment, every XPR-12CL two-post ​hoist comes with our dual-synchro equalization system. This keeps the lifting mechanics equal on both sides of the hoist at all times.
Auto-shutoff
A rigid, padded safety shutoff bar automatically stops the hoist should a vehicle come in contact with overhead structure.
Industrial-grade hydraulic cylinders
Integrated into every XPR-Series hydraulic cylinder is a one-piece, pilot-fitted, machined steel piston that is wrapped with specially designed, pressure-loaded U-cup piston seals, backups and wear bands that virtually eliminate any fluid bypass. The micro-smooth chrome-rod is machined from high-yield, ground and polished C-1045/50 micro-alloy steel and plated to a minimum of .001" diametrically, to ensure superior cylinder operation and life. The better-designed, high-durometer, mechanically loaded rod seals make rod leakage a thing of the past, while a specially formulated abrasion-resistant urethane rod wiper provides exclusion protection. The welded cylinder body is made from robust steel tubing produced that exceeds ASTM specifications. This combination of superb base material and superior processing ensures that the cylinders remain straight and smooth—and last a very long time.
High-speed hydraulics
Free-flow, high-pressure ​10 mm hydraulic lines, a high-flow pump and integrated AC power-unit increase ascent and descent speeds for enhanced productivity.
Extended height
The safe and rugged XPR-12C-192 two-post ​hoist features extended height columns for added overhead clearance, as well as an adjustable top beam to accommodate wide or narrow installation setups.
Features
5,443-kg. lifting capacity
CE Approved and Certified. Meets or exceeds the standards prescribed by European Standard EN 1493
Padded overhead safety shutoff bar
Extended height top-beam provides greater overhead clearance
Single-point safety release
Dual direct-drive hydraulic cylinders
Dual-synchro equalization system for equal lifting
Oversized 1,346 ​mm tall carriage for superior strength and durability
Electric / hydraulic power system
Oversized A36 steel base plates
Self-lubricating dura-glide UHMW polyethylene bearing system
Safety locks in each column spaced every​ 76 mm
Plated arm restraints and arm pins for rust prevention
Heavy-duty ​13 mm aircraft-quality equalizer cables
Oversized cable sheave diameter reduces cable fatigue
Durable, rubber lift pads with stackable adapters
16-piece specialty adapter set includes four ​152 mm stackable adapters, four ​76 mm stackable adapters, four polyurethane contact pads and four frame cradle pads
Convenient storage is included for truck and van adapters
Triple-telescoping arms provide increased range for lifting point access
XPR-12CL Specifications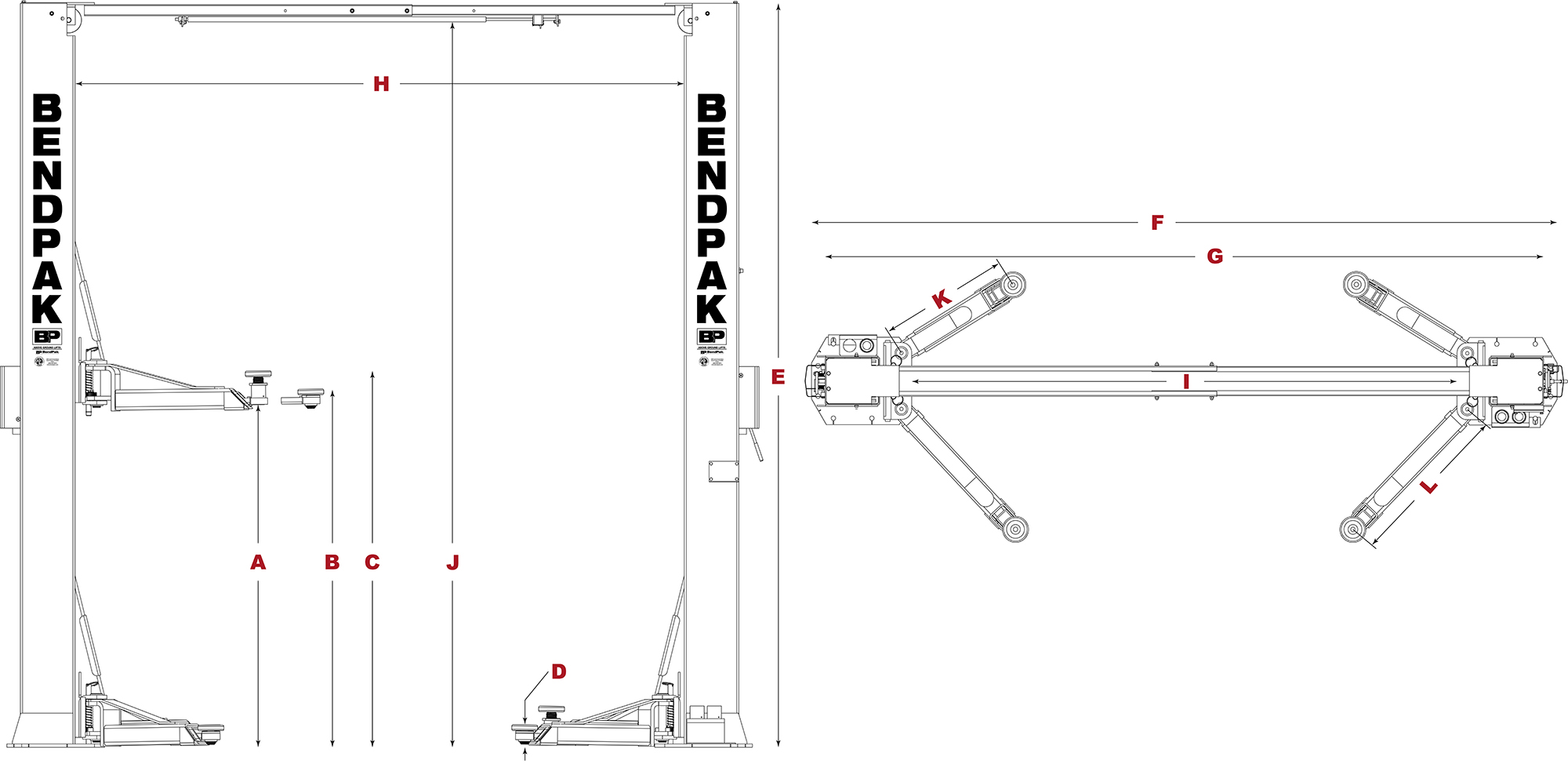 Capacity
*Max Capacity / Front Axle
6,000
*Max Capacity / Rear Axle
6,000
Rise
C
- Rise + Pad + 63 mm Adapter:
80
Time to Full Rise:
45 seconds
Inside Dimensions
I
- Drive-Thru Clearance:
Arms & Pads
K
- Front Arm Reach: (MIN)
32
K
- Front Arm Reach: (MAX)
60
L
- Rear Arm Reach: (MIN)
32
L
- Rear Arm Reach: (MAX)
60
Shipping
Weight:
220 VAC / 60 Hz / 1 Ph
Note: Not all BendPak hoist models meet the standards as prescribed by ANSI/ALI ALCTV-2017 or ANSI/UL 201. Consult www.autolift.org for a complete list or contact BendPak via contact@bendpak.com.