XPR-10AS
SKU# 5175397
4,536-kg. Capacity / Asymmetric Clearfloor / Adjustable Width / Screw Pads
---
Every XPR-10AS features Direct-Drive technology that's only available with BendPak. The asymmetrical design of this hoist has rotated columns, which makes it easier to enter and exit the vehicle and reduces the chance of door dings and dents.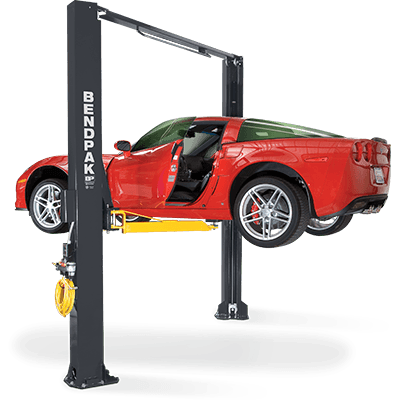 XPR-10AS Two-Post Hoist Protects Vehicles and Makes Lifting Easy
A 4,536-kg capacity BendPak car ​hoist is a smart addition to any shop or garage. Professionals love the power and reliability of the ​hoist, and they know our reputation precedes us. Meanwhile, DIY'ers with high ceilings know BendPak means safe lifting in the comfort of home. Skip the headache of an uncertified, poorly welded piece of garbage and trust our best to hoist your best.
Our XPR‐10AS asymmetric two‐post ​hoist offers the convenience of wide or narrow installation, all in one configurable package. This durable, safe and reliable car hoist features expandable top beam and Tru‐Metric arms to suit virtually every vehicle lifting requirement. The simple yet highly sophisticated hoist design keeps service and maintenance costs to a minimum, delivering lower operating expenses and higher productivity. These true asymmetric hoists feature 30° rotated columns for added door‐opening clearance and interior car access. The exclusive Tru‐Metric carriage and arm design combines to give users the ability to load vehicles either symmetrically (centerline of vehicle at column) or asymmetrically (centerline of vehicle behind column).
All asymmetric models features rotated columns for added clearance when opening vehicle doors. At the same time, swing-away arms provide a larger drive-thru clearance. These models feature the exclusive Tru-Metric arm design to provide variable arm-position configurations—either symmetric or asymmetric, providing greater versatility for greater service capability. It's like having two car hoists in one!
Direct-Drive two-post car hoist technology
BendPak XPR-10 two-post hoists feature low-pressure HVLP Direct-Drive cylinders: no more lifting chains or screws. Dual HVLP low-pressure cylinders minimize leakage, offer better reliability, smoother operation and fewer maintenance costs throughout the life of your hoist. High volume and low pressure equates to less workload placed on the entire hydraulic system. Direct-Drive technology is preferred on commercial-grade two-post car hoists, as it has it has fewer moving parts than a chain-over-roller cylinder configuration. Pressurized hydraulic fluid flows from the power unit to the hollow cylinder rods, entering the cylinder body and filling its internal cavity. The pressure of the hydraulic fluid extends the piston rod downward, raising the cylinder body and lift carriages. A dual-synchro equalization system maintains equal lifting and provides operators with a stable, level vehicle working condition.
Two-stage telescoping screw pad assembly kit
Double-telescoping screw pads come standard with every asymmetrical 4,536-kg car hoist. These polyurethane pads are ideal for intense shop environments and busy mechanics who can't afford money-sucking downtime. 63 mm stackable adapters are included for even more versatility.
Low-profile, dropped-end frame contact pads
Get under more cars with these low-profile contact pads. A dropped-end frame makes servicing more vehicles easier than ever.
Triple-telescoping front arms and two-stage rear arms
The two-post ​hoist accommodates almost every wheelbase. The pads can be extended or retracted in almost any imaginable configuration.
Lowered arm tube supports
Arm tube supports on other lifts have a tendency to scratch vehicle doors. We made ours lower to the ground, so they avoid contacting and damaging vehicle doors.
Automatic arm restraints
As soon as the car ​hoist arms rise, arm restraints engage automatically. They disengage when the ​hoist carriage descends, making them easy to reposition once the vehicle is completely lowered.
Taller lift carriages
​1,346 mm lift carriages are taller than other manufacturers' carriages. This reduces stressed placed on the load bearings, as well as the columns. It also extends the life of your hoist.
Maintenance-free load bearings
UHMW load bearings never need to be lubricated, and they last forever. That's why a BendPak two-post hoist never features weaker, old-fashioned roller bearings.
Single-piece columns
By ensuring each hoist column is made from a single piece of steel, we provide the highest-quality support system for your vehicle.
Single-point safety release
The single-point safety release makes the car hoist easier and safer to operate.
On the level
Dual-synchro equalization means both lift carriages rise at the same time, and the telescoping arms remain stable and level in the carriage.
Industrial-grade hydraulic cylinders
Integrated into every XPR-10 Series hydraulic cylinder is a one-piece, pilot-fitted machined steel piston that is wrapped with specially designed, pressure-loaded U-cup piston seals, backups and wear bands that virtually eliminate any fluid bypass. The micro-smooth chrome-rod is machined from high-yield, ground and polished C-1045/50 micro-alloy steel and plated to a minimum of .001" diametrically, to ensure superior cylinder operation and life. The better-designed, high-durometer, mechanically loaded rod seals make rod leakage a thing of the past, while a specially formulated abrasion-resistant urethane rod wiper provides exclusion protection. The welded cylinder body is made from robust steel tubing that exceeds ASTM specifications.
High-speed hydraulics
Free-flow, high-pressure 10 mm hydraulic lines, high-flow pump and integrated AC power unit work together to make a speedier two-post hoist.
Auto shutoff
A padded shutoff switch extends across the top of the overhead beam, automatically stopping lift movement when activated.
Choose telescoping low-pro™ arms
Vehicles with hard-to-reach or uncommon lift point spreads (such as older vehicles and some electric cars) require BendPak's Low-Pro arms. They're perfect for sports cars and professional race cars too.
Choose extended height
If you need more headroom for your cars and trucks, the XPR-10AS-168 more easily accommodates high-rise vehicles. Even those nifty Sprinters will fit comfortable in this extended-height car hoist structure.
Choose clearfloor convenience
A Clearfloor two-post ​hoist keeps an unobstructed space below and runs all wires and hoses above. This makes moving about a little easier and protects sensitive components.
Features
4,536-kg​. lifting capacity
Expandable top beam accommodates wide or narrow drive‐thru configuration
Double‐telescoping screw pads offer increased versatility
Added overhead safety shutoff bar
Exclusive Tru‐Metric arm design for more versatile arm positioning
30° rotated single‐piece columns
Single‐point safety release
Drop‐end arms provide a lower pad height
Dual hydraulic direct‐drive cylinders
Oversized 1,346 mm tall carriage for superior strength and durability
Electric / hydraulic power system
Large, ​432 mm x ​483 mm A36 steel base plate
Self‐lubricating dura‐glide UHMW polyethylene bearing system
Safety locks in each column spaced every ​76 mm
Plated arm restraints and arm pins for rust prevention
Heavy‐duty ​13 mm aircraft‐quality equalizer cables
Oversized cable sheave diameter reduces cable fatigue
4‐piece 63 mm stackable adapter set comes standard
Triple‐telescoping arm design
Versatile drop‐in contact pads with stackable adapters
ETL Approved
XPR-10AS Specifications
Capacity
*Max Capacity / Front Axle
5,000
*Max Capacity / Rear Axle
5,000
Rise
C
- Rise + Pad + 63 mm Adapter:
79
Time to Full Rise:
45 seconds
Inside Dimensions
I
- Drive-Thru Clearance:
Arms & Pads
K
- Front Arm Reach: (MIN)
23.5
K
- Front Arm Reach: (MAX)
45.5
L
- Rear Arm Reach: (MIN)
42.5
L
- Rear Arm Reach: (MAX)
60
Power Unit
Motor:
220 VAC / 60 Hz / 1 Ph
Note: Not all BendPak hoist models meet the standards as prescribed by ANSI/ALI ALCTV-2017 or ANSI/UL 201. Consult www.autolift.org for a complete list or contact BendPak via contact@bendpak.com.