BL-3500SLX
SKU# 5175196
1,588-kg. Capacity / 508 mm Maximum Rise / 76 mm Lowered Height / 1,575 mm Frame Length
---
The BL-3500SLX is the ultimate small car and track portable hoist. This is the portable car hoist that started them all. Super lightweight, easy to roll or even carry, this unit is ideal for small-wheelbase cars in the garage or taken out for track day.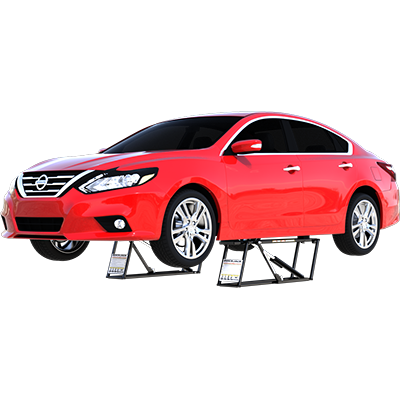 Extreme Portability in a Hoist
QuickJack offers an easy solution to get more work done quickly. And if speed and ease-of-use aren't reasons enough to dump your old floor jack and stands, QuickJack is extremely safe and stable on almost any surface type. That's why racers and DIY'ers have been ecstatic about QuickJack since day one of its release.
If you have a small vehicle and love to wrench, the BL-3500SLX is the only car ​hoist replacement for jacks and stands you'll ever need. Engineered for durability and longevity, this model is made from the same 14-gauge steel as QuickJack's heavier-duty models. Its ​1,588-kg. lifting capacity is more than enough for many small sedans and race cars, and it fits neatly in most trunks and backseats. Without a doubt, this is the most user-friendly and portable hoist ever made.
A super-low ​76 mm profile makes it easy to glide the frames under low-stance cars. One look at QuickJack and you'll never have to think twice about setting up your next wheel swap, sliding underneath for an oil change, safely tuning your suspension, etc. Racers have found QuickJack indispensable because those hard-to-predict issues that occur when you're pushing your car to the limit require time to fix. And with QuickJack, that time is reduced to minutes instead of hours. The BL-3500SLX is made especially for racers and drivers of small-wheelbase vehicles, on or off the track. Choose optional 12V DC power for even more portability. QuickJack has no cross members, no clumsy lifting chains and no mechanical gears to wear out over time. Enjoy simple, easy, pure electric-hydraulic power and two lock positions that are more than enough to guarantee your safety at all times.
Features
​1,588-kg. capacity
From stow to go in less than 60 seconds
Dual-position automatic safety lock bars engage automatically as the ​hoist rises
Dual locking positions: mid level and full rise
Extended, cantilevered rubber block trays provide increased rubber block reach
Portable power unit features a remote push-button control for simple operation
Steel mounted urethane wheels provide effortless rolling of jack frames on floor
Remote pendant control features a ​4-metre cord
Power unit features a built-in hydraulic flow divider for precise equalized lifting
Open-center design for clear under car access
Quick-connect/disconnect hoses for fast and convenient set-up
Convenient handles allow for easy positioning of the jack frames
Strong 14-gauge welded steel frames
It's a jack you can use when you need it then conveniently store out of the way
Provides quick, wheels-free convenience for brake and tire service and clear undercarriage access of all types of vehicles
Low-profile jack frames fit under most race cars
Powerful hydraulic cylinders eliminate the need for screw mechanisms
Integrated power-assist canisters increase the lowering speed
Hydraulic cylinders feature integrated velocity-fuse safety valves
A convenient metal carrier with handle keeps the power unit protected and easily mobile
Includes an eight piece set of adjustable and stackable rubber lift blocks to support cars at precise locations for increased stability and safety
Detailed installation, maintenance and safety instructions accompany each QuickJack system
Durable powder coat finish
Specifications
Lifting Capacity
1,588 kg (3,500 lbs.)
(B) Lowered w/ Small Block
89 mm (3.5")
(C) Raised (Frame Only)
419 mm (16.5")
(D) Raised (Small Block)
432 mm (17")
(E) Raised (Large Block)
470 mm (18.5")
(F) Raised (Stacked Blocks)
508 mm (20")
(G) SUV Adapters
Not Compatible
(H) SUV Adapters (w/ Pin)
Not Compatible
(I) Lifting Point Spread - Max
1,283 mm (50.5")
(J) Lifting Point Spread - Min
678 mm (26.7")
(K) Frame Width
268 mm (10.6")
(L) Frame Length
1,575 mm (62")
Frame Weight
27 kg (60 lbs.)
Power Unit Weight
16 kg (35 lbs.)
Shipping Weight
82 kg (180 lbs.)