PL-6KDT
SKU# 5175157
2,722-kg. Capacity / Parking Lift / Tandem / Independent Platforms / SPECIAL ORDER
---
This 2,722-kg. capacity double-wide parking lift, available in standard and extended-length models, safely converts your two-car garage into a four-car garage. No columns sit between the two parking platforms, which keeps this tandem lift's footprint down to an admirably compact 5,207 mm overall width.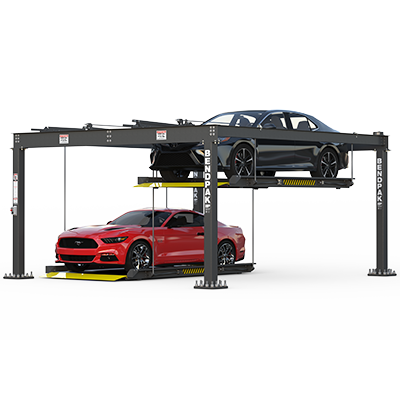 The Independent-Platform, Tandem Parking Lift
The PL-6KDT is an indoor-outdoor tandem-style car ​hoist that holds a total of four vehicles in its ​5,690 mm x ​5,207 mm x ​2,616 mm frame. Dual hydraulic cylinders and a pair of stabilizing lifting cables support two lifting platforms. The cables are routed internally throughout the parking lift. This hoist is intended to be used by anyone with four vehicles and a wide garage area to store them. Each platform holds up to 2,722-kg., for a total of ​5,443-kg. when fully loaded with two vehicles. You'll be surprised to see how well this unit fits in a variety of garage sizes. In the right space, it can be successfully utilized for commercial or residential purposes.
One hoist houses four vehicles
For many car enthusiasts, municipal parking lots and professional shops with limited parking space, the only way to park vehicles has been to buy multiple parking lifts and place them side-by-side, as close together as possible. This not only takes up an obscene amount of space, it's expensive to keep buying more ​hoists. The PL-6KDT will hold most vehicles up to 2,722-kg., and because it doesn't have any posts between the two lifting platforms, you can fit this double-wide ​hoist in most two-door garages.
Two independent platforms
Two full-width, high-strength galvanized steel platforms cover most of the length of the parking lift. No in-between columns take up extra space, so your hoist offers maximum lifting ability with a minimal footprint. Because each platform is independently suspended by taut, aircraft-quality steel cables, one vehicle can be lowered while the other side remains still. This eliminates the need to "shuffle" vehicles from the half of the lift where vehicles are not being accessed.
Internally routed hydraulic lines and cables
Dual, leak-proof hydraulic cylinders work with a pair of aircraft-quality cables to maintain a completely safe, even lift. To streamline the appearance of the parking lift and protect the lifting components, both the cylinders/hoses and lift cables are routed internally throughout the hoist structure. The power originates with the hydraulics, while the cables provide the lifting power. They also assist in equalizing the platforms.
Single-position, auto-engaging lock
When the lift platform reaches its max height, the lock system automatically engages, safely and indefinitely suspending your vehicle out of harm's way.
Secondary cable slack detection
In the rare event of cable failure, the car ​hoist features a secondary cable slack detection that catches the platform(s) on the locks. All cable-oriented BendPak hoists offer this design feature. Many other companies' parking lifts do not.
Park safer inside
Vehicle parking lifts offer a safer alternative to parking multiple cars in the driveway or street. Rather than being forced to park your precious cargo outdoors where it gets exposed to weather, accidents and theft, you get to keep your vehicles safely tucked inside. There's no price tag on your peace of mind.
Power options
This parking lift can be configured for 240V (1 Ph) or 240V, 380V, 460V (3 Ph) operation. International voltages are available.
Choose extended width
For wide-clearance vehicles, we've made the columns of the PL-6KDTX car ​hoist a little wider. This ensures that truck mirrors gracefully pass through the ​hoist structure, and vehicle doors have a little more room to open and close. Some folks find the extra space more accommodating when they need to access the vehicle.
Choose triple-wide
The PL-6KT is a triple-platform platform parking lift that fits a stunning number of vehicles in a minimal amount of space. With this unique design, three vehicles fit side-by-side on the lower level, ​yet only one needs to be pulled​ out in order to access the vehicle parked directly above it. There's simply no better opportunity to expand your parking capabilities with a large number of vehicles. Keep your daily drivers ready to go and your weekend and track cars safely (and attractively) stored for your convenience.
Features
2,721-kg. capacity per deck
Perfect for cars, light trucks, motorcycles and ATVs
Rugged I-beam and C-channel construction
Built-in wheel stops
Wide base-plate for maximum stability
Front and rear wheel chocks
Superstructure features durable powder-coat finish
Dual hydraulic cylinders with heavy-duty steel lifting cable
Heavy-duty steel construction
Reliable electric-hydraulic power system
Full-width platform to keep bottom vehicles protected
Simple controls
Oversized sheave diameter reduces cable fatigue
High-speed lifting
Features heavy-duty 10 mm aircraft cable
Rugged 32 mm roller axles
Multi-position safety locks in each column
Push-button pneumatic safety release
Independent backup slack-cable safety latches
Customizable power unit location
PL-6KDT Specifications
Style
Style:
Multi-Platform Parking Lift
Overall Width:
5,352 mm (211")
Overall Length:
6,008 mm (236.5")
Overall Height:
3,140 mm (123.75")
Min. Runway Height:
230 mm (9")
Width Between Posts:
4,715 mm (185.5")
Platform Width:
2,086 mm (82")
Length of Platforms:
3,862 mm (152")
Drive Clearance:
2,374 mm (93")
Standard Motor:
220 VAC / 60 Hz / 1Ph
Note: An air supply (minimum: 30 psi / 3 CFM) is may be required for the safety-lock mechanisms to disengage. It is solely the responsibility of the end-user to provide, install and maintain the air supply.
Note: Not all BendPak hoist models meet the standards as prescribed by ANSI/ALI ALCTV-2017 or ANSI/UL 201. Consult www.autolift.org for a complete list or contact BendPak via contact@bendpak.com.