HD-9SW
SKU# 5175023
4,082-kg. Capacity / Super-Wide Car Stacker Parking Lift
---
The super-wide HD-9SW is a parking lift that stores two vehicles side-by-side. With 4,877 mm between the posts, this parking lift is wide enough to clear two vehicles underneath and two on the ramps above.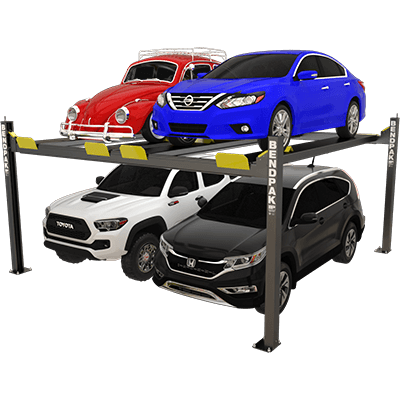 Double-Wide Four-Post Parking Lift to Park Four Vehicles
If you need to park up to four vehicles in a space that previously could only fit two, 4,877 mm post-to-post clearance is perfect for two of whatever you drive. No more sacrificing the indoor protection of your daily drivers. You know what we mean. You've been leaving them exposed in the driveway, so you can keep your weekend rides safe indoors. The BendPak HD-9SW four-post parking lift lets you park four vehicles and keep them tucked in the garage.
Know what else? The runways are completely open-center, so this parking lift does double-duty as a maintenance hoist. Work on two vehicles at once if you want! Only BendPak offers total peace-of-mind and lets you enjoy the lifestyle you want to live. Clear more space at home or increase the parking and service capabilities in your shop. Take in all the parking glory BendPak has to offer with this double-wide stacker.
Dual-hub cable sheaves
We're prepared for you to park anything up to 4,082-kg. on this hoist. With all that weight onboard, why take chances on the cable sheaves? We only use dual-hub sheaves to reduce friction on the cables and keep your trucks and SUVs safely parked up top for as long as necessary.
Multi-level locking positions
The most important asset of a parking lift is how easily it lets you stack vehicles. With a lock position every few inches, we make it easier to park vehicles, no matter the size of your garage. All locks automatically engage at the same time as the hoist rises.
Heavy-duty aircraft cable
This may be a four-post parking lift, but these cables really were made for large, heavy aircraft. Imagine how safe that makes them for use on cars and trucks. An individual cable has a tensile strength of ​6,532-kg., making the lift capacity of the four cables combined 640% more than the 4,082-kg. certified rating.
Electric-hydraulic power system
The HD-9SW parking lift is easy to lift and lower. The power system never requires maintenance, keeps the runways lifting and lowering evenly and only moves if the locks engage and release simultaneously. The parts and components of your BendPak four-post hoist work as one, tied together by one of our world-famous power units.
Large base plates
254 mm x 305 mm base plates strike a balance between compactness and stability. They're so stable, in fact, that some people don't even bolt them down. That's when the caster kit comes in handy.
Integrated design
All moving parts and components are tucked away neatly in the hoist structure. Anytime you need to perform inspections, just peep around to the inward-facing side of the pillar, and you'll see everything in there (most likely lubricated and working fine). Internal-running cables and parts are kept safe from adverse weather and environmental hazards.
Low-deck runways
The runways of this parking lift feature a low-profile rise of only 144 mm. That's essential for getting low-stance vehicles safely up on the ​hoist.
Longer approach ramps
To get your low ground-clearance vehicles on top, we provide extended approach ramps. This makes it safe and quick to load them up, while your bottom-level vehicle can glide effortlessly underneath.
Automatic safety locks
Auto-locking safety locks are spring-activated, so they don't rely on electrical or hydraulic wiring to work. They simply click into place when the parking lift runway passes the lock position. You can hear all four engage simultaneously as the ​hoist climbs. As the hoist descends, the locks will release together, ensuring safe, level operation at all times.
Cable slack detection
A secondary slack-cable detection system cuts operations when slack is detected. Most likely, a cable is not rolling over the hub properly, which makes one or both of the ramps uneven. The four-post parking lift will shut down before the situation gets out of control. More than likely, this will never happen for as long as you own and properly maintain your BendPak.
Choose tall and wide
For many of our customers, garage space isn't an issue, and the need to park big, heavy vehicles is all that matters. That's why we offer a super-sized version of this parking lift series, the HD-9SWX. This ​hoist has an ​2,083 mm rise (​305 mm higher than the standard version) and 4,775 mm runways, (two feet longer than the standard). It generously accommodates large trucks and SUVs side-by-side. The HD-9SWX is ideal for homeowners and shops that require ample headroom and enough runway clearance for long-wheelbase vehicles.
Features
Standard rise
Shorter runway for smaller spaces
Runways accommodate wide or narrow vehicles
Runways include rail kit for optional accessories
Electric / hydraulic power system
Single hydraulic cylinder mounted underneath runway
Fully enclosed lifting cables, safety locks and sheaves
Internal anti-sway slider blocks in each column
Oversized self-lubricating cable rollers
Oversized sheave diameter reduces cable fatigue
High-speed lifting
Features heavy-duty ​10 mm aircraft cable
Rugged ​32 mm roller axles
Multi-position safety locks in each column
Adjustable lock ladders
Push-button pneumatic safety release
Independent backup slack-cable safety latches
Inside runways adjust for different tread widths
Customizable power unit location
Removable approach ramps for additional drive-under clearance
Optional drive-thru ramps available
Optional drip trays available
Optional solid deck available to increase storage capacity
HD-9SW Specifications
Style
Style:
Four-Post Parking Lift
A - Min. Runway Height:
178 mm (7")
B - Max. Rise:
1,778 mm (70")
C - Max. Lifting Height:
1,956 mm (77")
D - Overall Width:
5,131 mm (202")
E - Outside Length:
4,420 mm (174")
F - Overall Length:
5,080 mm (200")
G - Height of Columns:
2,284 mm (90")
H - Width Between Columns:
4,877 mm (192")
I - Drive-Thru Clearance:
4,521 mm (178")
J - Runway Width:
483 mm (19")
K - Length of Runways:
4,166 mm (164")
L - Width Between Runways:
940 mm (37") - 1,067 mm (42")
M - Runway Centerline:
1,422 mm (56") - 1,549 mm (61")
N - Outside Edge of Runways:
1,905 mm (75") - 2,032 mm (80")
Lock Spacing:
Every 102 mm (4")
Time to Full Rise:
55 seconds
Motor:
220 VAC / 60 Hz / 1 Ph
Shipping Weight:
1,315 kg (2,892 lbs.)
Shipping Dimensions:
5,182 mm x 610 mm x 1,067 mm (204" x 24" x 42")
Note: An air supply (minimum: 30 psi / 3 CFM) is may be required for the safety-lock mechanisms to disengage. It is solely the responsibility of the end-user to provide, install and maintain the air supply.
Note: Not all BendPak hoist models meet the standards as prescribed by ANSI/ALI ALCTV-2017 or ANSI/UL 201. Consult www.autolift.org for a complete list or contact BendPak via contact@bendpak.com.