LR-60
SKU# 5175729
2,722-kg. Capacity / Low-Rise Scissor Lift
---
Experience state-of-the-art compact lifting convenience with BendPak's LR-60. This 2,722-kg. capacity hoist comes loaded with an electric/hydraulic power system, multi-position safety locks, rubber lifting blocks, a dropped crossbar for added clearance and a heavy-duty steel channel frame.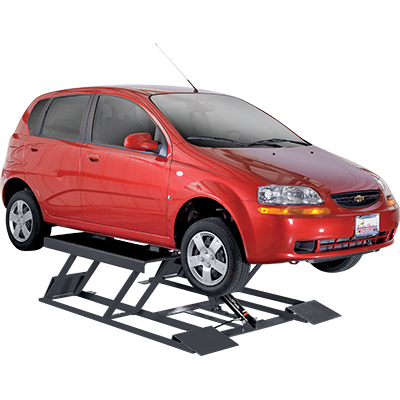 Get it Done Fast with a BendPak Low-Rise Scissor Lift
When you need a car ​hoist to add versatility and productivity to your shop or garage, your first stop should always be BendPak. Simple, safe and rugged, this rubber-topped low rise pad lift can handle a mighty 2,72​2-kg. load without hogging your precious floor space. Plus, it happily fits into narrower bays. The LR-60 is the ideal solution for quick service on today's passenger cars and light trucks. With wide rubber pads, wheel service and auto-body repair can now be performed on a surprisingly large variety of vehicles. All in all, the LR-60 is perfect for servicing cars and light trucks. For even more adaptable versatility, the included solid rubber lift blocks can be positioned in a variety of pick-up points on unibody and frame-contact undercarriages. Just make sure that you compare your vehicle specifications, including ground clearance and overall height, with the specification tables below before you buy.
Always bet on BendPak for increased durability, safety and productivity. You aren't going to find comparable quality or value anywhere else—BendPak always bests the rest.
Need the same great compact lifting power on the go? Check out the portable LR-60P.
Low-profile height
The LR-60 is collapsible down to a mere ​102 mm. Its profile makes it perfect for low-stance cars, as well as light trucks and SUVs. When space is tight, DIY'ers and shop owners agree that this hoist offers incredible bang for their buck.
Single-point safety release
The single-point release feature on the control panel ensures that both locks release simultaneously. This ensures absolute safety. Combined with the ergonomic placement of the controls, this is the safety release style most preferred by professionals worldwide.
Dropped crossbar
Right in the center, a dropped crossbar permits additional drive-over clearance. Beyond wheel and brake service, the suspension is easy to access and wheel changes are a cinch. The specially designed crossbar improves structural stability without interfering with your work.
Rugged steel channel frame
A steel channel makes up the base support of the LR-60. It also comes with a five-year warranty. That's the same warranty offered with our other models. A smaller hoist doesn't mean small value at BendPak.
Industrial-grade hydraulic cylinder
Two of our best hydraulic cylinders are installed on each frame of this low-rise pad lift. They feature zero-leak technology for ultimate durability and go through an intense series of tests and worst-case usage scenarios for your convenience and protection.
Solid rubber lift blocks
Standard rubber blocks are the most durable and long-lasting on the market. The vehicles you trust deserve the best treatment possible. No flimsy pads and scratchy surfaces here. They'll last for years of heavy use without showing much wear.
Choose "P" for "Portable"
High-density UHMW rollers make the LR-60P portable low-rise lift a conveniently portable low-rise scissor lift. If you're regularly transporting car hoistsaround to different service bays or have limited space you need to diversify, a portable ​hoist will make your garage operations that much smooth. It sounds amazing, but it's true: you can actually move the LR-60P anywhere in your garage, all by yourself. It's an incredibly convenient variation we're proud to include in the LR-60 family.
Features
2,722-kg.​ lifting capacity
Electric / hydraulic power system
Multi-position safety locks
Rubber lifting blocks included
Dropped cross bar for added clearance
Heavy-duty steel channel frame
Specifications
Lifting capacity:
2,722 kg (6,000 lbs.)
Max lifting capacity front axle:
1,361 kg (3,000 lbs.)
Max lifting capacity rear axle:
1,361 kg (3,000 lbs.)
Max lifting height:
660 mm (26")
Max lift height + 1.5" blocks:
699 mm (27.5")
Max lift height + optional 3" blocks:
737 mm (29")
Overall pad length:
1,346 mm (53")
Overall width:
1,791 mm (70.5")
Overall length:
2,083 mm (82")
Lowered height:
102 mm (4")
Motor:
115/208 or 230 VAC / 50-60 Hz / 1 Ph
Lift pad dimension:
457 mm x 2,591 mm (18" x 52")
Shipping weight:
370 kg (814 lbs.)
Shipping dimensions:
2,083 mm x 1,778 mm x 508 mm (82" x 70" x 20")