F2.1F3H1 Power Unit
SKU# 5585280
13.6 L (3.6 Gal) Reservoir, 2850 PRV, 2.5 HP Motor, 208-230V / 50-60 Hz / 1 Ph, UL/ETL Listed
---
While all of our hydraulic power units are powerful, this one has a slight variation that best suits many customers' needs: its 13.6 L (3.6-gallon) tank and 2.5 HP motor is accompanied by a pressure relief valve with an extra-high threshold of 2,850 psi.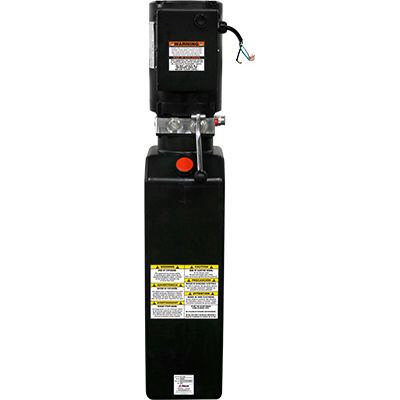 3.6 HP Powerhouse of a Motor
Each BendPak hydraulic power unit is as unique as the ​hoist it fits. In most cases, each unit fits many different hoists. A larger motor and tank can get you a faster rise, and a higher-threshold pressure relief valve can ensure a larger window of recovery in the unlikely case something goes wrong during your heavy lifting applications. If the valve senses pressure levels greater than 2,850 PSI, this unique relief valve is designed and optimisedto allow high-pressure fluid to safely bypass until normal working conditions have returned.
Every hydraulic power pack manufactured by Ranger Products is CE, UL and/or ETL-approved, so there's no such thing as a "less safe" unit with us. In fact, all our units are guaranteed to meet or exceed the highest standards in the industry. We back up our claim with not only optimised pressure relief valves, but high-capacity fluid tanks and motors with enough horsepower to keep your hydraulic power unit powering car hoists around the clock.
The descent mechanism utilises the pull of gravity to reduce electrical use when you lower your vehicle, extending the life of your hydraulic power unit while decreasing operating costs. The casing around the motor is secure and weatherproof, so you never have to worry about dust, dirt, air pollutant or other random garage debris disrupting car ​hoist operation. If your garage experiences the shifting seasons, not to worry! With a safe operating range of -25 – 79°​C, these power units function in virtually every temperature (we think) you can throw at it.
Hydraulic power packs can be hard to select. If have more questions or need expert advice on which unit best suits your car ​hoist and lifting needs, be sure to contact us before you buy.
Features
Pumps feature high mechanical and volumetric efficiency, low noise level
End head prepared for lift-hold-lower applications using our standard manual lowering valve or solenoid cartridge valves
Totally enclosed motors are suitable for use in humid environments or dusty, contaminated atmospheres. UL Recognized and CSA Certified* AC electric motors feature heavy gauge steel frame and base and high-quality ball bearings.
Torque load remains constant throughout the range of operation
Power up, gravity down function
Heavy-duty start switches with a high IP-protection class and silver-plated contacts meet tough demands for a long service life
Cartridge-style relief valves meet tough demands for dependability and life expectancy
Equipped with black plastic and steel reservoirs
Vertical mounting
Equipped with oil level dipstick
High performance cartridge check valve is standard
Most premium grade petroleum-based fluids can be used. Optimum operating viscosity range is 15 - 68 cSt
Minimum recommended temperature is -25ºC (-13ºF)
Maximum recommended temperature is +80ºC (+175ºF)
12-month warranty
Specifications
Reservoir:
13.6 L (3.6 Gal)