E0.8B8F1 Power Unit
SKU# 5585315
6 L (1.6 Gal) Reservoir, 1900 PRV, 1.5 HP Motor, 110-230V / 50-60 Hz / 1 Ph, UL/ETL Listed
---
This hydraulic power unit is suitable for many lifting applications, but it was specifically designed for low-rise lifts. The 6 L (1.6-gallon) oil reservoir is small but far from puny. Due to their versatility, low-rise scissor lifts are a popular choice for both commercial and home garages.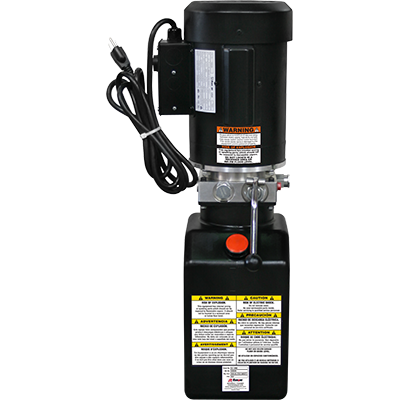 1.5 HP for All-Purpose, Practical Lifting
Every Ranger Products hydraulic power unit can be mounted to multiple car hoist models, but it's important to know what you're lifting before making a purchase. (This is true of both your ​auto lift and your power unit.) In most cases, a larger motor and deeper well in your reservoir will translate to faster lifting times and better overall efficiency, but not everyone is lifting 5,443-kg. trucks. So, we designed this unit as the "little brother" of our hydraulic power pack collection. It has a smaller tank to accompany its 1.5 HP motor.
We can tell you that less is more with this particular power unit. We're proud of the efficiency of its design, as well as its versatility. The unit was made with our low-rise lifts in mind, which means it can easily power the LR-5T 4,536-kg. capacity low-rise car lift. When it comes to efficient lifting, this "little big guy" takes the cake, which is something to keep in mind if you think the tank size of your hydraulic power unit is all that counts.
The 1.5 HP motor runs extremely quiet and is kept completely covered from dust, dirt, falling debris and even high humidity. Ranger gives you the confidence to operate your hydraulic power pack when in scorching heat or bitter cold (-25 – 79°​C). In some cases, our power units are even tougher than the operators.
It's easy to lift your car hoist with the touch of a button, but most impressive is the way the E0.8B8F1 efficiently utilises gravity during descent for lower electrical output. This saves on the cost of electricity and reduces wear on your equipment.
If you have any questions about which other car hoists this hydraulic power unit works with, or if you're not sure which unit is best for you, be sure to give us a call.
Features
Pumps feature high mechanical and volumetric efficiency, low noise level
End head prepared for lift-hold-lower applications using our standard manual lowering valve or solenoid cartridge valves
Totally enclosed motors are suitable for use in humid environments or dusty, contaminated atmospheres. UL Recognized and CSA Certified* AC electric motors feature heavy gauge steel frame and base and high-quality ball bearings.
Torque load remains constant throughout the range of operation
Power up, gravity down function
Heavy-duty start switches with a high IP-protection class and silver-plated contacts meet tough demands for a long service life
Cartridge-style relief valves meet tough demands for dependability and life expectancy
Equipped with black plastic and steel reservoirs
Vertical mounting
Equipped with oil level dipstick
High performance cartridge check valve is standard
Most premium grade petroleum-based fluids can be used. Optimum operating viscosity range is 15 - 68 cSt
Minimum recommended temperature is -25ºC (-13ºF)
Maximum recommended temperature is +80ºC (+175ºF)
12-month warranty
Specifications