WSA-100
SKU# 5210438
Air-Electric Workstation / Fits BendPak 2-Post & 4-Post Hoists
---
The handy WSA-100 utility box takes convenience to a whole new level. Whose garage couldn't use a couple extra electrical and air outlets? Mount the WSA-100 on your BendPak hoist to turn it into a new one-stop hub.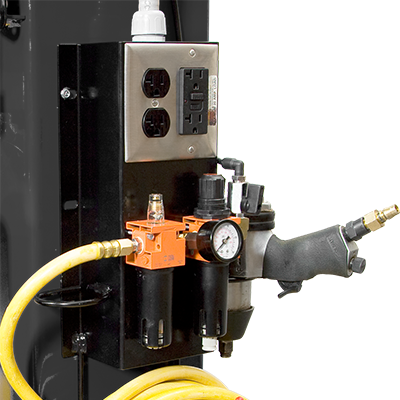 The Perfect Air Supply for Your Hoist
The industrial-grade WSA-100 utility station adds air and electric capabilities to any BendPak hoist. Simple, safe and extremely easy-to-use, this air /electric workstation is an essential accessory for your garage or shop and increases the usefulness of your BendPak car hoist. Includes four electrical outlets and specialized air service outlets, one for tire inflation and one just for pneumatic tools.
Features
Easy to install
Adapts to any two-post ​hoist and four-post hoist
Electrical outlets equipped with 20 amp industrial GFI protection
Electrical outlets located above the air service to prevent moisture damage and tangling
Air service through 2 outlets: one lubricated for tire inflation and one for pneumatic tools
Air service filter element and lubricator filler port are easily accessible
Nickel-plated ball valve shutoff
Powder-coated finish for durability and long life
Four 110V GFI outlets
Oiler
Air supply
Pressure gauge
Storage hooks for hose and tools
Regulator / filter
Air inlet
WSA-100 Specifications