Screw Lift Pad
SKU# 5215704
Screw Lift Pad Assembly / Includes Adapter Pin and Polyurethane Tuf-Pad / Each
---
These adjustable screw hoist pads give an additional 72 mm of lift to 4,082 and 4,536-kg. BendPak two-post hoists.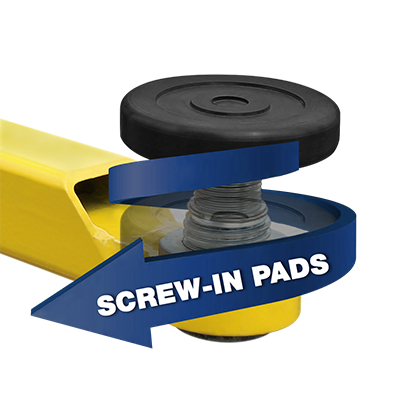 Screw Pads that Adjust to Your Needs
Adjustable screw lift pads provide the operator with a greater level vertical control when operating a BendPak 4,082-​kg. or​ 4,536-kg. two-post car hoist. Gives an extra ​72 mm of clearance. Rubber top screw pad comes with one receiver. Each sold separately.
Features
Vertically adjustable screw-type lift pads
Fits 4,082-​kg. or​ 4,536-kg. capacity BendPak two-post hoists, except for: XPR-9-LP, XPR-10-LP and XPR-10A-LP
Gives additional 72 mm of fine pad adjustment
Rubber top screw pad includes one receiver
Each sold separately
Not for use on BendPak two-post ​hoists with Low-Profile Arms
Screw Lift Pad Specifications