Rubber Lift Pads (Square)
SKU# 5700217
Replacement Polyurethane Lift Pad / Slip-Over / Square / SET OF 4
---
These replacement rubber lift pads outfit your BendPak two-post hoist with extra carriage-gripping capabilities. Textured surface reduces slipping, and the slip-over design makes installation easy.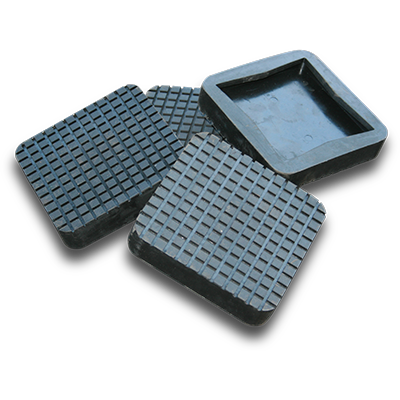 Thick Pads for Constant Action
These replacement square Rubber Lift Pads for two-post lifts are made with a specially formulated hardness elastomer that is resistant to gouges, cuts, abrasions and chemical and solvent exposure. This durable, wear-resistant polymer compound extends the lifespan of the contact pads, which helps increase workplace safety and reduces operating costs. With the capacity to hold the full weight of your passenger car, truck or SUV, these thick rubber pads are designed to take on heavy abuse and the rubber construction protects the chassis frame from damage.
The Rubber Lift Pad's slip-over design attaches easily, and the treaded surface provides an extra grip to eliminate any chance of movement. With the versatility and durability of their design, these replacement square Rubber Lift Pads are ideal for any of your automotive lifting needs.
These replacement Rubber Lift Pads are available in sets of four.
Features
Works with any BendPak two-post ​hoist
Thick rubber construction
Textured surface for extra grab
Will not scratch the vehicle
Easy slip-over design
Rubber Lift Pads (Square) Specifications