Aluminium Deck
SKU# 5210207
4-Post Hoist Aluminium Deck Platform / Diamond Plate
---
The optional aluminium deck makes every BendPak HD-7 and HD-9 series four-post hoist even more versatile. It adds full-width flooring for upper-level storage and fluid protection for vehicles parked underneath.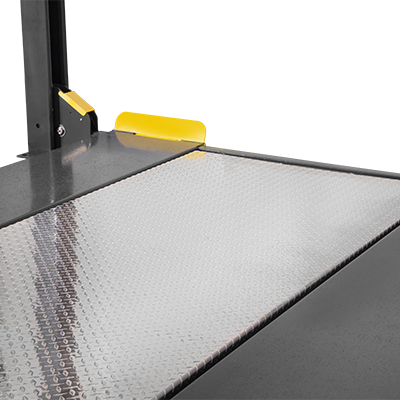 Drip-Proof, Weatherproof & Foolproof Design
This optional two-piece, full-length middle deck platform fits all BendPak HD-7 and HD-9 series four-post hoists and provides additional storage space. The lightweight ​aluminium decks transform your lift into a mezzanine lifting system. It increases square footage for storing motorcycles, ATVs and other garage clutter up and out of the way. Lightweight ​aluminium construction makes removal and installation a cinch, so you can always have hassle-free access to the vehicle underside. They also prevent potentially harmful fluids from dripping below the hoist platform. Rest easy knowing that bottom vehicles, equipment and flooring are protected from nasty spills. An attractive diamond plate finish provides a sure-footed, non-slip surface.
Features
Fits all HD-7 and HD-9 Series ​hoists
Solid ​aluminium construction
Protects vehicles, equipment and flooring from harmful fluids
Easy mounting / dismounting
Additional storage
Aluminium Deck Specifications