Air Bottle
SKU# 5215306
Compressed Air Bottle for 4-Post Hoists Safety Locks
---
BendPak's compressed air bottle allows you to easily release all your four post hoist's safety locks at once with a solution that fits right under the ramp.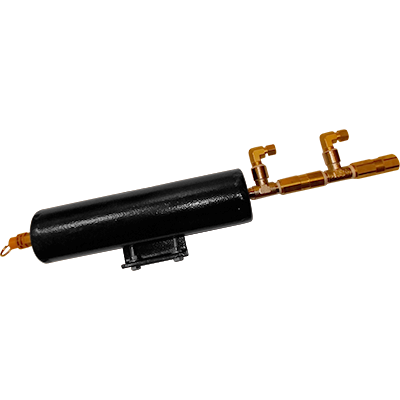 Compressed Air Without the Big Tank
Many of our customers are concerned about the air requirement for safety-lock release activation on BendPak four-post car hoists. Some consumers may not have an air compressor or worry about the added expense of purchasing one and going through the trouble of plumbing airlines, etc.
BendPak developed this compressed air bottle system to allow the ​hoist to create its own air source each time the ​hoist is raised. The safety lock release system found on BendPak lifts requires 25 psi to safely release all four locks simultaneously. The car ​hoist air bottle kit system creates 150 psi with one full lift rise—more than enough air for multiple full descents with the safety button depressed.
Features
Bottle is attached to the ​hoist as a separate component
Bottle is fed through an input fitting that is plumbed directly to the vent port on the lift hydraulic cylinder
Out port feeds directly to the pneumatic safety push-button operator
Leak-proof fittings and valves. Bottle can remain charged for up to 24 months
Pressure gauge to identify charged status
Integrated "pop off" safety valve when bottle exceeds 150 psi
Bottle fully charges up to 150 psi with one full rise
Independent valve stem for emergency recharging
Air Bottle Specifications