A6S
SKU# 5175990
2,722-kg. Capacity / Platform Parking Hoist / Car Stacker
---
Autostacker (A6S) is the fully collapsible parking hoist that doubles the vehicle capacity of a single parking space. Ideal for home garages and commercial applications alike, this unique hoist offers a minimal footprint that maximizes expansion. Easy and safe to use both indoors and outdoors.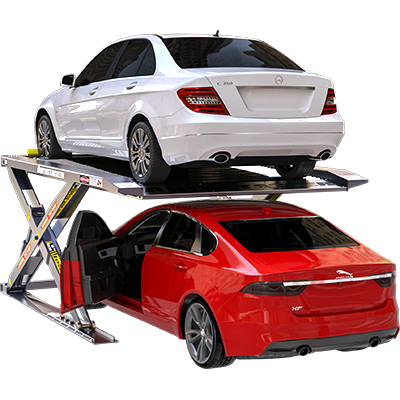 Low-Profile, High Capability
For so many reasons, this is the ultimate parking hoist for homeowners. It's the safe, discreet and ultimately ideal tool for stacking your most-valued machines. Its slim nature also makes it perfect for commercial parking lots, indoors or outdoors, because more parking units are able fit in less space. This provides a welcome way to increase profits without having to excavate or purchase pricey real estate.
The best thing about Autostacker is that it doesn't sacrifice ruggedness and capability in exchange for its slimmed-down design. Everything about this hoist is industrial-grade. The 6,000-lb. capacity wide-platform galvanized deck offers 80 incredible inches of overhead clearance when the platform is raised to the max lock level, which creates more than enough room for most high-clearance trucks and SUVs. Even low-ceiling garages are able to comfortably accommodate two low-profile vehicles, and spaces with more overhead clearance can accommodate almost anything in the lower level.
Autostacker is a division of BendPak Inc., but it's so unique, we knew we had to let it stand apart all on its own. For the most detailed information on this amazing hoist, please visit www.autostacker.com.
Innovation at every turn
Autostacker is made to fit comfortably in a single parking space. It's able to do this thanks to unique design innovations. It doesn't have any of the side posts found on virtually every other parking hoist on the market. The galvanized deck is inclined toward the back of the ​hoist, so low-riding cars are never at risk of scratching the front bumper. This also lets us keep the approach ramp shorter, further reducing the hoist's footprint. If you're pulling in front-first, our patented Door-sentry™ rubber door protectors, built right into the structure of the ​hoist, will prevent dings and dents from accidental door slams. All these features, and many more, make Autostacker the most innovative and user-friendly garage hoist ever made.
Wide galvanized deck
Bolt-on deck panels are easy to install and create a drip-proof platform deck that will last virtually forever and never rust or wear out under normal use. At the end of the deck is a gentle wheel trough that securely cradles wheels of all sizes.
Dual hydraulic cylinders
Massive, dual hydraulic cylinders, one on each scissor superstructure, power the hoist from underneath the vehicle. This eliminates side-loading, which in turn reduces maintenance over time and significantly extends the lifespan of the ​hoist.
Automatic safety locks
​Six lock positions engage automatically as the scissor arms extend, so the hydraulics are never actively engaged with vehicles parked underneath. A flow divider in the power unit ensures equal pressure to each scissor arm, so the locks engage and disengage simultaneously.
Superior base support
Autostacker's base support is just enough to keep the ​hoist stable without adding unnecessary steel that simply clogs up your floor space. The parking hoist is over-engineered to easily handle the rated ​2,722-kg. hoist capacity, and the two-post structure never wobbles or shakes during operation.
Detached power unit console
A cantilevered torsion bar extends off the ​hoist and contains the push-button UP and DOWN controls. This ergonomically designed console is extremely safe and easy to use. Always keep an eye on your surroundings before and during car ​hoist operation.
Features
2,722-kg. hoisting capacity
Key‐switch disconnect fully disables operation for enhanced security
Audible alarm and warning buzzer alerts operator and bystanders when the hoist is in operation
Accommodates cars, light trucks and SUVs
Rugged, welded‐steel construction is strong and durable
100% hot‐dipped, galvanized steel platform
Attractive slate gray, baked‐on powder coat finish provides added toughness
Front wheel dish acts as a wheel chock to prevent vehicles from rolling forward or backward
Full‐width, gradual sloping platform reduces entry ramp height
Automatic safety locks engage at five different parking heights
Simple push‐button controls
Dual, direct‐drive hydraulic hoisting cylinders
Dependable hydraulic circuit that provides precise, equalized hoisting
Variable height parking accommodates a wide range of vehicle and ceiling heights
Contoured scissor legs provide rigidity, decreased deflection and a low collapsed height
Full‐width, straight‐through axles increase overall stability and tracking through the vertical travel range
Full‐width pivot pins promote straighter tracking of the scissor legs throughout travel—vital for eccentric loads
Extra‐wide, heavy‐duty steel scissor arms with cross member bracing enhance stability
Unique clevis‐design scissor ends lower stress and increase rigidity by distributing loads symmetrically over the pins
Patented asymmetric scissor arms provide greater underside door clearance
Patented Door‐sentry™ car door protectors are made from energy‐absorbing rubber to protect against accidental scratches or door dings
Space‐saving design is perfect for commercial or residential applications
Minimal footprint fits a typical parking space
Hydraulic safety valves (velocity fuses) prevent sudden, unexpected platform collapse in the unlikely event of hydraulic system failure
UL Listed electrical components meet National Electrical Code (NEC) requirements
A6S Specifications
Style
Style:
Multi-Platform Parking Lift
Overall width:
2,620 mm (103.2")
Overall length:
3,658 mm (144")
Platform length:
3,150 mm (124")
Platform width:
2,128 mm (83.8")
Platform height (forward):
330 mm (13")
Ramp height (entry):
51 mm (2")
Lifting height on top lock:
2,255 mm (88.7")
Under clearance on top lock:
2,150 mm (85.6")
Motor:
208-240V, 50/60 Hz / 1 Ph
Shipping Weight:
1,530 kg (3,350 lbs.)
Note: An air supply (minimum: 30 psi / 3 CFM) is may be required for the safety-lock mechanisms to disengage. It is solely the responsibility of the end-user to provide, install and maintain the air supply.
Note: Not all BendPak hoist models meet the standards as prescribed by ANSI/ALI ALCTV-2017 or ANSI/UL 201. Consult www.autolift.org for a complete list or contact BendPak via contact@bendpak.com.