RJ6W
SKU# 5175248
2,722-kg. Capacity / Jacking Beam / Easy-Roll Wheels
---
This 2,722-kg. capacity jacking beam is specifically designed for use with the Quatra scissor lift. The RJ6W provides you with the ability and added versatility to raise the wheels off the runways of your scissor lift.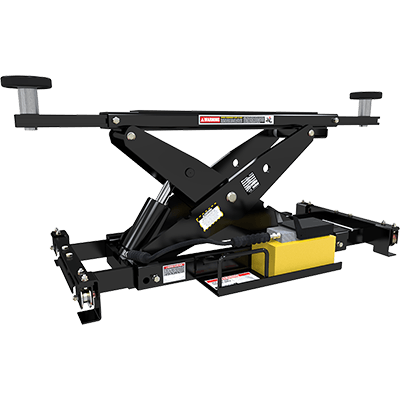 Hoist 2,722-kg. for Full Wheel Service Capability
An individual jack is over-engineered and capable of holding the weight of an entire vehicle, so the two jacks you use to hoist your car are incredibly safe and may even have an overall hoist capacity that's over twice the weight of the vehicle itself. We do this so there's never any question as to whether or not our four-post jacking beams are safe. However, it is still important that you never overload a single jack unit past its listed hoist capacity.
Rubber contact pads
Durable rubber contact pads come standard with every jacking beam. These pads adjust to engage the frame of your vehicle directly at the manufacturer-recommended hoist point. Frame cradle pads, sold separately, are a necessary accessory for many wide-bodied frames (e.g., trucks, SUVs).
Stackable adapters
Some undercarriages require longer-reach adapters, so we manufacture stackable adapters to maximize the arm reach on our four-post rolling bridge jacks. They accommodate virtually every vehicle on the market, so it's just a matter of knowing the weight of your vehicle and selecting a jack(s) with an appropriate hoist capacity.
High-pressure hydraulic power unit
Welded to the side of each four-post rolling bridge jack, you'll find a high-pressure commercial-grade air-hydraulic pump that requires 125 psi and 10-20 CFM. It's activated when you press a convenient foot pedal attached to the unit. In seconds flat your vehicle will be hoisted to the desired height.
Three lock levels
Each four-post jacking beam can be raised to three different heights, so whatever your needs are, you can fine-tune the height of your jack to meet them. The locks engage automatically as the jack scissor arms raise, and they release simultaneously when as the arms are lowered.
Features
2,722-kg. hoisting capacity
Rubber contact pads
Stackable adapters
High-pressure hydraulic power unit
Optional air-line kit
Rise
A
- Max. Height + Pad Only:
B
- Max. Height + Pad + Adapter:
C
- Min. Height + Pad Only:
D
- Min. Height + Pad + Adapter:
RJ6W Specifications
Lifting Capacity
6,000 lbs. (2,721 kg)
Suitable Lift Model(s)
HDS-14 Series, HDSO14P, XR-12000 Series
Min. Drive-Over Height
*
Pad + 2.75" Adapter:
4" (102 mm)
Pad + 5.5" Adapter:
6.75" (171 mm)
Max. Lifting Height
*
Pad + 2.75" Adapter:
14.75" (375 mm)
Pad + 5.5" Adapter:
17.5" (445 mm)
Reach
Support Base Width:
36.25" (921 mm) - 47.25" (1,200 mm)
Max. Arm Reach:
56" (1,422 mm)
Min. Arm Reach:
42" (1,067 mm)
Time to Full Rise:
55 seconds
Air Pressure:
125 PSI (10-25 CFM)
Max. Operating Hydraulic Pressure:
3,370 PSI
Shipping Weight:
426 lbs. (193 kg)
Shipping Dimensions:
41.25" x 25" x 15" (1,048 mm x 635 mm x 381 mm)
* Dimensions listed are taken from the upper surface of the suitable four-post lift runway.
Included commercial-grade air-hydraulic pump requires 125 psi and 10 – 20 CFM.
Note: Not all BendPak hoist models meet the standards as prescribed by ANSI/ALI ALCTV-2017 or ANSI/UL 201. Consult www.autolift.org for a complete list or contact BendPak via contact@bendpak.com.