HD-7P
SKU# 5175510
3,175-kg. Capacity / Narrow Car Hoist / High Rise
---
The HD-7P is a 3,175-kg. capacity, narrow-configuration four-post hoist. This model offers compact convenience, so it also helps maintain an open, fresh appearance in more spacious garages.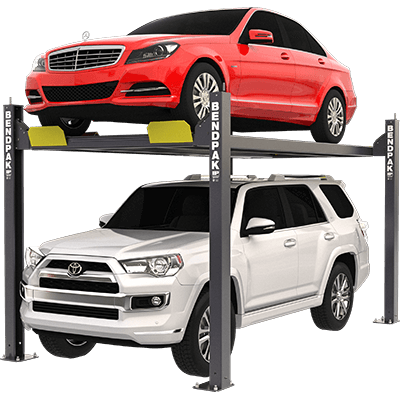 Narrow Spaces Need the HD-7P Four-Post ​Hoist
The HD-7P does not require a special foundation, nor does it involve complicated installation procedures. It's simply the perfect service hoist for shops or garages with limited floor space. This four-post hoist is about the size of a typical parking space and fits nicely as a residential or commercial parking hoist. The applications are endless, but what else would you expect from BendPak? After being in this business for over 50 years, our reputation is as solid as our hoists. If you've ever owned a BendPak four-post hoist, you know that means a lot.
Get the most out of smaller spaces and compact vehicles with BendPak's HD-7P. This narrow hoist shaves 266 mm off the overall width of a standard-size model, which makes for slightly narrower space between the columns too. If you want a 3,175-kg. capacity four-post hoist but can't sacrifice the precious inches taken up by the wider HD-7W, this is the car hoist for you. Store classic cars, racers and compact vehicles comfortably and safely.
Dependable design
Four heavy-duty stainless steel lifting wire ropes and a single hydraulic cylinder mounted underneath the runway make this hoist the most durable, maintenance-free hoisting system on the market.
Dual-hub wire rope sheaves
BendPak's over-engineered designs reduce stress and fatigue on the axles, sheaves and wire rope. We insist on using dual-hub wire rope sheaves when appropriate because they ensure that a safer, higher-quality product. With BendPak, total peace-of-mind comes standard with every hoist.
Multi-level locking positions
Each four-post hoist is equipped with multiple lock positions for variable-height parking. Pneumatic push-button controls will simultaneously release all four independent safety locks.
Heavy-duty wire rope
The car hoist structure is outfitted with four high-quality stainless steel lifting wire ropes that are rated at 6,531 kg. each. The combined rating of the rope is more than 822% of the entire hoist's maximum lifting capacity! And we make sure it looks tidy too—all wire rope is fully enclosed within the hoist structure.
Electric-hydraulic power system
We incorporate maintenance-free electric-hydraulic power systems into each hoist for ultimate dependability, and all controls are conveniently located within close reach.
Large base plates
254 mm x 305 mm base plates provide a solid foundation for the HD-7P. Your four-post hoist will be stable and secure for as long as you own it.
Caster kit
Optional 4-piece caster kit makes your hoist portable, with or without a car situated on the raised platform.
Integrated design
For your safety and convenience, the wire ropes, airlines, safety latches and sheaves are all fully enclosed within the car hoist columns.
Low-deck runways
The low, 114 mm high runways on this four-post hoist are made to accommodate low-bodied sports and race cars, as well as mid-size sedans, light trucks and virtually any vehicle under 3,175 kg.
Longer approach ramps
The approach ramps were designed a little longer to help when loading low ground-clearance vehicles. It's the little bit that makes a big difference.
Automatic safety locks
Aircraft-quality stainless steel and aluminum pneumatic cylinders release all four locks simultaneously with the simple push of a button. The spring-loaded safety locks automatically engage continuously as the hoist is raised. For added safety, a secondary lock system acts as a slack-cable device that engages in the unlikely event of wire rope failure.
Features
3,175-kg. maximum lifting capacity
High hoist with short runways
Electric / hydraulic power system
Single hydraulic cylinder mounted underneath runway
Internal anti-sway slider blocks in each column
Oversized self-lubricating cable rollers
High-speed lifting
Features heavy-duty 9.5 mm aircraft cable
Rugged 32 mm roller axles
Multi-position safety locks in each column
Adjustable lock ladders
Ramps feature non-skid surface
Push-button pneumatic safety release
Optional ​2,041-kg capacity rolling jack available (Model RJ-45)
HD-7P Specifications

Capacity
*Max Capacity / Front Axle
3500
*Max Capacity / Rear Axle
3500
Inside Dimensions
H
- Width Between Columns:
90.25
I
- Drive-Thru Clearance:
76.5
Runways
L
- Width Between Runways:
N
- Outside Edge of Runways:
Locking
Lock Spacing:
Every 4" / 102 mm
Power Unit
Motor:
220 VAC / 60 Hz. 1Ph.
Note: An air supply (minimum: 30 psi / 3 CFM) is required for the safety-lock mechanisms to disengage. It is solely the responsibility of the end-user to provide, install and maintain the air supply.
Note: Not all BendPak hoist models meet the standards as prescribed by ANSI/ALI ALCTV-2017 or ANSI/UL 201. Consult www.autolift.org for a complete list or contact BendPak via contact@bendpak.com.